Crone are now revealing a lyric visualiser for their new single 'Abyss Road' taken from the German dark rockers' forthcoming album "Gotta Light?", which has been slated for release on September 23. Details of the full-length can be viewed below.
The visualiser video 'Abyss Road', which features the song's lyrics is now available for immediate publication via this link: https://youtu.be/YUwH9VmRMKo
Crone comment: "The new single, 'Abyss Road', is our hymn to shattered dreams and never achieved goals in life", lead guitarist Kevin Olasz explains. "In one way or the other, we can probably all identify with this topic. Some listeners might be surprised about the song's musical direction as it has an almost punk-ish vibe that is quite a change from our well established mid-tempo dark rock style. 'Abyss Road' was the first song, that we wrote for this album. It is also one of the few that we were able to arrange together as a band in our rehearsal room before a weird virus brought the world to a standstill – and with it a part of our plans. Anyway, are you ready to follow us down this road?"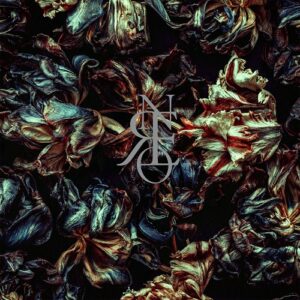 Tracklist: 1. No One Is Ever Alive 2. Abyss Road 3. Gemini 4. This Is War 5. They 6. Towers Underground 7. Quicksand 8. Waiting for Ghosts 9. Silent Song 10. Kenosis
With their sophomore full-length "Gotta Light?", dark rock innovators Crone are cruising in a high octane fuelled hotrod. Channelling their personal musical inspirations that range from ALICE IN CHAINS, via KILLING JOKE, NEW MODEL ARMY, and JOY DIVISION to PINK FLOYD among many others, the Germans leave their very own and personal mark on the genre that has been brought back to the forefront of interest by acts such as GHOST in recent years.
Burn, baby, burn! When the creative flame seems to have burned all of an artist's soul to ashes, the next steps are falling into a black hole, crisis, and with luck eventually catharsis. Crone vocalist and guitarist Phil Jonas had come to the end of the road with ground-breaking German black metal pioneers SECRETS OF THE MOON. The band's latest albums had already moved gradually from black metal towards dark rock.
While composer, guitarist, and singer Phil "sG" Jonas had felt tired, burned out, and empty, working on new songs for Crone provided the spark that kindled the firestorm of fresh ideas and led to the creation of "Gotta Light?". The album title was inspired by the haunting eighth episode of David Lynch's masterpiece TV series "Twin Peaks". A corresponding element of the mysterious and surreal permeates all of the new songs that revolve around topics such as the hope of receiving signals from the afterlife ('Waiting for Ghosts'), shattered dreams ('Abyss Road'), and a guiding last will ('Gemini').
Crone was conceived out of a musical collaboration between Phil and EMBEDDED drummer and guitarist Markus Renzenbrink. Both musicians wanted to explore musical horizons beyond the metal limits of their regular bands at the time. As a result the "Gehenna" EP was released in 2014 and sparked a first wave of interest. Critics labelled the first effort post-rock, post-punk, and even as shoegaze. The well-received debut full-length 'Godspeed' hit the streets in 2018 and its more focussed and consistent songs got often filed under "post-rock".
With Crone having been elevated to the main band of each protagonist, the band's renewed focus and urgency is clearly audible on "Gotta Light?". With Christian Schmidt a permanent keyboard player has been added to the line-up that now also features lead guitarist Kevin Olasz for added sparkle and sonic depth. From the ashes of SECRETS OF THE MOON a dark reborn phoenix is rising with Crone and this bird of prey is ready to rock humanity's unstoppable descent into madness: "Gotta Light?"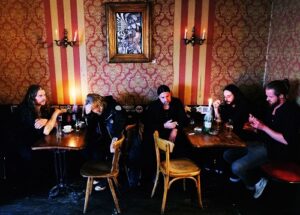 Crone line-up: Phil Jonas – vocals, guitars / Markus Renzenbrink – drums / Kevin Olasz – lead guitars / Daniel Meier – bass / Christian Schmidt – keys
Guest musicians: Kirsten Schuhmann – female vocals / Matthias Lohmöller – additional guitars, trumpets on 'Gemini'. Recorded by Matthias Lohmöller at Docmaklang Studios, Osnabrück, Germany. Artwork & layout by Vortex Arts (Phil Jonas).
Available formats:"Gotta Light" is available as a 2CD 60 -page hardcover artbook incl. bonus CD, liner notes, and enhanced artwork by David Fitt, as Gatefold LP on black and on marbled smokey vinyl, and as Digipak CD.
Pre-sale link: http://lnk.spkr.media/crone-gotta-light