Falkenbach release all their major works in lavish CD and vinyl box sets under the title "The Nine Worlds of Falkenbach (Manifestations 1995-2013)" today.
These collectors' editions naturally include all of Falkenbach's six studio albums from the cult debut " …En their medh riki fara…" (1996) until their latest full-length "Asa" (2013) with the addition of previously published bonus tracks such as 'The Heralder', 'Gjallar', 'Asaland', and all four extra songs of "Asa". A special highlight of this collection are the much sought-after tracks from the early 1995/96 demo tapes "Læknishendr", "Promo-Tape '95", and "…Skínn Af Sverði Sól Valtíva…". These true rarities have been carefully restored and remastered from the original master cassettes by renowned German musician and producer Patrick W. Engel and officially released on CD and vinyl for the first time.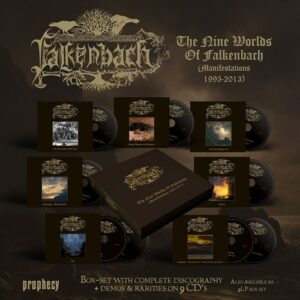 Falkenbach "Nine Worlds" content Albums (including bonus tracks): "…En Their Medh Riki Fara…", "…Magni Blandinn Ok Megintiri…", "Ok Nefna Tysvar Ty", "Heralding – The Fireblade", "Tiurida", "Asa", Demos, Læknishendr / Promo-Tape '95 / …Skínn Af Sverði Sól Valtíva…
Falkenbach are the sole brainchild of founder, multi-instrumentalist, and singer Vratyas Vakyas. The elusive and enigmatic artist has taken influences from traditional music, heavy and – especially on earlier recordings – black metal as well as rock and other genres. His songs are often characterised by a hymnic approach and Vratyas Vakyas' distinct and easily recognisable voice.
Falkenbach's style has been loosely defined as "pagan metal" – in the sense of highly individualistic bands such as PRIMORDIAL, ENSLAVED, and MOONSORROW (no musical comparison with the named bands is intended), which is not to be confused with merry beer-quaffing folk metal. This term also fits Vratyas Vakyas' lyrical focus on Germanic topics with his use of literary sources from Tacitus' "Germania" to the Icelandic "Eddas", which have also inspired this collection's title "The Nine Worlds of Falkenbach". These generously designed box sets explore Falkenbach's unique musical cosmos in its entirety, presented with all the care these masterpieces have long deserved.
Release date: November 27th
shop at: https://prophecy.lnk.to/the-nine-worlds-of-falkenbach
Line-up: Vratyas Vakyas – compositions, all instruments, vocals
Label: Prophecy Productions
Available formats: "The Nine Worlds of Falkenbach (Manifestations 1995-2013)" is available as a 9 CD box, a limited 9 LP box set on black vinyl (600 copies). The limited edition 9 LP box set on gold vinyl (400 copies) is already sold out.