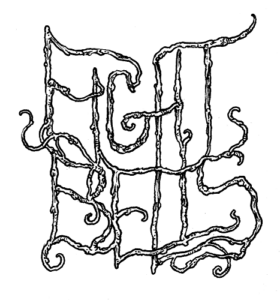 Eight Bells are now revealing the volcanic video single 'Nadir' taken from their forthcoming new album "Legacy of Ruin", which is slated for release on February 25, 2022.
The avant-garde doom project from Portland, Oregon conceived by guitarist and singer Melynda Jackson has also unveiled cover art, tracklist, and further details of their new full-length below.
The video clip 'Nadir' is available via the following link: https://youtu.be/B6eRuScV8lY
On further news, Eight Bells will reissue their first two albums "The Captain's Daughter (2013) and "Landless" (2016) parallel to the release of "Legacy of Ruin". Both full-length recordings will be joined together under the title "Histories 2010 - 2016" as double-CD and triple vinyl editions that will also contain the bonus track 'Purgatory' and five demo versions.
Eight Bells comment: "Our first single, 'Nadir' is the newest song that was written right before the recording sessions", writes singer and guitarist Melynda Jackson. "It is inspired by the ugly part of human nature and tendency to devour everything until it is gone. There is grief in understanding that 'right now' is all we have."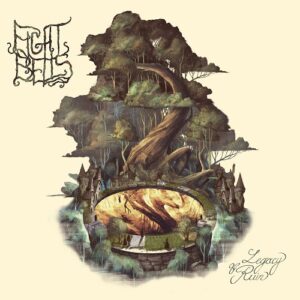 Tracklist: 1. Destroyer 2. The Well 3. Torpid Dreamer 4. Nadir 5. The Crone 6. Premonition
With their third album, Portland metal experimentalists Eight Bells have sharpened their songwriting approach to create a soundtrack for the end of the world. "Legacy of Ruin" again features the trio's trademark haunting vocal harmonies along with sometimes blistering, and sometimes impressionistic guitar riffing to create heady atmospheres of dark and light.
The result of Eight Bells' musical exploration is an emotional and insistent odyssey that transcends genre and imbues contemporary metal with 19th-century Victorian ghostliness, cinematic soundscapes in combination with female and male vocal harmonies perfectly fitting the album's lyrical story. "Legacy of Ruin" focuses on themes of the human condition, natural destruction, death, regret, loss, malice, and retribution.
Eight Bells were conceived as the brainchild and songwriting project of Melynda Jackson in 2010. The guitarist and vocalist named the band after the final album of her previous act, SUBARACHNOID SPACE. While the trio evolved through several line-up changes in the beginning, Melynda is now supported by vocalist and bass player Matt Solis (CORMORANT, URSA) Brian Burke (NO SHORES, CAVE DWELLER) on drums.
Eight Bells breaks from the pack by exploring the natural tones and grand visions of the 1970s as reflected in the influences that she cites, which include early prog and krautrock trailblazers such as GENESIS, AMAN Düül II, POPOL VUH, MAGMA, RUSH, the ambient minimalist composers in the realm of BRIAN ENO and STEVE REICH as well as the progressive ends of the black, doom, and death metal spectrums such as ENSLAVED, ULVER, DEATH, YOB, and EMPEROR to name but a few.
Following the release of the "Isosceles" EP (2011), Eight Bells gained international recognition for their debut album "The Captain's Daughter (2013)" and tour support for SUBROSA across North America. With their sophomore full-length "Landless" (2016), Eight Bells consolidated their reputation as one of the up and coming acts, joined VOIVOD in the US and received an invitation to Psycho Las Vegas, which the trio gladly accepted.
Now Eight Bells are poised to share their music with a wider audience. "Legacy of Ruin" was engineered and produced by the masterful Billy Anderson (AMENRA, BELL WITCH, LEVIATHAN, SWANS), and has enabled the trio to reach a new dimension of sound quality.
"Legacy of Ruin" is forceful confirmation that contemporary metal can be artistically impressive, and at the same time novel and expansive in its expression. Time to lean back, close your eyes and let Eight Bells' haunting and beautiful swansong to a dying planet crash all over you in sonic waves.
Release date: February 25, 2022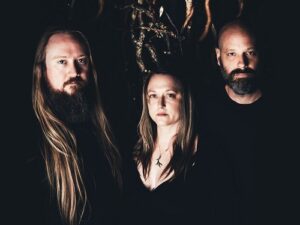 Eight Bells line-up: Melynda Jackson – guitar, vocals / Matt Solis – bass, harmonies / Brian Burke – drums
Guest musicians: Melynda Marie Amann – vocals on 'The Well' and 'The Crone' / Melynda Marie Amann – Keyboards on 'The Well' / Andrea Morgan – violin on 'The Well', 'Nadir', and 'Premonition'
Tracked by Billy Anderson at The Hallowed Halls by Billy Anderson / Produced by Billy Anderson & Eight Bells / Mixed by Billy Anderson at Everything Hz / Mastered by Justin Weis at Trackworx / Artwork by Tom Robers / Layout by Ross Sewage
Pre-sale link: http://lnk.spkr.media/eightbells-legacy
Available formats: "Legacy of Ruin" is available as gatefold 180g clear vinyl and on Digipak CD.