Oct. 24, 2020, London – Periphery have announced their first live album, releasing the 10-song Periphery: Live in London on Nov. 13.
"For years Periphery has wanted to do a live record. We'd always talk about it, what show would we capture? When would we do it? What would we want it to sound like? On Nov. 15, 2019 we figured out the answers to those questions by capturing our entire show in London and we couldn't be more excited to show it to everyone," explains guitar player Jake Bowen. "London has consistently been one of our favorite places to play and this show was certainly one we'll never forget, so we present to you our first live album…Periphery: Live in London!"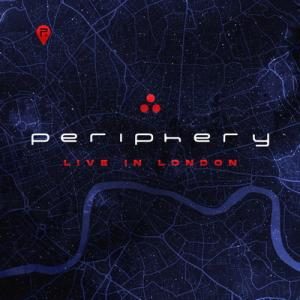 Periphery: Live in London track list: 1. Reptile 2. CHVRCH BVRNER 3. Remain Indoors 4. Follow Your Ghost 5. Scarlet 6. Marigold 7. It's Only Smiles 8. Psychosphere 9. Blood Eagle 10. Lune
Pre-order at https://peripheryband.lnk.to/LiveInLondon
The varied track list includes music from throughout the D.C.-born band's discography. Periphery IV: HAIL STAN arrived in the Spring of 2019, debuting at #1 on Billboard's Independent Albums, Rock Albums and Hard Rock Album charts, as well as entering the trade magazine's Top Album Sales and Digital Albums charts at #9. The nine-song release is the follow up to their 2017 GRAMMY®Award nominated Periphery III: Select Difficulty. The 2016 album has tallied 35 million cumulative streams. Periphery band members have graced the covers of Guitar World, Revolver, Modern Drummer, Bass Playerand more.
Periphery is: Jake Bowen (guitar, programming) / Matt Halpern (drums) / Mark Holcomb (guitar) / Misha Mansoor (guitar, programming) / Spencer Sotelo (vocals).