*When did you really get involved into music in general and into metal specific? Who was responsible for your interest in (metal) music?
-Jani Puusa: I think it was around me being 12 when I took interest in music and guitar. Metal came into my life when I was around 15 when I first heard Dream theater and it was pretty much love at first note.After that came lots of different metal bands like Soilwork , Pantera , etc.
-Lassi Nuolivaara: I started my journey into music in 1999 when I started to play bass when me and my friends started a band. And I think I discovered metal in 1997 or something. One major band being Stratovarius and Metallica. After that came Nightwish and Children Of Bodom so a lot of Finnish metal influences.
-Annika Jalkanen: My interest in music has been as long as I can remember. My parents and bigger brothers all sing, so it was really natural to start singing too. When I was around 18 I had a boyfriend who listened to metal music. It just hit me. And I guess I also kind of wanted to be different from others. Being a metal fan was different enough in those times.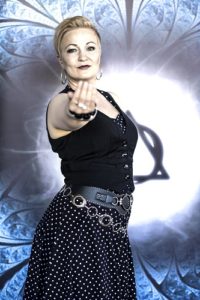 *Which artists or bands did influence you the most?
-JP: Over everything else it's definitely Dream Theater and John Petrucci but I gotta also mention Steve Lukather and Toto.
-LN: I think Finnish metal bands at first but when I first started to hear Dream Theater and Dimmu Borgir, I started to take keyboards more seriously and started to hone my craft.
-AJ: When I was about 10 years old I started to listen to Bon Jovi. A few years later Queen and in my teens Alanis Morrissette and some finnish pop / rock bands came along. I guess I can say I learned to sing better when I sang along with the artists I listened to. In the metal scene my influences have been Anneke van Giersbergen and Amy Lee. They have inspired and encouraged me to become a singer in metal band too.
*Which instrument do you play and how and when did you learn to play? Did you had lessons in school or private lessons? If so, was that because your parents expected that from you? Or did you learn to play the instruments by yourself? Do you still follow some lessons?
-JP: My instrument is 7-string guitar.  I started to play guitar when I was 12 and my uncle teached me to play blues and stuff. Played B.B. KING , Eric Clapton , Jimi Hendrix etc until 3 years later I heard Dream Theater and I started to learn to play their songs.I pretty much self learned and still am learning new stuff. Learning never ends. My parents hated my playing and I had to listen to "Devils music" in secret and play guitar when they weren't around. They still hate it and try to save my poor soul from damnation =D .
-LN: I play the keyboards in the band but as I sayed, I started with a bass. I studied bass in a conservatory here in Pori and my keyboard playing got started by accident. When I was a young lad still playing bass, my mom went to throw out the trash and he saw my neighbor getting rid of this old casio keyboard. My mom stepped in and said that she could take it and so she brought it in and I was shocked! From that moment on I started to play with it ever since. So I taught myself to play, but had a huge help from my bass studies as it also featured all the music theory studies. And after playing bass and keyboards I taught myself to play guitar and drums. I come from a really musically talented family. Also taught myself to sing at one point and I've done that in previous projects.
-AJ: I am a singer. I have sang all my life so I have learned it during my whole life. I have had singing lessons during past 20 years here and there. Now I´m studying my second year at pop / jazz school in Jyväskylä and will become actual musician.
*Do you follow other or are you intrested in other styles of music beside metal? If so, what is the music you prefer to listen to?
-JP: well…my library goes from Frank Sinatra to composers like Hans Zimmer and then from Toto to Nightwish and Kamelot and from Soilwork to Bury Tomorrow. Depends on the mood , state of mind and place where i am.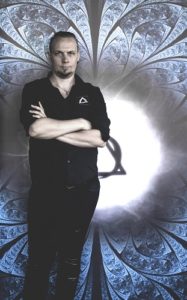 -AJ: Yes I do. Classical, pop, jazz, rock, bluegrass, soul, argentine tango….Actually I think it is better if you listen to different kinds of music, because you can always learn from them and have some influences in you own music. Now when I'm actually studying music, we can get to know a lot of different kinds of music styles and it's been so great when you have found something really interesting.
-LN: Oh man, yes! I listen to almost everything. Just listened to a lot of different scores from video games and from the movies. And also country music. I also make other style music in my spare time. For example I am doing this project where I arranged a song and it sounds very much like something that U2 would sound. And it varies. Some days I want to listen to country or score music or some days I listen to black metal or pop.
*Is music a full time job for you now or do you have a job beside music? If so, what kind of job are you doing? If you would be really succesful with music, would you quit your other job?
-JP: hah I wish and I dream that I would never have to wake up to my normal storage work from monday to friday but  i am a family man with three kids and we are not big enough yet that we could do playing for living. Current job pays the bills but someday we will be there I am sure and when that day comes …well I won't say it here but let's just say that I will be extremely happy.
-LN: We are at the point that we still do have our day to day jobs. I am working as a tutor at a youth workshop. It's wonderful in a sense that I can combine everything that I like, which is working with young adults, making music and producing all kinds of different media. I am part of NTP-tuotanto, NTP- Productions, which works side by side with the workshop here in Pori, Finland. We produce all kinds of media, short films, music videos, photography, all kinds of stuff made by young adults and I get to be with them as a tutor, directing them, sharing my knowledge about music and about the media industry.
-AJ: I'm a student at the moment but after studies I´ll go back to work. I´ m a psychiatric nurse and have worked in child welfare. Yes, I would love to do music as my full time job.
*If you could start a band with other musicians on other instruments, which artist would you pick for which instrument and why? (Something Like an "All Stars Band".) Would you still go for a (symphonic) gothic metal band? Or would you do something completely different?
-JP: Daaammnn…….hmmm… ok so, this shouldn't be too hard. Singer's would definitely be Russel Allen from Symphony X with Floor Jansen from Nightwish. On a guitar DGM Simone Mularoni  , Drums would handle  Mike Portnoy , on bass John Myung. Keyboard only option is the wizard himself from Dream Theater and myself still on a guitar. I have no idea what genre we would play tho but I'm guessing it would be something fast and melodic.
-LN: I would start a progressive metal band. I would take Mike Portnoy (Sons Of Apollo, EX-Dream Theater) on drums, Russel Allen (Symphony X) on vocals. I think I would pick Nino Laurenne (Thunderstone) on guitar. He has the ear for production. And Jari Kainulainen on bass (Ex-Stratovarius). Myself on the keyboards of course.
-AJ: This is really hard for me to answer. I really can't choose any particular. So amazing musicians out there. Duet with Tomi Joutsen (Amorphis) would be great. 🙂
*If you had been banned to an uninhabited island and you may pick 5 albums to listen to, which albums would you choose and why?
-JP: Dream Theater 'Images & Words', Frank Sinatra 'Greatest hits', Toto 'Live In Amsterdam 2003', DGM 'Passing Stages: Live In Milan And Atlanta', Nightwish 'Showtime Storytime'.  Those albums have had the biggest impact on my life and my playing.
-LN: Oh God! These are not in any kind of order. I am going to go with thematic albums: Kamelot – 'The Black Halo', Dimmu Borgir – 'In Sorte Diaboli', Dream Theater – 'Scenes From A Memory' and finish with couple of powerhouses: Pantera – 'Vulgar Display Of Power' and Nightwish – 'Once'.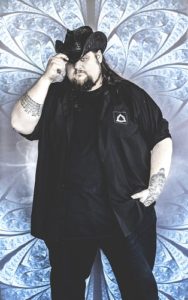 -AJ: Maybe I could pick albums from Amorphis and Leprous.
*The band had a "first life" between 2007 and 2014. The band was started again in 2018. What happened, let's say after the release of the second album ('Memories, Tragedies, Masquerades')?
-JP: Well.. life and work got between the band. Some of us had kids. Life over all. 2018 me and Lassi started to regroup the band back together but most of the old line-up were too occupied with work and life so we had to get new members to the family which makes the sound and music we are today.
-LN: We got to a turning point where each of us had family or work related stuff, other projects coming up. Also the recording and making the MTM really took the juice out of us. We were just sitting at our rehearsal place playing the same songs we had played forever. We tried to create some new material but I think our mindset was not there. So we thought that let's do something else for a while. I did Migraine Eyes and joined Jani with Dark Tone Company. And after four years we thought we should give this one more try. And we did.
*Every new album (or ep) of a band or an artist is the best one, that's what they always say. So here is a chance to promote the album. Why should a music lover buy your album? What are the standout tracks for you on this new album and why?
-LN: This time around we felt that we wanted to make our sound bigger but at the same time more easy to the listener. We took out all the unnecessary instrumental and progressive parts. We focused more on the choruses and more on the vocal arrangements and Teemu Liekkala, the man who did the mixing and mastering of this album really did help us to get to the next level. So this time it's more easier, dynamic and still a more fulfilling listening experience.
-AJ: Our album is a journey, every song tells it´s own story. There are a lot of different moods and emotions. I´m sure you can find something you can relate to. And every song has it´s own catch, the songs doesn´t sound the same. Standout tracks are 'Snowglobe' and 'Crimson Pride Symphony'.
– See "CD-Review" for a review (written in Dutch) for the new Memoira album 'Carnival Of Creation' (Inverse Records) –
*I suppose you will promote this album through live concerts (when of course everything is getting back to "normal" after the Covid 19 disaster). If so, would you prefer small clubs or big festivals? And is there a chance we can see Memoira in Belgium?
-JP: I love Clubs. ppl are close there and the air is thick and smoky. Close and personal.
-AJ: I love both. But for me I would like to have the opportunity to play big festivals.
-LN: In a sense both would do fine. They both have their pros and cons. Small clubs during the winter and bigger festivals during the summer time. And yes there is a chance we will see you in Belgium. Things are under the wraps at the moment but I really do hope we get to Europe some time next year.