After releasing their glorious "Chapel of Abhorrence" debut album in 2018, Carnation has been on a relentless warpath, conquering festivals and venues across the globe. The Belgian death metal quintet is now ready to unveil the successor to their debut release, which is aptly titled "Where Death Lies". The album is set to be released on September 18th, 2020 on Season of Mist.
The band will present the very first single of the album on July 8th, 2020. Stay tuned!
Frontman Simon Duson comments: "After two incredible years in service of the "Chapel of Abhorrence", the time has come to venture forth into a new domain. Tirelessly, we have been building our new aural soundscape for months, and we are now ready to present what the future will hold. Prepare to witness an improved Carnation in every way possible; "Where Death Lies" awaits."
Carnation have furthermore revealed the stunning cover artwork for 'Where Death Lies' which is again created by the talented Juan Jose Castellano Rosado. Please find the cover and other album details below.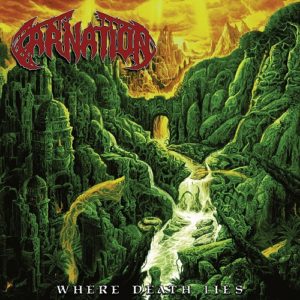 Track-list: 1. Iron Discipline (3:52) 2. Sepulcher of Alteration (4:22) 3. Where Death Lies (3:26) 4. Spirit Excision (3:46) 5. Napalm Ascension (4:09) 6. Serpent's Breath (4:47) 7. Malformed Regrowth (3:09) 8. Reincarnation (5:24) 9. In Chasms Abysmal (7:39) Total playing time: 40:34
Embrace the new death metal overlords and their second full length 'Where Death Lies'! Carnation equals blistering and crushing death metal madness and, with this new chapter, return with relentless destruction and greater punishment than ever before.
Early 2013, guitar player Jonathan Verstrepen created the band to show his appreciation for the old school death metal legends from the '80s & early '90s. Vocalist Simon Duson, bass player Yarne Heylen, guitar player Bert Vervoort, and drummer Vincent Verstrepen were summoned to complete the band, and it didn't take long until the chemistry between this quintet hit critical mass.
The Belgian's first EP offering, entitled 'Cemetery of the Insane', was released upon the masses in 2015 . Tracks such as "Explosive Cadavers" or "The Rituals of Flesh" take you back in time to the better days of shredding riffs, neck-breaking drums, and skull-crushing guttural vocals.
The live rituals that followed were executed with stone cold merciless aggression. Carnation delivered their bloodbath at select festivals across Europe during 2015 and 2016. Their next journey led them to distant Asia for their first tour across mainland Japan. This resulted in the infamous 'Live at Asakusa Deathfest' album, which saw the light in (2017).
These releases, combined with their reputation as a notoriously impressive live act, drew the attention of fans worldwide and provided Carnation with the opportunity to perform at several European festivals and saw the band touring alongside PESTILENCE during their special Brazilian tour in April 2018. After signing with Season of Mist in 2018, Carnation welcomed new and loyal audiences to death's domain and invited them to witness them rise to their throne!
Carnation rage on in 2019 with more spectacular live shows at 70.000 Tons of Metal, Alcatraz (BE) and Damnation Festival (UK), as part of their touring rampage throughout Japan and Europe (with PUNGENT STENCH and DESERTED FEAR), before entering the studio for the recordings of a brand new album. The mastering for the new offering was done by the mighty Jens Bogren (SEPULTURA, ENSLAVED, ARCH ENEMY) at the Fascination Street Studios in Örebro (SE).
With 'Where Death Lies' a new chapter of abhorrence now begins and opens up a hellish path to resurrection, reincarnation, and immortality. You wanted death? Carnation is here with a superior appearance performing new rituals in service of ancient deities. All hail the new death metal overlords!
Carnation line-up: Simon Duson – Vocals / Jonathan Verstrepen – Guitars / Bert Vervoort – Guitars / Yarne Heylen – Bass / Vincent Verstrepen – Drums
Recording Studio & Sound Engineers: Where Death Lies was recorded from January to April 2020. The drums were recorded by Wojtek & Sławek Wieslawski at the Hertz Recording Studio in Białystok, Poland and the guitars, bass & vocals were recorded by Yarne Heylen at Project Zero Studio in Nijlen, Belgium.
Mixing: by Yarne Heylen
Mastering: by Jens Bogren at Fascination Street Studios in Örebro, Sweden.
Cover art: Juan Jose Castellano Rosado