*When did you really get involved into music in general and into metal specific? Who was responsable for your interest in (metal) music?
I probably played some of my first notes on my grandmothers piano (she had been a piano teacher) and we had some instrument lessons also in the early school years. In the early 90´s almost everyone in my school got into stuff like Guns n´ Roses and Nirvana which totally exploded back then, and there were tons of local bands playing covers of these for example. There was just a lot of music happening everywhere, at school and so on. And from there it was natural to discover other, heavier bands on MTV, staying up late and waiting for Headbangers´ ball and all that. One of my friends let me borrow an electric guitar and I discovered that I could do some chugging palm mutes on it and I was hooked for life.
*Which artists or bands did influence you the most?
Some bands that have shaped the fundamentals of my guitarplaying and songwriting have been for example Megadeth, Dismember, Dissection, Opeth, Novembre… And these early influences are something that will always color what I do in one way or another. Of course I find new influences too, but they may or may not always be in the form of bands or music. Sometimes an idea can come from a mood or just something that happens in my life, and I found that I can get a lot of ideas while just playing along to a movie or video, just letting my mind wander and paint a sonic landscape to whatever I´m watching.
*Which instrument do you play and how and when did you learn to play? Did you had lessons in school or private lessons? If so, was that because your parents expected that from you? Or did you learn to play the instruments by yourself? Do yo still follow some lessons?
I play mainly guitar, and occasionally bass. I had music lessons but actually very few on guitar specifically. I did get some piano lessons from my grandmother, but I wasn´t really into it that much and she also didn´t have much patience with me so I didn´t continue that for very long. And after passing through some other instruments the guitar is what sparked my passion. I did have some extra music classes from fourth grade and up to high school, but never really got more than a handful of guitar-specific lessons so I´d have to say I´m self taught on that, and also learned a lot from friends. Nowadays I occasionally look up some online lessons whenever I want to try to improve my technique, but for the most part I play for composing rather than achieving anything technical.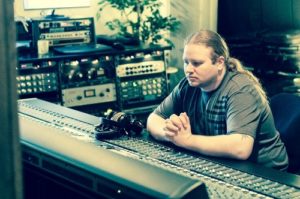 *Do you follow other or are you intrested in other styles of music beside metal? If so, what is the music you prefer to listen to?
Besides metal I also like some post rock, and for example Pink Floyd´s more moody stuff, well there´s a whole lot of other things I can enjoy too. Some classical music occasionally comes up also, like Eric Satie just to name something. I like that kind of melancholic classical music with some level of recognizable and reoccuring themes.
*Is music a full time job for you now or do you have a job beside music? If so, what kind of job are you doing? If you would be really succesful with music, would you quit your other job?
I would say that music is maybe one third of my occupation at the moment. But that also includes, besides my bands, mixing and mastering for other clients. I am far from making a living from my bands. I´m not sure if I would want to rely on writing music for a living as I´m not able to create on demand, but I hope to turn the mixing part into my main occupation eventually. Right now I´m a little bit stuck with those plans partially because of the Covid-situation. I also have another job where I work with assistive technology for blind and visually impaired people.
*If you could start a band with other musicians on other instruments, which artist would you pick for wich instrument and why? (Something Like an "All Stars Band".) Would you still go for a doom / melodic death metal band? Or would you do something completely different?
If it was right now I´ve just been doing a lot of doomy stuff lately so I´d probably take the chance to try something totally different and unexpected. So let´s say Richie Faulkner on guitar and Gene Hoglan on drums, they just seem like people I´d enjoy hanging out and jamming with. Maybe David Ellefson on bass, because I actually love metal bass played with a pick! And myself of course also on guitar. Not sure about vocals. Maybe we don´t need vocals. Maybe we can just jam and drink beer.
*If you had been banned to an uninhabited island and you may pick 5 albums to listen to, wich albums would you choose and why?
1. Novembre: 'Classica', because it´s a brilliant and timeless masterpiece.
2. Dismember: 'Indecent And Obscene', the album that got me into death metal.
3. Pink Floyd: 'The Division Bell', because I can´t go without "High Hopes".
4. If These Trees Could Talk: 'Red Forest', need something instrumental and this is a solid one.
5. Autopsy: 'Severed Survival', for laughs in case I end up eating myself after running out of food.
*Every new album of a band or an artist is the best one, that's what they always say. So here is a chance to promote the album. Why should a music lover buy your album? What are the standout tracks for you on this new album and why?
Well, I think it´s an album that has been crafted with hard work and passion, and attention to detail. That is of course always the goal, but we learn and add something new every time.
With that said, what is the best or not is up to the individual listener and not myself I would say.
Some stand out tracks, maybe 'Coagula' and 'Stasis' as they add some moods that we didn´t really have on the previous ep. Actually it´s very hard for me to single out any tracks as they all combine into the full picture.
– See "CD-Review" for a review (written in Dutch) for the new Exgenesis album 'Solve Et Coagula' (Rain Without End / Naturmacht Productions) –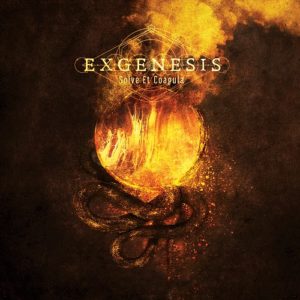 *We hope you will promote this album through live concerts (when of course everyting is getting back to "normal" after the Covid 19 disaster). If so, would you prefer small clubs or big festivals? And is there a chance we can see Exgenesis in Belgium?
Personally I enjoy playing anywhere, be it big or small. As long as the audience is having a good time. Of course, as we are living on different sides of the Atlantic this has made it difficult to arrange so far, even before Covid 19. But would be great for sure!