God Dethroned reveals details for new album, 'Illuminati'.
On February 7th, God Dethroned will release their new full-length, Illuminati, via Metal Blade Records. For a preview of Illuminati, a clip for the album's title track (a first of three interconnected short movies) can be viewed at: metalblade.com/goddethroned – where the record can also be pre-ordered.
The immutable power of the Netherlands' greatest blackened death metal band, God Dethroned, rings true on new album, Illuminati – their most varied material to date. With a cover by Polish master Michal 'Xaay' Loranc (Nile, Evocation), Illuminati is conversant in the tenets of death metal – experimental where it needs to be, and indomitable in spirit. It's the kind of album that will bestow the Dutch heroes with accolades and push them across Europe (first with Obscura) and then the rest of the globe (planning for North and South America is under way) throughout 2020.
God Dethroned's Henri Sattler checked in with the following comment about Illuminati: "Freemasons, occultists and conspiracy theory enthusiasts pay attention! God Dethroned is back to smack you in the face with our new album called 'Illuminati'. After finishing the World War One trilogy, it was about time to go back to dark side with songs about religion, freemasonry and the occult. Song titles like 'Spirit of Beelzebub', 'Broken Halo', 'Book of Lies' and 'Satan Spawn' leave very little to the imagination as to what to expect from us from a lyrical point of view.
But those of you who expected us to go back into a raging frenzy of endless blastbeats and buzzsaw blade guitar sounds better beware. 'Illuminati' is our most varied album to date with a heavy, yet in-your-face type of production. We managed to make our sound bigger and more orchestral than ever before with the use of both atmospheric keyboard parts and many additional vocal parts such as choirs and grunt-on-tone type of vocals. There is a lot to be discovered in the songs of this album because of the many details hidden in the music that will only reveal itself after many listens, and at the same time the tunes on 'Illuminati' are catchier than ever before.
Lovers of Rhandy Roads-meets-Marty Friedman type of melodic guitar solos should definitely give Dave Meester's spectacular leads a listen. Dave was welcomed to the band's line-up during the European tour with Belphegor and Suffocation and stayed within our ranks ever since. Former guitar player Mike Ferguson however contributed greatly to 'Illuminati' by writing several stunning songs and riffs as well as recording half of all the rhythm tracks on the album. We wish him all the best in his future endeavours."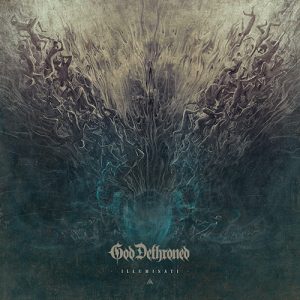 Illuminati track-listing: 1. Illuminati 2. Broken Halo 3. Book of Lies 4. Spirit of Beelzebub 5. Satan Spawn 6. Gabriel 7. Eye of Horus 8. Dominus Muscarum 9. Blood Moon Eclipse
On the live-front, God Dethroned have just confirmed three special Illuminati album-release shows in Lingen (Germany), Hoogeveen and Rotterdam (The Netherlands), before the start of their European tour with fellow deathsters Obscura, Thulcandra and label-mates Fractal Universe. This tour will cover central and eastern Europe, the Baltic states, Scandinavia as well as Germany, to be followed by another tour across the western part of Europe. Afterwards, the Americas are on God Dethroned's agenda and several festival appearances, of which the first ones have been announced now too.
God Dethroned line-up: Henri Sattler – vocals, guitars / Michiel van der Plicht – drums / Jeroen Pomper – bass, vocals / Dave Meester – guitars
________________________________________________________________________________________________
Neaera announces reunion with new self-titled album.
After announcing their farewell tour in 2015, Neaera has now re-formed! The band is ready to release a new self-titled album via Metal Blade Records on February 28th.
Neaera's fire was first rekindled when the band played two exclusive shows in 2018. "We have been overwhelmed by the reactions," comments singer Benjamin Hilleke. "None of us was expecting that and it was the moment when the fire was de-fact again!"
A little while later Tobias Buck started to come up with new song ideas: "I just really got up to it again and met directly with our friend and later producer Trisan Hachmeister to record a few things in his studio for testing purposes. The other guys were immediately fished-on from the first auditions. A few months later, we sat down together at one table and decided to record another album together."
For the mixing and mastering the band got Jacob Hansen (Volbeat, Heaven Shall Burn, a.o.) on board. "Hansen already did a great job with our albums 'Let The Tempest Come' and 'Armamentarium'. This is exactly the sound we wanted to have back on this album," says Buck happily.
For a preview of Neaera, the video for the first single "Torchbearer" can be seen at: metalblade.com/neaera – where the album is also available for pre-order.
Neaera is playing an exclusive club show on the 29th of February in their home town of Münster, Germany. Tickets for this intimate happening are only available via the pre-order bundle!
Founded in 2003, Neaera has been with Metal Blade Records since 2004, releasing six albums during this time. For their upcoming self-titled record, they decided to work with professionals and studios that have contributed to the band's history: drums were recorded in the Docma Klang Studio in Osnabrück (where the demo was recorded in 2004); Jacob Hansen handled mixing and mastering duties; artwork was created by Terje Johnsen (who also handled the art for 2007's Armamentarium, 2009's Omnicide – Creation Unleashed, 2010's Forging The Eclipse). The result is an album that reflects 100% of Neaera's trademarks!
Neaera track-listing: 1. (Un)drowned 2. Catalyst 3. False Shepherds 4. Resurrection of Wrath 5. Carriers 6. Rid the Earth of the Human Virus 7. Sunset of Mankind 8. Lifeless 9. Eruption in Reverse 10. Torchbearer 11. Deathless
Neaera line-up: Benjamin Hilleke – vocals / Sebastian Heldt – drums / Benjamin Donath – bass / Stefan Keller – guitars /Tobias Buck – guitars