België telt enorm veel festivals en het is net alsof dat jaarlijks maar blijft groeien. Vooral kleinere en / of middel grote festivals schieten als paddenstoelen uit de grond en door het bos zie je soms de bomen niet meer. Maar ook in het buitenland schreeuwen een pak minder grote festivals om aandacht. Zelf gaat MUSIKA al een aantal jaar naar het Cernunnos Pagan Fest in het Franse Noisiel, maar we willen hier ook een aantal andere festivals onder de aandacht brengen. Misschien een idee om eens een buitenlands reisje te maken en ondertussen een festival mee te pikken. We zetten er een paar op een rijtje.
Van 3 tot en met 5 mei is er o.a. Desert Fest London en daar kregen we volgend Engelstalig persbericht over: "Showcasing the best of what the underground has to offer is at the core of Desert Fest London and this year's line-up is the most eclectic, yet satisfying to date by ticking those "wish-list old school desert rock" boxes with Fu Manchu and Witch at The Roundhouse, whilst pushing the boundaries of heavy with the likes of HHY & The Macumbas and Grave Miasma. Year after year it's about offering up a diverse bill that allows for discovery, whilst celebrating the musical foundations of the festival, and the final Saturday headliner and remaining 28 acts do just that.
Desert Fest are honoured to reveal that the incomparable AMENRA will celebrate their 20-year anniversary across the London weekend this May, bringing their uniquely atmospheric sound as headliners of Saturday's mainstage and, for the first time in the UK, an even more intimate side of the band takes place at The Underworld on Sunday with solo performances from CHVE & SYNDROME. We would be proud to have Amenra headline Desert Fest on any year, but to have them on the year they celebrate their 20th anniversary makes it all the more special for us and also the band themselves.
Desert Fest are also pleased to announce a stage takeover from the mighty Riding Easy Records, the righteous west coast label will not only bring the sun (we hope) but a hefty dose of fuzzed out riffs from their roster. Headlined by rock'n'rollers ELECTRIC CITIZEN who refuse to be pigeonholed with a 70s proto-metal sound that chimes into psychedelic realms. Street-doom killers R.I.P will hit the UK for the first time and vocalist Fuzz is ready to bring it hard and loud. Completing the stage showcase are 80s punk heavy metal hybrids ZIG ZAGS, hazy Swedish doom newcomers ALASTOR and the low and slow psych goth-rock sounds of BLACKWATER HOLYLIGHT.
If that wasn't enough Desert Fest also adds thunderous space-rock psychedelic masters MONKEY3 to upcoming proceedings, the unforgiving primitive metal sounds of THE SECRET and LA party starters THE SHRINE, who haven't graced DF with their amped up stoner-skate vibes for well over 5 years.
We also welcome back our long-time partners Human Disease Promo/When Planets Collide for another takeover of The Underworld on Saturday. Topping the bill, the riff muscle of Savannah, Georgia is brought back to The Underworld by the mighty bruisers BLACK TUSK. Dropping in straight underneath we're living the doom dream of olde with Chicago legends in THE SKULL. Glasgow gives us two offerings this year in the form of explosive riff n roll filth-party heads ACID CANNIBALS, and to lower the tone whilst severely twisting some melons we also welcome their fellow city dwellers HEADLESS KROSS. As ever we chose to open up with a cataclysmic attack, hence why we've invited Brighton's bleak hardcore oblivionists KALLOUSED to set the day into fittingly venomous motion. Bring yourr ear plugs, it's gonna be a floor shaker!
And finally, Desert Fest round off with the brilliant SKRAECKOEDLAN, BLANKET, SALEMS BEND, SURYA, HIGH PRIESTESS, ZED, KUROKUMA, GREAT ELECTRIC QUEST, PSYCHLONA, VIDEO NASTIES, ONE FOR SORROW, WORSHIPPER, MOUNTAIN CALLER & 1968 all added to the monumental 2019 line-up."
Op zaterdag 1 juni en zondag 2 juni is er het MetalItalia.Com Festival in de Live Music Club in Trezzo sull'Adda (Milan), Italië. Voor beide dagen werden reeds een drietal namen vrijgegeven. Zo is er op zaterdag het Zweedse Darkane (thrash metal / death metal), het Italiaanse Fleshgod Apocalypse (symphonic death metal) en fungeert Arch Enemy (melodic death metal) er als headliner. Voor dag twee werden reeds Phil Campbell and The Bastard Sons (hard rock 'n' roll / heavy metal), het Zweedse Hardcore Superstar (hard rock / sleaze / glam metal) en, als headliner, het Zwitserse Gotthard (hard rock / heavy metal) aangekondigd.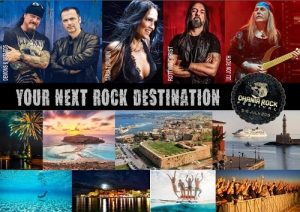 En dan is er ook nog het Chania Rock Festival dat op 5 en 6 july plaats vindt in Chania, Kreta. Dit festival kondigt reeds volgende namen aan: Demons & Wizards, Tarja, Rotting Christ en Uli Jon Roth. "Early bird"-tickets zijn reeds beschikbaar!