*When did you really get involved into music in general and into metal specific? Who was responsable for your interest in (metal) music?
I guess I was around 7 when my older brother started to bring home some more rock/metal-oriented music like Guns N' Roses and Metallica. I Got hooked right away and never looked back!
*Which artists or bands did influence you the most?
Well that has of course changed through out the years but the first band that really got me into music was probably, as mentioned above, Guns 'n' Roses with the 'Appitite For Destruction' album. Soon after that I discovered the old stuff by Metallica and they pretty much dominated my pre-teen years which inspired me to start playing the guitar and later on also opened the doors to heavier kinds of music. After starting my first band I got really into Dissections first two albums which was probably the band that led to my interest in writing music. Since then I take inspiration from pretty much everything that I like!
*Which instrument do you play and how and when did you learn to play? Did you had lessons in school or private lessons? If so, was that because your parents expected that from you? Or did you learn to play the instruments by yourself? Do yo still follow some lessons?
I was probably around 9 or 10 when I started to play the guitar and because the public lessons in Sweden (at least were I grew up) only focused on classical guitar (and I wanted to play Metallica) I instead attended private lessons for a few years. But I found that I was more intressted in writting music rather than playing solos and such so I dropped of when it all just became about scales and all that booring stuff. I haven't taken any lessons since then.
*Do you listen to or are you intrested in other styles of music beside rock / metal? If so, what is the kind of music you prefer to listen to?
Yeah of course, I like all kinds of music but it all depends on the occasion. Not the biggest fan of techno and hip hop but just like with metal and rock there are good stuff and bad stuff in every kind of music.
*Is music a full time job for you now or do you have a job beside music? If so, what kind of job are you doing? If you would be really succesful with music, would you quit your other job?
We all have ordinary full time jobs and all of us are doing different things so the music is kind of a side thing, for now at least. I guess our drummer Tatu Kerttula is the one who plays the most right now with his position in Wormwood, both me and guitarist/vox Richard Annerhall are playing some with Repuked aswell but it´s nowhere near the amount were we could quit our jobs. We´ll see how KATHAROS career develops but the goal is to be as big as possible and if we´ll get the chance to have it as a full time job I don´t see why we wouldn´t take it.
*If you could start a complete new band (something like an all star band) with other musicians on other instruments, which artists would you pick for wich instrument and why? Would you still go for a symphonic black metal band?
Oh, this is a hard one, but I think I would set up a Rainbow, Deep Purple kind of band, it would be cool to play something other than death or black metal. I have just picked some of my favourite musicians even though they might make up a pretty weird match… but fuck it, it would be cool to see and play with! Ronnie James Dio – Vocals / Dave Murray – Guitar / Jason Newsted – Bass / Chris Reifert – Drums.
*If you had been banned to an uninhabited island and you may pick 5 albums to listen to, wich albums would you choose and why?
Dismember – 'Indecent And Obscene', Emperor – 'Anthems To The Welkin At Dusk', Thin Lizzy – 'Black Rose', Pink Floyd – 'Wish You Were Here', Guns N' Roses – 'Appitite For Destruction'.
*Every new album of a band or an artist is the best one, so they say. So here is a chance to promote your album. Why should a music lover buy your album? What are the standout tracks for you on this new album and why?
If you enjoy black metal in the vein of Emperor, with the combination of speed, rawness, melody and epicness, I believe you should definitely buy this album. Standout tracks are ackording to me: 'The World Serpent's Marrow', 'Hornclad' and 'Feigned Retreat'.
– See "CD-Review" for a review (written in Dutch) for the new Katharos album 'Of Lineages Long Forgotten' (Willowtip Records) –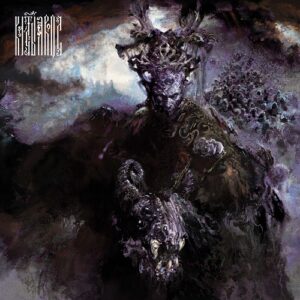 *Is there a chance that you will promote these songs through live concerts? If so, would you prefer small clubs or big festivals? And is there a chance we can see KATHAROS in Belgium?
Yeah thats pretty much our ambition now after we released the album, the bigger the better I guess and in as many countries as possible. But we don´t have anything booked right now and playing live with KATHAROS will be new for all of us so in the beginning we´ll take what we can get just to spread the name to as many people as possible.