Spanish Symphonic Power Metal band Phoenix Rising have signed a licensing deal with Wormholedeath for the album "Acta Est Fabula", due for digital release on 23 07 2021. More info about the physical CD coming soon!
"Acta Est Fabula" is the 4th release from Phoenix Rising and it features songs that are a balanced combination of aggressive drums, shredding guitars, epic orchestrations, powerful vocals and catchy chorus.
Phoenix Rising have stepped up their game even more on this new album and the level of detail in the production, mixing and composition.
"Acta Est Fabula" is a concept album and the band have even written a short novel around the CD for a more complete and immersive experience.
Influences for the Album: Rhapsody of Fire, Orden Ogan, Kamelot, Helloween, Brothers of Metal, Two Steps from Hell, Opera Magna, Amaranthe, Arion.
Tracklist: 1. El Portal de Thalogrim 2. Acta Est Fabula 3. Luna de Sangre 4. El Último Aliento 5. El Doblón de la Muerte 6. Deriva Speranza 7. El Temor de un Hombre Sabio 8. Achterhuis 9. Ira Ciega 10. El Caminante
Biography: Phoenix Rising was formed in 2007 under the name "Quinta Enmienda" but it was not until 2010 that the band released its debut album "Ne Bis In Idem". The band toured intensively during the next couple of years and gained good reputation both from public and media. Their convincing performance in front of 5000 metalheads at Sonisphere festival finally got them signed to German label "Sonic Attack" and the band decided to change its name to "Phoenix Rising". The second album, "MMXII", was recorded both in English and Spanish language and it finally dropped in March, 2012. The album was distributed worldwide by "SPV" as a double CD and marvelous critics comparing them with world-class bands such as "Rhapsody" or "Sonata Arctica" don't last to show up. As a result, later that year the band signed another deal with Japanese label Hydrant Music to release an exclusive version of the album containing several bonus tracks in Japan. In late 2013 Phoenix Rising entered the studio to record its third album, "Versus", which was finally self-published in 2014.While musically speaking, the band kept the same formula acclaimed by the fans and media, lyrically speaking, the band focused more on life-struggle and life-death duality. The tour that followed "Versus" took the band to many new places, not only within Spain but to different cities in France and Belgium during the summer of 2016. After that, the band decided to take a long break from touring to focus in the writings for the upcoming album, "Acta Est Fabula" which aims to become the most ambitious of its career, combining epic orchestrations and choral sections with Phoenix Rising's trademark of epic vocals and shredding guitars. The album was recorded at New Life Studios between 2018 and 2020 and was funded through a Verkami campaign. "Acta Est Fabula" was officially launched on March 26th, 2021.
Discography: Ne Bis in Idem (Cd, 2020) / MMXII (Cd, 2012) / Versus (Cd, 2014) / Acta est Fabula – Wormholedeath (Cd, 2021)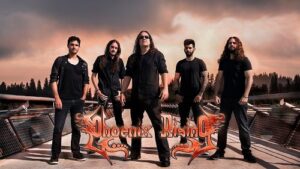 Phoenix Rising line-up: Miguel González: Vocals & Lead guitar / Daniel Martínez: Lead guitar / Jesús M. Toribio: Keyboards & Orchestration / Cristian Rodríguez: Bass / Carlos Vivas: Drums