Kristoffer Gildenlöw announces his new album Let Me Be A Ghost to be released on 3rd September 2021. This is foremost Kristoffer's darkest musical journey in his artistic realm, as this album is not for the fainthearted as it is confronting and revealing of our own shortcomings. With painting soundscapes, dynamics, contrasts and his signature storytelling, Kristoffer takes us to the deepest, most eerie places of the mind. These are stories about giving up or carrying on, falling down or standing strong. About choices on the edge of life and death, about the ghosts who roam both realms.
Let Me Be A Ghost is the fourth solo album by Kristoffer Gildenlöw, following RUST (2012), The Rain (2016) and Homebound (2020).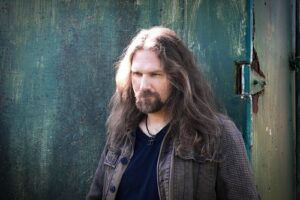 Kristoffer was born and raised in Sweden but lives in The Netherlands since 2003, where he currently plays in the iconic Dutch symphonic rock band Kayak. He started playing the piano at the age of 7 and started playing bass at the age of 14. However Kristoffer is a multi-instrumentalist, bass guitar is his main instrument.
In 1994, at the age of 16, Kristoffer was asked to join his brothers (Daniel) band Pain Of Salvation and in 1997 the debut album Entropia was released. Pain of Salvation rose to become one of the most respected bands in the progressive rock/metal genre and is still one of the most proclaimed ones in the scene. Kristoffer is part of the early legacy of Pain of Salvation, including their first 6 studio albums and the live BE album/DVD and the ever so praised album Remedy Lane.
In 2006, Kristoffer parted ways with the band en in the years that followed, he was frequently asked to lend his signature playing skills to various artists as a session bass player – live and in the studio.
Kristoffer has his name on more than 50 releases and has touring the world with some of the bigger names out there: Neal Morse (US), Lana Lane (US), Damian Wilson (UK), Mr. Fastfinger (FIN), Ian Parry (NL), The Shadow Theory (AU), For All We Know (NL), Dark Suns (D), Robby Valentine (NL), Bert Heerink (NL) and Omnia (NL), to name a few.
Being active as a musician for more than 25 years, Kristoffer also felt inspired to make his own solo albums, not only to have total freedom as a bass player but also as a songwriter, vocalist, instrumentalist, producer and engineer.
In his own music, we can hear parts of artists and bands that have influenced him musically over the years. And there lies the dynamic range of his music. From the more singer/songwriter approach (Leonard Cohen, The White Buffalo, ) to multi-layered symphonic rock (Pink Floyd, Mike Oldfield, Roger Waters, David Sylivan, Blackfield). And it's fans of these bands and artists that will probably take liking in the music
Kristoffer also has a big heart for nature and charities and has on several occasions used his music to raise money and awareness for different causes.
All income from his single Pass The Touch will be directly transferred to The David Sheldrick Wildlife Trust to help save orphaned baby elephants in Kenya.
In 2018, Kristoffer released the album We Are Breaking The Chains, under the rock-project Breaking The Chains. A collaboration with 50 of the best Dutch rock musicians, who came together to make this album to raise awareness and funds for abused children.
This was the product of many years of planning, composing music, making connections and lobbying.
Breaking The Chains contained musicians from well-known bands such as Within Temptation, Epica, Delain, Martyr, Kayak, Kingfisher Sky, MaYaN, Textures and more.
Kristoffer's own music often reflects on life and nature. Growing up, remembering, forgetting, regretting, hoping, dreaming, growing old and taking our place in the perpetual circle of life.
Tracklist: Let Me Be A Ghost pt. I / The Wind / Blame It All On Me / Falling, Floating, Sinking / Fleeting Thought / Fade Away / Don't / Lean On Me / Let Me Be A Ghost pt. II / Still Enough / Where I Ought To Be / Let Me Be A Ghost pt. III / Look At Me Now
Formats: – Limited Edition double LP / – Threefold digipack CD / – Digital Download and streaming on all major platforms
Production notes: All songs written by Kristoffer Gildenlöw / Mixed and Produced by Kristoffer Gildenlöw / Mastered by Peter van 't Riet at Finetune Mastering Studio (NL) / Cover art painting by Sander van Helvoort / Artwork by Kristoffer Gildenlöw
Guest Musicians: Joris Lindner: Drums on The Wind, Falling, Floating, Sinking, Fleeting Thought, Lean On Me, Still Enough and Where I Ought To Be. Hammond Organ on The Wind / Dirk Bruinenberg: Drums on Let Me Be A Ghost pt. III / Erna auf der Haar: Vocals on Lean On Me / Ronja Gildenlöw: Vocals on The Wind / Marcel Singor: Guitar solo on Fleeting Thought