Belgian symphonic metallers InHuman are unleashing the official lyric video for 'The Chosen Cancer', taken from their upcoming self-titled album to be released on February 26th 2021.
Watch the stunning new lyric video by the hands of Aimed & Framed at: https://youtu.be/9SuP7RO1tjs
InHuman comments: "Our worship and contempt are down to the choices we make. The vision that lies beneath, the filter we apply. All that blooms eventually dies just the same. So stand up and fashion your own demise. Choose wisely."
The new album was recorded & mixed at Nomad Studio by Julien Huyssen while the vocals were recorded at the Vamacara Studio in France.
The album also features magnificent orchestral contributions by the Gens university choir.
Virtual Orchestrations were made by the hands of Eerik Maurage.
'InHuman' tracklist: 1. Intro 2. The Chosen Cancer 3. Clockwork in the Past 4. Unfolded 5. The Day I Died 6. Unbearably Human 7. For the Life of Me 8. No Bullet Required 9. Lullaby (Casus Belli) 10. Casus Belli 11. Home
A pounding, symphonic bulldozer of humanity – that is InHuman. Double-bass drums crushing like a hammer, massive cinematic orchestrations and catchy choruses in an uncompromising production of violence. Proving once and for all symphonic metal does not have to be gentle, nor sweet.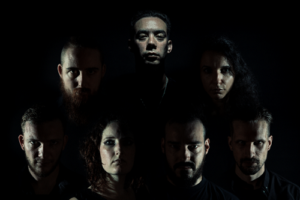 InHuman is: Dietwin (vocals), Eline (vocals), Astrid (keyboard), Romain (guitar), Eerik (guitar), Yuki (drums) and Julien (bass).