*When did you really get involved into music in general and into metal specific? Who was responsible for your interest in (metal) music?
My interest for music came from my family. I had some musicians in the family and when I was very young, approximately 9 years old, I simply felt in love for a beautiful acoustic guitar of my uncle (lol), that was a musician, releasing his first vinyl record on that time. Then he saw my eyes brighting, started to teach me the basics and I never stopped. It was in the middle 80s, also when I started to get my first steps in the Heavy Metal world, influenced by some friends in the neighbourhood and at the school.
*Which artists or bands did influence you the most?
That's funny because I was a Guns N' Roses fan when they came to Rock in Rio II, but at the same time I had the opportunity to see Sepultura live at the festival, as also Megadeth, Judas Priest and Queensrÿche… and it was crazy and amazing! A complete new world opened in front of me. Magical! Sepultura is obviously one of my main influences until today, Metallica, Slayer (my favorite band ever), Iron Maiden, Venom, Kreator, Celtic Frost, Death, Obituary, Cannibal Corpse, Napalm Death, Sarcófago, Dorsal Atlântica, later the Black Metal bands like Mayhem, Darkthrone, Burzum, Immortal, Emperor… Well, and the list goes on…
*Which instrument do you play and how and when did you learn to play? Did you had lessons in school or private lessons? If so, was that because your parents expected that from you? Or did you learn to play the instruments by yourself? Do yo still follow some lessons?
I'm a guitar player and as I mentioned before, I started learning acoustic guitar, through private lessons with my uncle. A few years later, in the 90s, specially after Rock Rio II in 1991, when I got amazed by the Heavy Metal world, I finally started to play electric guitar, when my parents gave me my first instrument. Before that I already played on some guitars from friends but since I got my own, everything changed and evolved way better, of course. On that time I was already studying classical music in an important music school in Rio de Janeiro, but that wasn't exactly my thing, then I decided to quit the classes to dedicate myself into the Heavy Metal and distorted loud guitars world (lol). At the beginning I started to learn by myself and later private lessons with some very good local guitar players. It was nice! I learned a lot! Today I manage my own lessons when I have free time enough, but I must confess it's rare. I would like to have more time and focus to do that. Anyway, I'm always playing my guitar, not studying necessarily, but playing… That's already something, right?
*Do you follow other or are you interested in other styles of music beside metal? If so, what is the music you prefer to listen to?
Sure, I'm a very eclectic person and beyond all kind of Metal styles, I'm still very into classical music, for example, that was also an important part of my musical background. I like Fusion/Jazz, Progressive Rock, New Wave, even Pop Music, at least the 80/90 artists. But yeah, I must say that my daily basis music is definitely the Heavy Metal in general.
*Is music a full time job for you now or do you have a job beside music? If so, what kind of job are you doing? If you would be really successful with music, would you quit your other job?
I think I kind can say that, yeah, because I'm musician and graphic artist, more specifically working on cover arts, layout and merch for Metal bands, so I have all that special connection. Honestly my job as graphic artist always came first, that's something I really love to do and from where I luckily can take my income, you know, to take care of my family and everything else. While musician, specially here in Brazil, in a Metal band, that's insanely difficult and never was my main focus or dream, probably because I always faced it as an utopia or something like that. So, even if I could be successful with music, and since I'm my own boss for so long years, I really think it's possible to manage to do both things together. This focus on my job as graphic artist already gave me a lot of happiness and achievements, some dreams that became true. The biggest one was when I had my artwork on a Slayer cover, "Repentless", and that's fantastic. No words! They're my favorite band ever since I was younger and dreamer. Now I'm playing in a band with my good friend, Jairo "Tormentor" Guedz, former member of Sepultura, a band that was a very important part of my Metal school. That's amazing! Life is really a box of surprises… We never know 🙂
*If you could start a band with other musicians on other instruments, which artist would you pick for which instrument and why? (Something Like an "All Stars Band".) Would you still go for a death metal band? Or would you do something completely different?
I never thought about that, but I would definitely go for something out of Metal… To explore a completely different style of music. Probably on the Fusion/Jazz and Progressive music somehow. It could have even a small touch of Metal, but not the focus. I already play extreme Metal in The Troops of Doom and my other bands Patria and Mysteriis, and I'm always involved with some other music projects here and there. Bytheway, one of my future projects is my solo album, that will come in that Fusion vein I mentioned, also allied with a classical and epic soundtrack approach. Okay, thinking extremely out of reality, on something like "All Stars Band" as you suggested, I would say Mike Portnoy on drums, Billy Sheehan on bass, Steve Vai on the other guitar and Hans Zimmer on piano/synths and orchestrations. It would be an instrumental project, just because I can't think on a vocalist that could embrace all that crazy shit and sounding great at the same time (lol).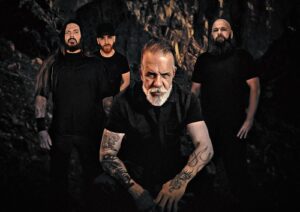 *If you had been banned to an uninhabited island and you may pick 5 albums to listen to, which albums would you choose and why?
Damn! That's fucking difficult… Let's see… Probably 'Reign In Blood' (Slayer), 'Ride The Lightning' (Metallica), 'Piece Of Mind' (Iron Maiden), 'Passion And Warfare' (Steve Vai) and 'Awake' (Dream Theater). Anyway, I would miss badly albums like 'Arise' (Sepultura), 'Coma Of Souls' (Kreator), 'To Megatherion' (Celtic Frost), just to mention a few… Well, just because it kind synthesizes my Metal school and my biggest early influences, let's say…
*Every new album (or ep – we do know it's the debut-ep) of a band or an artist is the best one, that's what they always say. So here is a chance to promote the album. Why should a music lover buy your album? What are the standout tracks for you on this new album and why?
This debut ep is particularly special for me, not only because I'm being part of something magical, for being able to play with great friends and talented musicians, specially considering the history behind the project, since Jairo was a former member of Sepultura, one of my biggest influences of all the times, since I was a kid. But also because we were able to do it during a really bad world moment, in the middle of a tough pandemic year, still discovering unusual methods and process to compose, record and produce the songs. And taking something positive from all this confinement shit, expressing all this feeling, full of anger, truth and resilience, through our music. This is not an usual year and I promise you guys, this is also not a usual ep. If you're into that raw and primitive old school stuff, we're delivering a very interesting experience here. And I'm saying that firstly as a Metal fan! If I have to choose, my favorite track is "Between The Devil And The Deep Blue Sea", that was our first Single, but this ep tells a kind of story and each track completes itself, been all them important for the work's final context.
– See "CD-Review" for a review (written in Dutch) for the new The Troops Of Doom album 'The Rise Of Heresey' (Blood Blast Distribution) –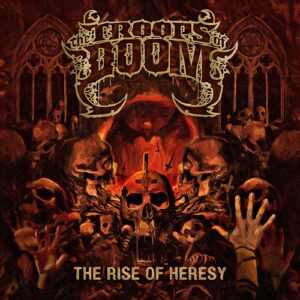 *I suppose you will promote this album through live concerts (when of course everything is getting back to "normal" after the Covid 19 disaster). If so, would you prefer small clubs or big festivals? And is there a chance we can see The Troops Of Doom in Belgium?
I must say both ways have its charm. The festivals are great to expose your music for a very wide crowd, while the clubs are more warm and intimate, looking in the eye of the people, which's also very cool. But yeah, I hope everything gonna be better and better soon. We're excited, working on an European Tour for the end of the next year, 2021. We already have a few dates in Portugal and Spain, only seven dates so far, but we're trying to deal and get a bigger tour, with at least 20 dates or more for all Europe, including Belgian, of course. That would be awesome! Let's see what happens. It's still early to say anything. Bytheway, if there's any European promoters reading this interview, interested to take The Troops of Doom to your country, please, write to our Booking Agency Hueso Producciones on the email: huesoproducciones@hotmail.es
Thank you! Cheers from Brazil!