Evergrey announcing new album and revealing cover art.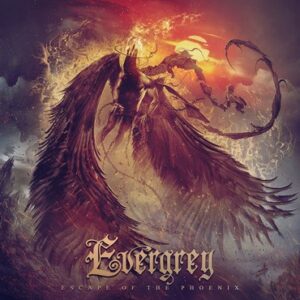 Gearing up for the release of their highly anticipated 12th album, Swedish progressive metal band Evergrey is at a point in their career that many of their peers can only dream about. Since the release of "Hymns For The Broken" in 2014, Evergrey has enjoyed increased notoriety and success with "The Storm Within" (2016) and "The Atlantic" (2019) – ironically, a conceptual trilogy – which is highly unusual for a veteran act, and something frontman / founder Tom S. Englund considers an honour and a privilege. They mean to continue this tradition on February 26th, 2021 with "Escape Of The Phoenix", another heavy, melancholic and thought-provoking journey as only Evergrey can create.
______________________________________________________________________________
Metalite: first video-single for upcoming new album.
The update for modern Power and Melodic Metal will be coming sooner as expected – with a new album called "A Virtual World" (to be released 26th March 2021) the Swedish Power Metal quintet Metalite returns to the metal dancefloor. Not even 1,5 years after they returned with their new singer Erica Ohlsson – who brought in a massive amount of energy and musicianship to increase the impact for the new heroes of Modern Metal – trendsetting, epic and of the highest quality. Now the band not only revealed the excellent cover art for "A Virtual World" on their socials, which has been created by Finnish graphic artist Jan Yrlund / Darkgrove Design. No, Metalite also left a first odour mark with their mighty video-single "Peacekeepers", which has been released on Friday 27th November 2020 and already gathered a big bunch of plays and streams on Spotify & Co. See the full clip at: https://www.youtube.com/watch?v=0NdeLffGSyc&feature=youtu.be&ab_channel=AFMRecords
______________________________________________________________________________
Lake Of Tears announce new album.
We are very happy to announce a superb, brilliant new album from our Swedish Dark Rock pioneers Lake Of Tears after 10 years. The album, so long awaited by the fans, has come to an end and has more than paid off with "Ominous" they exceed all our expectations and will be a milestone in the success story of Lake Of tears, we are sure. The new release of Lake Of Tears is the perfect soundtrack for short, grey days and long, cold, dark nights. After nearly a decade of silence, Daniel Brennare, head and heart of the Swedish pioneers of dark music, finally reveals his sinister world of thought. "Ominous" will be released 19th February 2021