*When did you really get involved into music in general and into metal specific? Who was responsable for your interest in (metal) music?
My mom and dad always listened to rock music when I was a kid, mostly KISS and Alice Cooper. But I think I was around 12 when I started to get in to a lot of Metallica and later on In Flames. Those bands were my entrance to the heavier metal bands.
*Which artists or bands did influence you the most?
Metallica and In Flames
*Which instrument do you play and how and when did you learn to play? Did you had lessons in school or private lessons? If so, was that because your parents expected that from you? Or did you learn to play the instruments by yourself? Do yo still follow some lessons?
I'm a self learner. Got my first guitar when I was 13. And my first bass when I was maybe 15. My dad was a bass player so we jammed a bit together. And later on bass my instrument of choice.
*Do you follow other or are you intrested in other styles of music beside metal? If so, what is the music you prefer to listen to?
I listen to all kinds of music. I've always said that a good song is a good song, no matter what kind of genre it comes from. Right now I listen to a lot of synthwave. I love a band called The Midnight.
*Is music a full time job for you now or do you have a job beside music? If so, what kind of job are you doing? If you would be really succesful with music, would you quit your other job?
No, I have a job besides the band. I work as a manager in a food store. I'm pretty happy with the situation I got right now with combining the two. If I really had to make the choice, well then I would pick the music, but it's not something I'm aiming for as of now.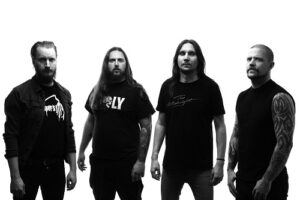 *If you could start a band with other musicians on other instruments, which artist would you pick for wich instrument and why? (Something Like an "All Stars Band".) Would you still go for a death metal band? Or would you do something completely different?
It maybe sounds cheesy but I wouldn't change what I already got. Playing in Lik and with Tomas, Chris and Niklas is my pick for great musicians and above all, great people. I'm so happy to be a part of that.
*If you had been banned to an uninhabited island and you may pick 5 albums to listen to, wich albums would you choose and why?
Hehe I would pick Metallica – 'And Justice For All'. In Flames – 'Jester Race'. Soilwork – 'A Predators Potrait'. The Midnight – 'Endless Summer' and Pantera – 'Vulgar Display Of Power'. Why? I want a good mix of different kinds of metal with some synthwave in the middle.
*Every new album (or ep) of a band or an artist is the best one, that's what they always say. So here is a chance to promote the album. Why should a music lover buy your album? What are the standout tracks for you on this new album and why?
Hehe, that's a hard question for me to answer. I'm so proud of being a part of 'Misanthropic Breed' and I genuinely think it's a killer album. But if it's the best album by Lik this far, that's not for me to say. I leave that to the fans. My favorite track is 'Female Fatale To The Flesh'. A cool, slower track. But that can change if you ask me another time.
– See "CD-Review" for a review (written in Dutch) for the new Lik album 'Misanthropic Breed' (Metal Blade Records) –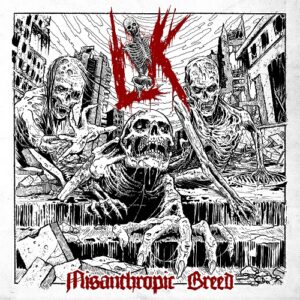 *I suppose you will promote this album through live concerts (when of course everyting is getting back to "normal" after the Covid 19 disaster). If so, would you prefer small clubs or big festivals? And is there a chance we can see Lik in Belgium?
Touring is probably my favorite thing to do. I love playing live, both in small clubs and big festivals. For me, the mix of them two is the most preferable and I would love to play in Belgium. Hopefully soon!