*When did you really get involved into music in general and into metal specific? Who was responsable for your interest in (metal) music?
I can't really pin point an exact time or date but I was very young when music became my thing. Although growing up both my parents always had music playing throughout the day it was my dad who exposed me to the heavier stuff though mainly old school punk in the beginning. One day he through on Metallica's "…And Justice For All" and that was that. Metal was what I wanted and needed. So I am who I am today all thanks to my pops. Love that guy!
*Which artists or bands did influence you the most?
Man there are too many to name so a few would have to be Morbid Angel, Gorguts, Dead Congregation, Deicide, Hate Eternal.
*Which instrument do you play and how and when did you learn to play? Did you had lessons in school or private lessons? If so, was that because your parents expected that from you? Or did you learn to play the instruments by yourself? Do yo still follow some lessons?
I play lead guitar in SR though very poorly compared to Chris haha. I started playing when I was 12 took some lessons the 1st couple years but honestly, nothing stuck. I've always had a bit of a learning problem so I just couldn't get any of this music stuff down. For as long as I've been playing I should be so much better but it is what it is haha. I'm always learning though and practicing techniques on my own but it is all self taught. I do wish I understood music theory and all that good stuff though to be honest.
*Do you follow other or are you intrested in other styles of music beside metal? If so, what is the music you prefer to listen to?
Oh yeah definitely I literally listen to everything. It all depends on what I'm feeling at the moment really. It'll range from Waylon Jennings to Tame Impala to Dr. Dre to Circa Survive and everything in between. I'm a fan of music through and through. There are no boundaries.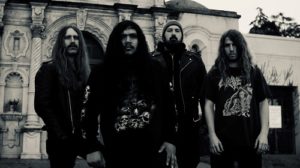 *Is music a full time job for you now or do you have a job beside music? If so, what kind of job are you doing? If you would be really succesful with music, would you quit your other job?
Oh man one can only dream haha. No we all have our normal day jobs. I would quit the normal life in a heartbeat. Music, I felt, has always been my calling, the only thing I really know how to do. I tried my hand at the normal 9-5 day job life, marriage and all that just for it to crash and burn. When I lost it all music was there to pick up the pieces and give me strength to move on. So in reality I fucking hate being home haha.
*If you could start a band with other musicians on other instruments, which artist would you pick for wich instrument and why? (Something Like an "All Stars Band".) Would you still go for a death metal band? Or would you do something completely different?
As much as my heart is in Old School Death Metal I'd probably start a more progressive experimental rock / metal band in the vein of Opeth, Exivious or later era Cynic. For drums I'd have Martin Axenrot, guitars would be Brendan Ekstrom and myself, bass Sean Malone and vocals this is a bit of a wild one but it would be the late great Layne Staley. Each musician brings a wide variety to the table from different genres so that's something I would love to see come to fruition.
*If you had been banned to an uninhabited island and you may pick 5 albums to listen to, wich albums would you choose and why?
Damn that's tough. Alice In Chains 'Unplugged Live' album, Circa Survive's 'Juturna', Hate Eternal's 'Upon Desolate Sands', Cynic's 'Focus' and Death's 'Human'. Each album is not only different in genre but completely different in feeling. They've all inspired me at one point of my musical career to push myself beyond my comfort zone.
*Every new album (or ep) of a band or an artist is the best one, that's what they always say. So here is a chance to promote the album. Why should a music lover buy your album? What are the standout tracks for you on this new album and why?
I would say this album has so much raw emotion embedded into it that any listener can feel the real rage and frustration we were experiencing in our personal lives. We also put a lot of thought into the music, not that SR has never done that before, it's just that this time we took more chances with play styles that were out of our element such as in songs like 'Tombs Of Chaos' and 'Eternal Hatred'. We wanted to take that next step into the band's evolution and we feel we accomplished that goal.
– See "CD-Review" for a review (written in Dutch) for the new Skeletal Remains album '20 / 20′ (Century Media) –
*I suppose you will promote this album through live concerts (when of course everyting is getting back to "normal" after the Covid 19 disaster). If so, would you prefer small clubs or big festivals? And is there a chance we can see Skeletal Remains in Belgium?
Obviously we would love to play huge festivals because we want to get our music out to as many people as we can but we aren't greedy. A small club packed full of SR fans can feel like playing the Forum. We love our fans and we love doing what we do. We have so much booked for 2021 it's looking like it's going to be a busy year! Hopefully Covid cools off by then and decides to stop being such a fucking asshole haha.