'The Human Condition' will be released on october 30.
Check out the brand new video for "Again" at https://youtu.be/OO4ib5xC7Fk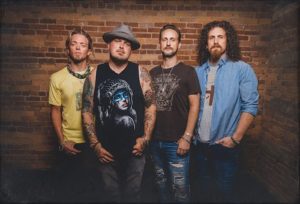 'The Human Condition' was completed mere days before the COVID-19 lockdown was imposed. The band self-produced and tracked the album in bassist Jon Lawhon's recording facility, Monocle Studios. The guys went in with 4 songs, wrote some new ones and recorded a few beloved, unreleased favourites.
Here's what the guys have to say about the new album: "There was a real urgency and fear of the unknown during those sessions – it was a scary time, Every song on this album tells a story of the experiences we all go through – our happiness, our struggles, and how we have to adapt." – John Fred Young
"With this one, we cranked up the amps, the drums are in your face, and there are some really heavy riffs. After 19 years and 7 albums, we wanted to prove that we still kick ass. This album feels like a rebirth." – Ben Wells
"When I listen back to this record, I feel all these different emotions. We started when we were teens, and life has taken its course, especially now. Through it all, your heart and your perspectives change, but one thing that hasn't changed is our connection as friends." – Jon Lawhon
"This is a brotherhood. It's been amazing to stick around with all four original members and still be inspired. Here's to 7 more albums and another 19 years!" – Chris Robertson
Pre-Order at https://smarturl.it/BSC-MLG
Tracklist: 1. Ringin' In My Head 2. Again 3. Push Down & Turn 4. When Angels Learn To Fly 5. Live This Way 6. In Love With The Pain 7. The Chain 8. Ride 9. If My Heart Had Wings 10. Don't Bring Me Down 11. Some Stories 12. The Devil In Your Eyes 13. Keep On Keepin' On