Power metal combo Wings Of Destiny are proud to sign with Wormholedeath a deal for the distribution of their 5th album "Ballads".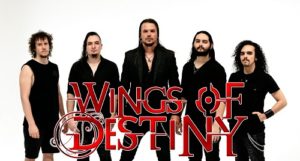 The band stated : «We are very happy to form part of the Wormholedeath family and do our new release «Ballads» with the exceptional team of professionals who are exactly what we need right now for our band. We sure will continue to be MRR artist for our past works and expect to grow with Wings Of Destiny, getting our music to our fans all around the globe. The band has its history and we are absolutely sure that we will build the future with Wings Of Destiny into something even greater and special. So rock on and stay tuned for all that`s coming.»
"Ballads" is a 12 tracks power metal masterpiece and it will be released on 04 09 2020 via Wormholedeath / The Orchard.
Tracklisting: 1. Live Again (feat. Marco Garau & Ivan Giannini) 2. Under the Moon (feat. Mike Vescera) 3. One more Lie (feat. Victor Smolski) 4. Time Will Tell 5. Here we Go (feat. Chemel Neme) 6. Forever (feat. Timo Tolkki) (Stratovarius Cover) 7. Winter Dreams 8. Eye of the Storm (re-mastered) [originally from «Kings of Terror» album] 9. Wake me Up (feat. Henning Basse), orchestral version [originally from «Revelations» album] 10. Siren`s song (re-mastered) [originally from «Kings of Terror» album] 11. Speed of Light – (Stratovarius Cover) (bonus track)
Special guests on the album: Marco Garau (keyboard player Magic Opera & Derdian); Ivan Giannini (vocalist of Vision Divine & Derdian), Mike Vescera (vocalist of Animetal USA, ex-Yngwie Malmsteen & Loudness), Victor Smolski (guitar player of ex-RAGE, Almanac), Timo Tolkki (ex-Stratovariusl, Timo tolkki´s Avalon), Henning Basse (vocalist – ex-Mayan, ex-Firewind, ex-Metallium), Chemel Neme (vocalist ex-Black Sun), additional guest appearance of Rebecca Malavassi, opera singer in Siren´s song.
Biography: Wings Of Destiny is a Power Metal band originally from Costa Rica, founded at the end of the year 2013, influenced by such bands as Helloween, Rhapsody of Fire, Angra and Symphony X; nevertheless through the time the band managed to develop a very particular and recognizable sound creating a cult following among fans all around the world. Wings Of Destiny was originally called only "Destiny", but due to the existence of another band of the same name [band from Sweden], decided to change its name to Wings Of Destiny [known, also, as WOD] in the year 2014.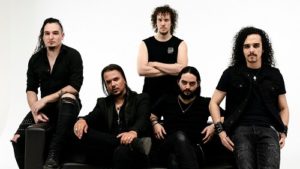 Wings Of Destiny are: Anton Darusso (Vocals & Keyboards), Andrés Castro (Guitars), Cristian "Mythos" Jiménez (Guitars), Emil Minott (Bass), Horacio París Kofoed (Drums).