Kamelot: I Am The Empire – Live From The 013
An electrifying concert experience featuring stunning production, very special guests and exclusive extras!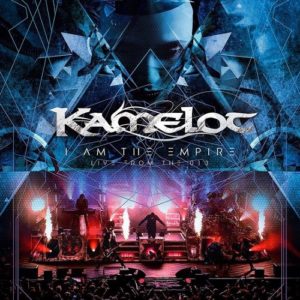 Symphonic metal masters Kamelot return with their newest offering, I Am The Empire – Live From The 013, to be released on August 14, 2020, via Napalm Records! The majestic live album, recorded at the legendary 013 in Tilburg, Netherlands, consists of twenty-one songs that will tug on your heartstrings, make you want to bang your head and give you a taste of Kamelot's grandness live on stage with more than 100 minutes of live music + multiple exclusive extras!
September 14, 2018 marked one of the highlights of Kamelot's very successful career. The band around mastermind Thomas Youngblood, known for its high class collaborations, invited the creme de la creme of the symphonic metal scene to celebrate that evening in Tilburg. Featured guest musicians like Alissa White-Gluz (Arch Enemy), Charlotte Wessels (Delain), Elize Ryd (Amaranthe) and Lauren Hart (Once Human) – just to name a few – made this evening in Tilburg an unforgettable night to remember for every fan and musician in attendance. This concert setlist features Kamelot in prime shape – with a hand-picked mixture of Kamelot classics and live premieres, rounded off by stunning production and mixed and mastered by Sascha Paeth (Avantasia, Epica and more)!
With I Am The Empire – Live From The 013, the band showcases the epic experience fans can expect from each of their legendary performances. Featuring a scorching guest appearance by Alissa White-Gluz, "March of Mephisto" begins with a haunting vocal harmony, beckoning the audience into a unified chant as the band leads them into a winding auditory fantasy. Another highlight of the set, "Sacrimony (Angel of Afterlife)" starts off with adventurous first notes and ominous vocal lines. The hit single makes the listener feel the palpable, non-stop energy to come. Featuring Alissa White-Gluz and introducing Elize Ryd, this auditory epic soars to new heights in its live incarnation. "Liar Liar (Wasted Monarchy)", originally featured on the 2015 Napalm Records debut Haven, marks the beginning of the triumphant end of I Am The Empire – Live From The 013. The Tilburg audience bellows with each eerie strike of the keys and the unrelenting, pummelling drum attacks.
The album will be available in digital, CD digipak, Deluxe Box (including the album), Blu-Ray/DVD, and vinyl formats.
______________________________________________________________________________
Lord Of The Lost: Swan Songs III (CD 1)
Dark Metal sensation Lord Of The Lost returns with the newest epos in their classic ensemble album series: the long-awaited successor of Swan Songs II, Swan Songs III will be released via Napalm Records on August 7th, 2020. The standard version of the album consists of new songs, all recorded with Lord Of The Lost Ensemble and new versions of a hand-picked selection of Lord Of The Lost classics, including the standout 18-minute-long song "Letters To Home". For all Dark Metal connoisseurs, Swan Songs III comes with a high quality deluxe box, including the instrumental Swan Symphonies III-versions of all songs and demo versions of eight new songs. As a special bonus, there is a full live set, recorded at their 10th anniversary show in 2019 in their hometown of Hamburg. All that can be found on seven CDs!
Deeply emotional storytelling melding with beautiful harmonies and Chris Harms' palpitation-inducing deep vocals make this album absolutely exceptional. The first notes of "A Splintered Mind" will trigger something deep inside the listener, with an outstanding melody and lyrics that will tug on their heartstrings. "A One Ton Heart" presents itself as a powerful ballad that makes the listener dive away with heavenly piano parts, underlined by delicate acoustic guitars and soft drum rhythms that take the listener onto a musical journey. "Dying on the Moon" features standout US-American singer/songwriter Joy Frost and is an ode to trusting one's soul's decision and believing in yourself. Chris' raspy vocals are in perfect harmony with Joy's ethereal voice, while a mix of guitar and piano parts make this single send shivers down your spine. A special highlight on the album marks the unique cooperation between Lord Of The Lost and the 70+ choir Heaven Can Wait on "We Were Young" which underlines that music has the power to bring all generations together.
Swan Songs III will be available in multiple formats, including a high-gloss Earbook and a 2LP Gatefold Vinyl. The album is a gift to all music fans and marks the next highlight in Lord Of The Lost's musical career.