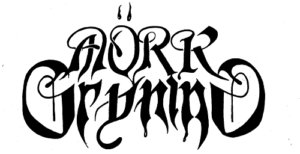 Legendary Swedish black metal formation Mörk Gryning have announced the details of their new album 'Hinsides Vrede'. The record will be released via Season of Mist on October 23. Pre-sales will be available soon.
The band has furthermore released an album teaser, which can be watched at the official Season of Mist Youtube Channel. The teaser was created by Guilherme Henriques.
Mörk Gryning comment: "We are proud to announce that we finally have a new album ready. It's been a long wait, but we are still just as hungry. It goes straight to the core of what we are; brutal and melodic, dark and euphoric. Prepare to join our maelstrom once again!"
Tracklist: 1. The Depths of Chinnereth (01:00) 2. Fältherren (03:37) 3. Existence in a Dream (03:12) 4. Infernal (03:41) 5. A Glimpse of the Sky (02:56) 6. Hinsides (01:25) 7. The Night (03:13) 8. Sleeping in the Embers (04:25) 9. For Those Departed (01:09) 10. Without Crown (04:29) 11. Black Spirit (04:36) 12. On the Elysian Fields (01:41)
"The sleepers are asleep no more. The dead are resting peacefully no more". With these words, one of Sweden's finest black metal acts announced their return and a new album. Mörk Gryning will once again unleash their wrath upon the masses with 'Hinsides Vrede'.
Founded in 1993 in Stockholm, Sweden, Mörk Gryning stood at the cradle of the melodic black and death metal scene as it is known today. In May 1995, founding members Goth Gorgon and Draakh Khimera entered the Unisound Studios to record their now legendary debut album 'Tusen År Har Gått', produced by Dan Swanö.
This record quickly drew attention in the underground scene, and it is still one of the most celebrated records in black metal to this day. The melodic combination of haunting black metal with heavy metal, toppled with keyboards and acoustic guitars became the trademark of Mörk Gryning. Moreover, they were one of the first black metal bands to ever sing in their mother tongue.
In 1996, the Swedes entered the Sunlight Studios with Tomas Skogsberg and DISMEMBER's Fred Estby to craft the follow-up 'Return Fire'. The reception of this dark, thrash metal influenced record was initially not as strong as its predecessor, but it gained popularity over the years. It is now regarded as one of the hallmarks of early Swedish black metal.
Avathar joined the group in 1999, who's virtuous guitar soloing added a new dimension to the band's sound. A year later, the three-piece traveled to Bergen, Norway, and cut 'Maelstrom Chaos' at the famous Grieghallen Studios, produced by legendary Norwegian producer Pytten (MAYHEM, BURZUM, EMPEROR). The music had taken a more orchestral approach with epic arrangements and longer songs, culminating with the incorporation of Mozart's "Lacrimosa" in the song "The Menace".
The band started performing live and hired several session musicians, such as Dennis Ekdahl, (RAISE HELL, THYRFING), Baron Samedi (WOMBBATH, GATES OF ISHTAR) and Stefan Lundgren (NECRONOMICON, SECTU) to name a few. A year of intense gigging followed, among other shows the festivals Hell on Earth 2001 and Wacken 2002.
In early 2003, Mörk Gryning entered the Dug Out Studio (MESHUGGAH, DEVIN TOWNSEND, IN FLAMES, DARK FUNERAL) with the two producers David Bergstrand and Örjan Örnkloo. Although every album thus far had been a big step from the previous in terms of music and sound, the difference was beyond comparison on 'Pieces of Primal Expressionism'. The music was highly experimental with disharmonic clusters painted on a gargantuan wall of sound built by Bergstrand. The record turned out to be a great divider. Many old fans were deterred by the abrupt change of style while others praised it as a brave step forward.
Several line-up changes followed in the years after the release, but the band kept on touring and playing festivals. Eventually, Goth Gorgon was left as the only original member and disbanded the project even though a new record was already being recorded. Posthumously, the recorded songs were released by Black Lodge Records in 2005 on the self titled album 'MÖRK GRYNING'.
After more than a decade of silence, the old flame of chaos flared up again. Founding members Goth Gorgon, Draakh Kimera and Avatar reunited for what was supposed to be a one-off at Party San Open Air in Germany. More shows followed and fresh off the stage at Eindhoven Metal Meeting 2019 in the Netherlands, a new album deal was forged with Season of Mist.
With 'Hinsides Vrede', Mörk Gryning again found the synergy they had while writing their legendary debut record and return to their foundations by balancing melody with straightforward brutality. Yet, by striving to reinvent themselves with every record, the long-awaited comeback of the band is by no means a reiteration of a glorious musical past.
Translating into 'otherworldly wrath' or 'wrath of the world beyond', 'Hinsides Vrede' represents the doom of pre-historic cultures as well as our impending doom while the world is cracking at its seams. It is a furious assault upon the civilized world and a descent into the nether regions of the world beyond. Join us into the maelstrom!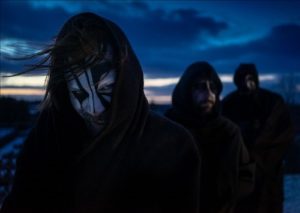 Mörk Gryning line-up: Draakh Kimera – Lead Vocals, Guitar, Drums / Goth Gorgon – Bass, Guitar, Backing Vocals / Avathar – Lead Guitar
Recording line-up: Draakh Kimera: Lead & Backing Vocals, Guitars, Drums, Keyboards / Goth Gorgon: Bass, Lead Guitar, Backing vocals, Lead vocals on "Black Spirit", Keyboards / Avathar: Lead Guitar / C-G: Drums on "Fältherren" & "Black Spirit" / Aeon: Backing Vocals, Piano on "For Those Departed" & "On The Elysian Fields"
Guest musicians: Laura Ute: Vocals on "Black Spirit"
Live members: C-G – Drums / Aeon – Keyboards