Dark singer-songwriter act The Devil's Trade is now releasing the very first track of the upcoming album 'The Call of the Iron Peak'. The album is slated for release on August 28, 2020. The first emotional chapter is now being released via the official Season of Mist YouTube at https://www.youtube.com/watch?v=vHthXaLesNA&feature=youtu.be
Frontman Dávid Makó comments on the track: "The muse for this piece was probably the biggest storm cloud I have ever seen covering the perfectly clean summer night sky. I was sitting right under the eye of the storm on a plain somewhere in the Hungarian countryside. It was like sitting under a gate to another ancient world. The world went silent the air stopped and I was waiting to be smashed by the elements. For about twenty minutes it felt like I was connected to the otherworld. Then a cool wind came and blew it away. The sister part is too personal. It took thirty years to understand that someone I never met has such a powerful influence on me. If there is an afterlife I hope she will be there and I can hug her."
The Devil's Trade is furthermore unveiling the stunning cover artwork of 'The Call of the Iron Peak' which is created by 'Grindesign' (BENIGHTED).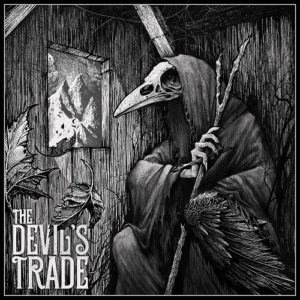 Track-list 1. The Iron Peak 2. Dead Sister 3. III 4. No Arrival 5. Expelling of the Crafty Ape 6. IIIIIIIIIIII 7. Három Árva 8. Eyes in the Fire 9. IIIIII 10. Dreams from the Rot 11. The Call of the Iron Peak Total playing time: 46:43
The Iron Peak; a mystical place where one once found his long lost peace total silence and home. Where he would return when his time to come to pass away. A place that has became a materialization of everlasting freedom cut from society and all earthly struggles. As ancient beliefs says heaven is a place where we found peace with our loved ones in life the Iron Peak is some kind of heaven.
Listen to the call of the Iron Peak as it is calling for you to find your true self in a world you want to be isolated from. It is calling for you to make peace with yourself, with the inevitable end. It is calling for Hungarian singer-songwriter Dávid Makó, who redefined himself as The Devil's Trade a few years ago, embarking on a long journey with his deeply personal and dark, sometimes doom infused folk songs.
Be it the folk of the Appalachians, the tales of Hungarian and Transylvanian traditionals, The Devil's Trade fuses his past of metal and his roots laying deep in the folk songs of his immediate surroundings.
Very much like how the Iron Peak, a mountaintop both metaphorical and literal is calling for Makó, he is calling for you to share his rituals of loves and hopes lost and found along the pilgrimage of his. It is after all, the journey itself that matters the most, and how you adapt. From basements in his hometown of Budapest, to all corners of Europe, stages small and big, The Devil's Trade has been relentlessly walking on his path finding his voice and calling, and that is to let listeners to glimpse into himself through his heart wrenching songs.
His new album, and his debut for Season of Mist, titled 'The Call of the Iron Peak' will be released on August 28th 2020, preceded by a tour in April 2021 alongside UK singer-songwriter Darkher and Swedish neofolk/ambient artist Forndom.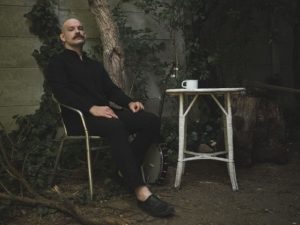 Line-up: Dávid Makó – vocals, guitars, banjo
Guest musicians: Márton Szabó, Péter Szabó on drums / Adam Vincze on spoons and jug in 'The Call Of The Iron Peak' / Rita Szabó, Kornél Szabó on triangulum in Dead Sister