*When did you really get involved into music in general and into metal specific? Who was responsable for your interest in (metal) music?
I started getting into music when I was around 12-13 I think. Friends in school and in online games started showing me different bands. Metal caught me a year or two later. I got into Metallica and Iron Maiden first, and then evolved through bands like In Flames and Children of Bodom into more extreme sides of metal. When I was 16 I saw bands like Dark Tranquillity, The Haunted and Dimmu Borgir live. A Dismember gig in 2004 (DVD show in Stockholm with Merciless) changed everything, and suddenly I wanted to play death metal and thrash metal on guitar.
*Which artists or bands did influence you the most?
When I started out as a musician I only wanted to play death metal and thrash metal. Death was the most important band. Me and my friends were listening to records like 'Human' and 'Symbolic' all the time, and jamming different parts from the songs on guitar and bass. Dismember, Blood Red Throne, Bloodbath, Vader, Slayer and Testament were other important bands from that period.
A few years later, I discovered Katatonia's 'Viva Emptiness' and 'Last Fair Deal Gone Down' albums. That changed everything, and also made me to discover death/doom metal. Katatonia wrote the bible for that style after all ('Brave Murder Day'). That album along with albums from Daylight Dies, Slumber, Rapture and October Tide led me to starting Soliloquium back in 2011. Today, the band is also heavily influenced by shoegaze, post rock and progressive rock.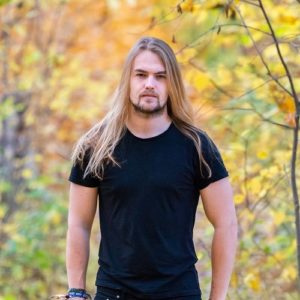 *Which instrument do you play and how and when did you learn to play? Did you had lessons in school or private lessons? If so, was that because your parents expected that from you? Or did you learn to play the instruments by yourself? Do yo still follow some lessons?
I play guitar and perform extreme and clean vocals. I started playing guitar around 18 year ago, and also started learning how to sing around that time. I never took any lessons. My parents, or anyone in my family for that matter, doesn't have any musical background. I had to pick up most things by myself, but I had some talented friends that I could jam with and develop in the beginning. Playing along to Guitar Pro tabulature has been a big part of my learning process on guitar.
The only things close to lessons I'm doing is following some inspiring YouTube channels. Rick Beato's Everything Music is great, so is Ola Englund. I also enjoy the channel Holistic Songwriting. These channels are really good for me, because they make me stop playing and writing for a while to actually think about music. It's a necessary break for me, because I always want to start writing the next song or album.
*Do you follow other or are you intrested in other styles of music beside metal? If so, what is the music you prefer to listen to?
I listen to a lot of different music. Progressive rock, alternative rock, art rock, shoegaze, synth pop, singer/songwriter, ethereal wave and some other electronic stuff are all part of my listening rotation. I find myself getting more and more diverse over time, which I think also shows in Soliloquium's music. Some big non-metal artists for me are Deftones, Antimatter, dredg, Damien Jurado, Anna von Hausswolff, Depeche Mode, Nick Drake, Slowdive, Klimt 1918, Noah Gundersen and Moby. There's so much good music out there!
*Is music a full time job for you now or do you have a job beside music? If so, what kind of job are you doing? If you would be really succesful with music, would you quit your other job?
I am a digital marketing freelancer. It's a way for me to balance music and working and also have the opportunity to travel around the world. If I could live on music full-time in a realistic way, I would definitely do it. The positive thing about working with marketing is that I've been able to use some of my skills to promote my music, for instance by creating my website https://deathdoom.com to promote Soliloquium.
*If you could start a band with other musicians on other instruments, which artist would you pick for wich instrument and why? (Something Like an "All Stars Band".) Would you still go for a doom / death metal band? Or would you do something completely different?
Oh, wow. That's a question that makes me imagine things, haha! I'd love to play guitar and do some extreme vocals in a darker type metal band like Katatonia. Maybe having Jonas Renkse on vocals, and getting Jeff Loomis from Nevermore in there to be the flashy guitarist? A nutty rhythm section for that band would be having Abe Cunningham from Deftones on drums and then getting a bit more metal by having Steve DiGiorgio from Testament on bass. That would be a weird-ass band. Not sure how it work it out in a practical sense, haha. But it would be very progressive.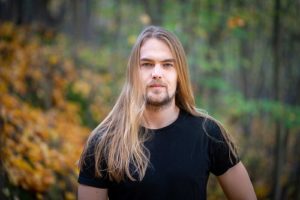 *If you had been banned to an uninhabited island and you may pick 5 albums to listen to, wich albums would you choose and why?
I would need 5 albums that are both awesome and with enough variation to please my different music moods. I think these would be about right:
Anathema – 'Judgement'
Death – 'Symbolic'
Deftones – 'Koi No Yokan'
Dismember – 'Like An Everflowing Stream'
Katatonia – 'Night Is The New Day'
I would probably throw in one of the best Nevermore albums or Slumber's "Fallout" if I could add one more. So much good music to choose from!
*Every new album of a band or an artist is the best one, that's what they always say. So here is a chance to promote the album. Why should a music lover buy your album? What are the standout tracks for you on this new album and why?
That's what I say too, haha. Music fans should buy it because it's an honest, immersive album about important things in life and society. I want to make a connection with the listener and bring up major things that we don't talk about enough. It's also a musically varied album with plenty of both extreme metal aggression and serene moments. I want to make my own unique statement and have my own style of music.
I think 'The Discarded' and 'The Recluse' are my two standsouts. 'The Discarded' has a really interesting, progressive song structure, and Mikko Heikkilä's guest appearance takes it to a whole other level. It also talks about very important things in today's society. 'The Recluse' is great for me because it closes a pretty dynamic and experimental album on a classic Soliloquium note. It's a pure melodic death/doom metal song with everything that makes the style great for me. 'The Recluse' was also a big emotional release for me to write. Lots of negative emotions went into something productive with that one.
– See "CD-Review" for a review (written in Dutch) for the new Soliloquium album 'Things We Leave Behind' (Rain Without Ends records / Naturmcht Productions) –
*Is there a chance that you will promote these songs through live concerts (when of course everyting is getting back to "normal" after the Covid 19 disaster)? If so, would you prefer small clubs or big festivals? And is there a chance we can see SOLILOQUIUM in Belgium?
I used to say that Soliloquium would never play live. Nowadays, I'm not so sure. If we would get a fantastic offer for international gigs, we would have to think about it. We do play live with my death metal band Desolator, which features bassist Jonas and drummer Victor from the latest Soliloquium album.
I don't really have a preference when it comes to the style of gig, to be honest. The only thing that I want is to play in a foreign country. We had an amazing experience last year at Helliad Fest in Poland with Desolator. After the Covid 19 issues I want to do it again as soon as possible. I really wish for an opportunity to play in Belgium, no matter if it's with Soliloquium or Desolator. Belgian metal promoters, we are open to your offers!