IT'sALIE is a new rock band heading from Venice, Italy to the world. The band features one of the most ambitious rock singers of today Giorgia Colleluori, plus the most respected rockers of the Italian music scene – guitarist Raffaello Indri (Elvenking), drummer Camillo Colleluori (Ex-Eternal Idol) and bassist Simon Dredo (Alex De Rosso Band, Room Experience). Giorgia and Camillo released an album with "Eternal Idol" in 2018.
Giorgia is known as the co-lead singer along with Mat Sinner in the classic German rock band "Sinner" and toured in Japan, Australia, Bulgaria and Germany and since three years the vocalist in the highly acclaimed European rock show "Rock Meets Classic", where she shared the stage with Alice Cooper, Ian Gillan (Deep Purple), Francis Rossi (Status Quo), Thin Lizzy, The Sweet and many others. IT'sALIE describe their sound as a mix between the power and pureness of the European classic Rock roots, spiced by the gloominess of Goth Rock. The debut album of the IT'sALIE is ready and was produced & Co-written by Mat Sinner, recorded at Il Motore Dell'Auto studios and mixed & mastered by Dennis Ward (Unisonic, Pink Cream 69) at The Trakshak studios. The album features guest performances of guitarists Jorn Viggo Lofstad (Pagan's Mind, JORN) and Alex Beyrodt (Primal Fear, Voodoo Circle), plus a vocal duet with Mat Sinner (Primal Fear, Sinner). IT'sALIE are ready to unleash their new album!
We proudly announce today the signing of a multi-album deal with IT'sALIE and welcome the band to the ROAR! Rock of Angels roster. More info on the band's debut album release date and details coming soon!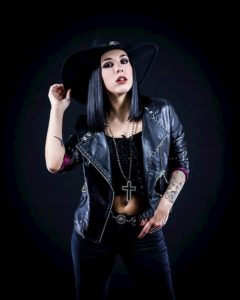 IT'sALIE is: Giorgia Colleluori – Vocals / Raffaelo Indri – Guitars / Camillo Colleluori – Drums / Simon Dredo – Bass
Guest Appearances: Jorn Viggo Lofstad (Pagan's Mind, Jorn), Alex Beyrodt (Primal Fear, Voodoo Circle) and Mat Sinner (Primal Fear, Sinner).