*When did you really get involved into music in general? Who was responsable for your interest in music?
I was quite fortunate really as my parents had good taste! So as a child I had lots of exposure to music like David Bowie, T-Rex, Sweet, Kate Bush and Queen via my parents' record collection. I've always had a love of guitar-driven music and certainly feel the more theatrical lyrical and fashion styles of the aforementioned artists, has definitely rubbed off on me along the way!
*Which artists or bands did influence you the most?
The biggest influences on me would be artists like Kate Bush, Tori Amos, Cocteau Twins and King Crimson. Artists who seem to push the boundaries of music. The notion of being able to fully express something, no matter how mad a concept it may seem, is so appealing to me. To escape the mundane and boredom of everyday life and allow the music to take you somewhere exciting, fantastical – that is what I aim for and it's thanks to these artists, really.
*Which instrument do you play and how and when did you learn to play? Did you had lessons in school or private lessons? If so, was that because your parents expected that from you? Or did you learn to play the instruments by yourself? Do yo still follow some lessons?
I have played bass guitar since I was 16 years old. I wouldn't dare call myself a "bassist" by any means, but it's always been the instrument that felt so natural to me and it was kind of calling to me once I started really buying my own music as a teen, and dissecting the elements of songs for the first time in my mind. I was obsessed with The Cure and Nine Inch Nails around that time, so these were the things I'd play along to. I'm a left handed person, but I play standard right handed bass. The one I use currently is a Fender Jazz. My parents were very relaxed and didn't force me to do anything with it really, I would just isolate myself in my bedroom and play along to songs – they were happy because it kept me out of trouble, I think!!
*Do you follow other or are you intrested in other styles of music? If so, what is the music you prefer to listen to?
Oh, yeah I listen to so many genres of music, beyond my obvious favourites like progressive rock and stuff… My record collection I think now has over 2,000 LPs and they vary from stuff like blues rock… Groundhogs, Johnny Winter, Cream and so on, I also love jazz fusion, particularly Allan Holdsworth and his work with U.K. and Bruford Band, Soft Machine and Tony Williams Lifetime. Then I also have a real soft spot for NWOBHM so there's a lot of that stuff in there too! Rock Goddess, Angel Witch, Tank are all big faves asides from the obvious bands. There's all kinds of stuff, even black metal and classical too.
*Is music a full time job for you now or do you have a job beside music? If so, what kind of job are you doing? If you would be really succesful with music, would you quit your other job?
Music is my full time job. Occasionally I create commissioned artworks for people, bands, artists etc as I'm an artist but it's not so often these days. I've been worked so hard on this record coming out, so there hasn't been a lot of time other than painting all the artworks for this album.
*If you could start a band with other musicians on other instruments, which artist would you pick for wich instrument and why? (Something like an "All Stars Band".) Would you still go for an album like 'Deep Blue'? Or would you do something completely different?
Oh, great question!! I would maybe create something completely different, bringing in more of the avant garde and experimental progressive elements I really love. Go down the route of Van Der Graaf Generator or something! On guitar I'd have Jakko Jakszyk because he's amazing at the Holdsworthian style I love but as he also plays for King Crimson – so he can do the Robert Fripp style too. On bass, I'd have either Victor Wooten, or Geddy Lee! On drums, Gavin Harrison, because he's just the best drummer in the world, isn't he? So that would be my dream band.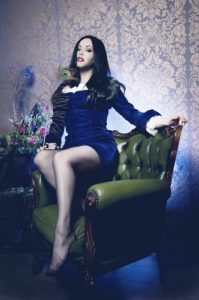 *If you had been banned to an uninhabited island and you may pick 5 albums to listen to, wich albums would you choose and why?
1.) Kate Bush – "Hounds Of Love"
It's a massive influence on me and how I approached writing "Deep Blue". This album was a real turning point for me as a songwriter, the emotion and dreamy, theatrical music takes the listener on a journey and from start to finish – you've been through a myriad of experiences.
2.) King Crimson 'ProjeKcts' – "A Scarcity Of Miracles"
This is a very special record to me. It was first given to me by Jakko and I fell in love with the fact that this is clearly King Crimson, but the songs are more ambient and gentle. It's very beautiful and inspiring music.
3.) The Beatles – (White Album)
This album needs no introduction! Another rollercoaster album, filled with surprises, treats for the ears and utterly mindblowing songwriting, harmonies, musicianship and one of the best songs EVER written – "Happiness Is A Warm Gun". It blows me away every time I listen.
4.) Harold Budd, Robin Guthrie, Elizabeth Fraser – "The Moon And The Melodies"
This would be the choice for when I'm gazing at the stars, at nighttime. Such a beautiful collection of dreamy lullabies. I'm a huge Cocteau Twins fan but this record captures another side to what Liz and Robin were doing at the time. It's so ambient and gorgeous for listening in the dark, in bed.
5.) Jethro Tull – "Songs From The Wood"
I can listen to this album every day and never tire of its whimsical charms! Ian Anderson's bard-like storytelling and captivating lyrics really enchant me. Music to me should be about escapism! This has it all. "Hunting Girl" is my favourite because it's very sexy and naughty and fun!
*How do you write your songs? What comes first: the lyrics or the music? Do you think it's hard to write new music?
To be honest, on 'Deep Blue' I've taken both approaches to writing on various songs. It just depends really. For example, 'Deity', 'Deep Blue' (the title track) and 'Painted World' were written lyrics first, then music built around them. Whereas for much of the others, Stephen Carey would begin with music and the idea of something would progress between us. As I was writing for songs like 'Snake Oil' and 'Ophelia', I kept a lyric book where I'd essentially write poetry and ideas based upon literature, historical figures etc. I don't think it's particularly "hard" to write new music, but I do think one must be in the right frame of mind to allow the ideas to flow. IT can't really be forced.
*Are you happy with the guests on the 'Deep Blue'-album? Did you had to convince people like Ian Anderson, Jakko Jakszyk, danny Thompson to play on your album?
I am so thrilled to have all these guests on my album, absolutely. It's an incredible honour to me to be coming out with a debut solo record, which features some of my most beloved musical heroes. Actually, I am incredibly fortunate in that, no, I did not have to convince any of the guests to play on the album. This is largely down to Jakko Jakszyk who was the first big name guest I brought on to the album, and I suppose him having worked with both Danny Thompson for so many years – and also having worked as a producer for Ian Anderson multiple times – his involvement was an indication that already the music and songwriting by myself and Stephen Carey, had merit. This is, as you can imagine, an enormously humbling experience for me and something I am very honoured by. Moreover, I am repeatedly stunned by all the musicians' contributions who feature throughout the whole record. I feel everyone on "Deep Blue" has given something incredibly special to the record in their own way.
*Every new album of a band or an artist is the best one, that's what they always say. So here is a chance to promote the album. Why should a music lover buy your album? What are the standout tracks for you on this new album and why?
I think it's simple enough really – I'm an obsessive music lover so I have always aimed to create a music lovers' album with 'Deep Blue'. One with twists and turns and with obsessive attention to detail, imagery and art. My favourite music is more than just music, it is artistic vision and emotive expression. With this in mind, I truly feel the music on 'Deep Blue' achieves this. A little bit of escapism, magic and hopefully, something beautiful to listen to when you want to step out of the 'real world' for a while.
– See "CD-Review" for a review (written in Dutch) for the new Louise Patricia Crane album 'Deep Blue' (Peculiar Doll Records) –
*Is there a chance that you will promote these songs through live concerts? Are there contacts with other musicians to promote the album live yet? And if so, would you prefer small clubs or big festivals? And is there a chance we can see LOUISE PATRICIA CRANE in Belgium?
Yes! Absolutely, I plan to go out later in the year with my amazing live band and perform these songs for people, in the flesh! I can't wait. The band have already begun learning the songs, for when the time comes. We'll be aiming for smaller, interesting venues, but I wouldn't rule out doing festival slots too, if they were the right fit for the music. I love Belgium, I was there with Angel Witch two years ago and I would really love to return, this time with my band to play there!!
P.S.: This interview was conducted before the restrictions due to the Covid-19 Virus.