Italian/French symphonic metallers Aevum return with their new full-length album "Multiverse", coming out on March 27th, via DarkTunes Music Group. The band has also unveiled the tracklisting and album coverart. The first single and video clip, 'Tair', will be unveiled on February 28th. 13 songs will compose the Aevum new album. A new modern, fresh sound for all Female Symphonic Metal fans.
"Multiverse" tracklist: 01 – The Pilgrim 02 – Spark of Life 03 – Tair 04 – Black Honeymoon 05 – The Time Machine 06 – Cold Spot 07 – Ulas 08 – Hopeless 09 – Fratricide 10 – WwIII 11 – Seeds 12 – The Garden of Mars 13 – Cessate, omai cessate
Recorded and Mixed @ Aurora Recording Studio by Emanuele Viglietti
Mastered @ The Groove Factory by Michele Guaitoli (Visions Of Atantis, Temperance, Kaleidon)
Coverart @ ZenCaos Creative /Roberta Cavalleri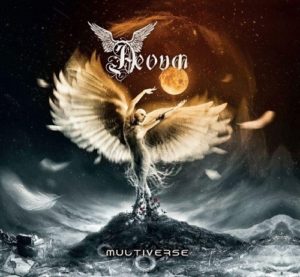 Formed in 2008, Aevum's music is in perpetual inclination towards the union between the human being and the divine, between opposites, male and female, positive and negative, in a genre that is a bond between the neo-classical and gothic metal worlds. Aevum are known for their theatrical Live Shows, and have toured all over Europe with Haggard, Vision Divine, Blaze Bayley (ex-Iron Maiden), and performed at various Metal Festivals in Italy, since their inception in 2007. Aevum also performed at last years Metalhead Meeting Festival in Bucharest, Romania, that included such bands as Eluveitie, Delain, Dragonforce, Rotting Christ and Kreator. In February/March 2018 Aevum toured Europe with ORPHANED LAND, in collaboration with ALPHA OMEGA Management.