The world's biggest metal label, Nuclear Blast, has signed Finnish industrial metal stars Turmion Kätilöt. The Germany based record label will release the group's next album which was quietly recorded during the last couple of months. The record, entitled »Global Warning,« will be released on April 17, 2020 and according to the band it sounds "f*cking great."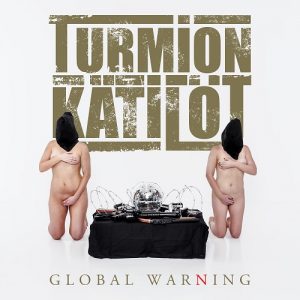 The »Global Warning« cover art was once again designed by Herra Spektaakkeli (Tuomas Rytkönen) and photos were shot by Toni Salminen. More details on their new record will be unveiled soon…!
Once the album is released, Turmion Kätilöt will play a few select dates in their homecountry Finland, followed by a very busy summer of festivals. The band will embark on an extensive Finnish tour in autumn 2020, followed by a massive European tour supporting NIGHTWISH.
Turmion Kätilöt is: MC Raaka Pee | vocals // Shag-U | vocals // B. Undertaker | guitars // RunQ | synths // Master Bates | bass // DQ | drums