Ye Banished Privateers Sets Sail with New Album Hostis Humani Generis – to be Released via Napalm Records on February 7, 2020!
Sail away with the most authentic pirate rock masterpiece since the golden age of the dreaded sea-predators!
The savage beast from the north, Ye Banished Privateers, returns with their enthralling fourth album, Hostis Humani Generis, out February 7, 2020 via Napalm Records. The new full-length is the most authentic of pirate manifests – with more than enough audacious atmosphere, sing-along hymns, folk tunes and foul rambling to secure the band's unique position in the genre. These Swedish marauders of the sea take you through the ups and downs of pirate life!
The sinister atmosphere of the first single, "No Prey, No Pay", conveys the spirit of what it means to be a pirate and catapults you back in time – right into the 18th century of the hazardous world of Ye Banished Privateers. Listen to the Freebooters first single and breathe in the salty air of the sea!
"Chase is on in shallow waters, Swivels glowing through the smoke, 'tis might be an even slaughter, Took a volley through the oak"
Ye Banished Privateers on their first single "No Prey, No Pay": "By the grace of God and King George's arse! We are releasing a new video, and our next album is officially on the way! "No Prey, No Pay" sets the stage for the album and describes how times suddenly had become more difficult for those sailing under the black flag. More than ever, piracy had become a hazardous task, many times with the sole purpose of getting enough value to guarantee a decent meal for a couple of days."
Ye Banished Privateers on Hostis Humani Generis: "It is with great pride that we present to you our fourth full length album – Hostis Humani Generis! Over the course of 13 songs (well, 15 if you get the deluxe box) we tell the immersive story of a delinquent pirate crew, the downfall of the pirate republic of Nassau, and the end of the Golden Age of Piracy. We are immensely happy that the time has finally come to share this with you all, and we really hope you like it as much as we do!"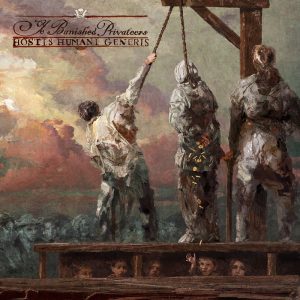 Hostis Humani Generis tracklisting: 01 – No Prey, No Pay 02 – Hush Now My Child 03 – Blame the Brits 04 – Capstan Shanty 05 – Elephant's Dance 06 – Swords to Plowshares 07 – Flintlock 08 – Parting Song 09 – Rowing With One Hand 10 – A-Swinging We Must Go 11 – They are Marching Down on High Street 12 – Death of Bellows 13 – Why the Big Whales Sing
Ye Banished Privateers are: Anders "Nobility" Nyberg – cembalo, pump organ and miniature piano / Anton "Quinton Taljenblock" Teljebäck – viola pomposa, fiddle, mandoline, cable cutting crashes and main chopper of the sloppy beats / Björn "Bellows" Malmros – squeeze box, hurdy gurdy and voices of madness / Eva "The Navigator" Maaherra Lövheim – violin, nyckelharpa and vocals / Frida "Freebird af Wærmaland" Granström – violin, viola and vocals / Hampus "Monkey Boy" Holm – the big drum and other floggables / Louise "Happy Lou" Gillman – feisty fiddle / Ina "Battery" Molin – cajon, marimba, pompous percussions and all things beatable / Jens "Wan Chou Zhong" Tzan Choong – obnoxious stringdrum, wee guitar, huge oriental fruit thing with strings and Chinese harpy harpy – aka Banjo/Guitalele/Sitar/Guzheng / Jim "Silent Jim" Sundström – mandolino, guitarra, irish tenor banjo, false chord-posing, wishful singing, wrong stage-whistle and mould infested clothing / Jonas "Hogeye McGinn" Nilsson – rusty old 5-string / Magda "Magda Malvina Märlprim" Andersson – blood stained lute guitar and cherry vocals / Martin "Scurvy Ben" Gavelin – cajon, percussions and vocals / Nick "Meat Stick Nick" Bohman-Ernhill – ukulele bass, double bass and bass trombone / Peter "Quartermaster Blackpowder Pyte" Mollwing – crude singing, sentimental lyrics, desecration of primary sources and debatable Brittish accent / Richard "Old Red" Larsson – them thick and them thin strings / Sara "Landmark" Lundmark – percussion and marching drum / Stina "Filthylocks" Hake –violoncell and fipple pipes / William "Shameless Will" Hallin -vocals, vanity, profanity, coin snatching and coat turning / Hampus "Bojtikken" Larsson – tight noose vocals and scrap percussion