Desert rock supergroup Big Scenic Nowhere (with members of Fu Manchu, Yawning Man, Mos Generator, The Well, plus Nick Oliveri, Alain Johannes and Per Wiberg) sign to Heavy Psych Sounds for the release of their highly awaited debut album 'Visions Beyond Horizon' on January 31st. Today, the band unveils their debut single 'The Glim': http://www.brooklynvegan.com/big-scenic-nowhere-releasing-vision-beyond-horizon-lp-stream-the-glim/
"We are super excited to be working with Heavy Psych Sounds. We practically know everyone on the label already. When it comes to this style of music they have a big presence, and we feel fortunate to become part of that. This album is a collaborative effort and the sum of its parts. The basic riffs and song structures were done by myself and Gary Arce, but the contributions from Tony Reed, Lisa Alley, Ian Graham, Mario Lalli, Nick Oliveri, Bill Stinson, Per Wiberg and Alain Johannes make this record what it is. There was never a discussion of what kind of music we wanted to make. But if I had to describe it there are elements of Soundgarden, Pink Floyd, Yawning Man and Fu Manchu." states guitarist Bob Balch (Fu Manchu).
Bob Balch adds: "The Glim is a result of Gary Arce and myself jamming in DAD'GAD. The first riff was an idea Gary had and then like three hours later while jamming, Gary played the chorus! I went home and put the pieces together and added a bridge part. Tony Reed on mellotron, Mario Lalli on bass and Bill Stinson on drums filled it out. Alain Johannes absolutely killed it on this one. He played all the leads too. This was the first track I recorded all of my guitars at my house. All Reverend guitars on my rhythm tracks. My signature on the left and a Pete Anderson hollow-body on the right. Signature ROLA head too. Killer tones all around! This tune has sort of a Soundgarden meets Bowie vibe to me. Hope y'all dig it !"
Vocalist Alain Johannes adds: "Total honor and pleasure to get on a sonic ghost ship with Bob, Gary, Mario and Bill on this track. Love these dudes and had a blast collaborating on "The Glim". Big Scenic Nowhere rules!"
'Vision Beyond Horizon' will be available January 31st via Heavy Psych Sounds in the following formats: 40 Test Press / 250 Ultra Ltd Baby Blue Splatter Blue/Black Vinyl / 550 Purple Vinyl / Black Vinyl / Digipak
Big Scenic Nowhere debut album 'Vision Beyond Horizon' Out January 31st on Heavy Psych Sounds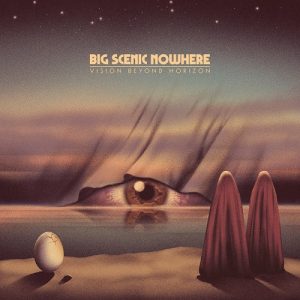 Tracklist: 1. The Glim 2. The Paraonid 3. The I Was Gone 4. Mirror Image 5. Hidden Wall 6. Shadows From The Altar 7. En Las Sombras 8. Tragic Motion Lines 9. The War Years
Anyone familiar with the terms "Stoner Rock" or "Desert Rock" have surely heard the names FU MANCHU or YAWNING MAN. While stylistically different, both bands occupy legendary status. Like many of the best things in life, the root collaboration behind Big Scenic Nowhere between guitarists Gary Arce of Yawning Man and Bob Balch of Fu Manchu started with tacos.
While the project would grow soon enough to encompass players like Tony Reed (Mos Generator), Mario Lalli (Fatso Jetson, Yawning Man), Per Wiberg (Spiritual Beggars, ex-Opeth), Bill Stinson (Yawning Man), Nick Oliveri (Mondo Generator, ex-Kyuss, etc.), Lisa Alley and Ian Graham (both of The Well), Alain Johannes (Them Crooked Vultures, Chris Cornell, Eleven) and Thomas V. Jäger (Monolord), Big Scenic Nowhere is founded on Balch and Arce tossing guitar riffs and leads back and forth, piecing together song parts one movement at a time. Jamming. Sharing music. Developing a chemistry to build something new based on their individual experiences. In this way, Big Scenic Nowhere is the heart of what collaboration should manifest. Something that grows stronger for the cohesion between those who make it happen.
Gary traveled to Bob's place, Bob recorded the tracks and assembled what became more fluid progressions, and songs resulted, highlighting the differences of style between the two of them – Balch a fuzz-laden guitarist's guitarist tuned to D standard, Arce a delay-drenched sonic explorer with a signature tone tuned to DAD'GAD – and the resulting cohesion from their efforts. After Balch arranged the tunes they headed into the studio to get basic tracks. Over the course of a few months musicians started to send in their contributions to the record. Vocals from Tony Reed came first, then Lisa Alley and Ian Graham from The Well and lastly Alain Johannes. Tony Reed also provided some vintage synth sounds, along with Per Wiberg, and Alain added some extra guitar parts. The end result is an album that is so dense with talent that it's frightening. It's a result of seasoned artists that have grown to this point. While all of their styles are different, the collaboration created a beautiful and unique album. "Vision Beyond Horizon" will echo through the ages as a document of our time, a bible to all things stoner and desert and then some. It's a very heady album and deserves full attention. So sit back, relax, and take a trip behind the sonic curtain. Let "Vision Beyond Horizon" be your guide for years to come.
Big Scenic Nowhere is Bob Balch (Guitar, Bass), Gary Arce (Guitar), Tony Reed (Vocals, Keys, Drums), Mario Lalli (Bass), Per Wiberg (Keys), Bill Stinson (Drums), Nick Oliveri (Bass), Lisa Alley (Vocals), Ian Graham (Vocals) and Alain Johannes (Vocals, Guitar).