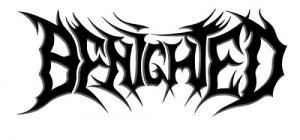 Extreme French metal outfit Benighted have entered the studio for the recordings of their brand new album "Obscene Repressed" which will be released via Season of Mist in 2020. Drummer Kevin Paradis has kicked off the drum recordings last weekend at the Kohlekeller Sudio in Germany.
Vocalist Julien Truchan commented: "Fellows, it's about time to give birth to the very twisted and violent little brother that 'Necrobreed' deserves. We are back to the Kohlekeller Studio (Powerwolf, Aborted, Cremator) in Germany and if some of you thought that it would be difficult to go even further in brutality and insanity than Necrobreed, we are impatient for you to throw an ear on this new piece of our guts… Our humanoid machine Kevin Paradis started yesterday recording the drums for the upcoming album called 'Obscene Repressed' and we can't wait to deliver you the most intense stuff we've ever made!"
Julien continues: "This concept-album is about the story of a schizophrenic young man, with a cleft palate and serious oedipal issues that lead him to think and do extremely delusional things that you will discover among the songs… Hope you will enjoy this new beautiful love story! Ah ah! Stay sick, my friends!""
The new album is scheduled for release in 2020 via Season of Mist. For more news and info about the new album, follow the bands' Facebook page!
Benighted were spawned by members from French Death and Black metal bands DISHUMANIZED, DARKNESS FIRE, and OSGILIATH, who joined forces in 1998 for a more brutal, heavy and modern way of expression. When their first self-produced and self-titled full-length hit the streets in 2000, it immediately had a strong impact. This turned a side-project into a main act. A fast-growing fan base was built by a string of acclaimed albums: 'Psychose' (2002), 'Insane Cephalic Production' (2004), 'Identisick' (2006), and 'Icon' (2007) were all enthusiastically received. With their latest full-length 'Necrobreed', the French sidestepped the steadily growing complexity of their previous albums 'Asylum Cave' (2011) and 'Carnivore Sublime' (2014) by recalibrating their sound along their roots. 'Necrobreed' came based on a theme revolving around the abysmal potential of the human psyche.
On the live front, Benighted quickly started to capture audiences with sweat driver performances that bulldozer any resistance mercilessly aside. This allowed the French to climb up the ladder fast and soon came invitations to all major European festivals including Neurotic Death Fest, Hellfest, Wacken, Brutal Assault, Summer Breeze, and Inferno Festival among many more.
After their 20th anniversary, it was time for Benighted to capture the live madness on 'Dogs Always Bite Harder Than Their Master' which not only contains three brand new tracks and the brutal AT THE GATES cover of 'Slaughter Of The Soul', but also live recordings with guest musicians such as Sven Decaluwé (ABORTED), Nikita Kamprad (DER WEG EINER FREIHEIT), Arno (BLACK BOMB A), Niklas Kvarforth (SHINING) and Ben Wright (UFATHOMABLE RUINATION).
'Dogs Always Bite Harder Than Their Master' gives yet another extreme musical voice to the madness lurking within!
www.facebook.com/brutalbenighted
Benighted Line-up: Julien Truchan – vocals / Emmanuel Dalle – guitars / Fabien Desgardins – guitars / Pierre Arnoux – bass / Kévin Paradis – drums