Legendary NYHC pioneers Agnostic Front are back to the scene with their twelfth studio album, »Get Loud!«, which will be released on November 8th via Nuclear Blast.
In celebration of the announcement, the band offer the lyric video for the first single,'Spray Painted Walls' which can be seen here: https://youtu.be/rBU1wi_ijXU
Roger Miret comments, "So excited for everyone to hear our new record »Get Loud!« I really love the songs and it feels like a great mixture of what we have done our whole career! We put 100% into this from top to bottom! Everyone involved from start to finished just killed it! See you in the pit to celebrate these songs soon!"
»Get Loud!« was produced by Roger Miret while long time friend Paul Miner handled the recording, mixing and mastering of the record at Buzzbomb Studio in Orange, CA. For the artwork, the band returned to 1986's »Cause For Alarm« artist Sean Taggart. It features the iconic CFA​ characters combined with a modern freshness.
»Get Loud!« is compiled of 14 tracks that are nothing short of classic, home grown, New York Hardcore, but still includes some thrashy and punky variety.
»Get Loud!« will be available in the following formats: CD Digi / Vinyl / Black Vinyl / Picture Vinyl / White (Limited to 300) / Blue Vinyl (Limited to 300) / Gold Vinyl (Limited to 300) / Green Vinyl (Limited 200) / Red Vinyl / Red Cassette / T-Shirt / Long Sleeve Bundle, Includes Long Sleeve Shirt & CD
Pre-order »Get Loud!« in the format of your choice here: www.nuclearblast.com/agnosticfront-getloud
Pre-save the album on Spotify, Apple Music and Deezer: https://nblast.de/AgnosticFrontPreSave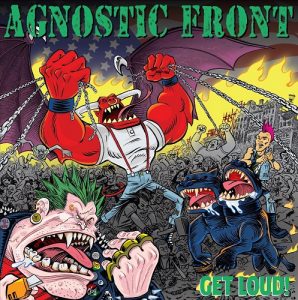 »Get Loud!« track list: Spray Painted Walls / Anti Social / Get Loud! / Conquer And Divide / I Remember / Dead Silence / AF Stomp / Urban Decay / Snitches Get Stitches / Isolated / In My Blood / Attention / Pull The Trigger
Next week, Agnostic Front will kick off their U.S. trek to celebrate the 35th anniversary or their iconic debut full length studio album »Victim In Pain«. The US trek will kick off in St. Louis on September 18th and in November, the band will also come to Europe for 16 shows.
2017 marks the premiere of the highly acclaimed documentary about the band, "The Godfathers Of Hardcore". This past fall saw the release of the documentary on Showtime.
Roger Miret and Vinnie Stigma are lynchpins of New York Hardcore (NYHC), and their band Agnostic Front played a key role in defining, shaping and establishing the sound and cultural code of conduct for the still-thriving movement. Unlike the dozens of bands that have come and gone, leaving their indelible footprint along the way, Agnostic Front are still going strong, 11 studio albums into their 30-plus year career.
In a landscape of increasing apathy and complacency, the messages Agnostic Front presents are as relevant today as they were in the '80s when the band members were impoverished, scrappy and ambitious, often fighting for their very survival as well as the perseverance of their volatile but highly inspirational band.
Roger and Vinnie remain the very embodiment of hardcore, representing endurance, perseverance, brotherhood, strength against oppression and the will to keep going, obstacles be damned.
Agnostic Front exist on a level all their own. . . a level of their own creation.