Mercyful Fate / King Diamond guitarist Michael Denner is back with new album "In Amber" from his new band Denner's Inferno.
Michael Denner is a very well-known name in the international rock/metal scene, as a former guitarist in the two most influential Danish rock/metal bands ever: Mercyful Fate and King Diamond. Denner contributed with his distinctive guitar style and songwriting on classic Mercyful Fate albums such as "Melissa" (1983), "Don't Break The Oath" (1984) and also the King Diamond classics "Fatal Portrait" (1986) and "Abigail" (1987).
Now, it's time for Denner to start a new adventure: Denner's Inferno. Joining him are American vocalist Chandler Mogel (Outloud, Punky Meadows, Radio Exile), bassist Flemming Muus (Trickback, Joytown) and a drummer with a common Mercyful Fate link (played in the 90's and also involved in the reunion recently announced): Bjarne T Holm. Together, they play heavy metal that should appeal to fans of Mercyful Fate, Candlemass and 70s retro rock.
Denner's Inferno recently did a booking agreement with Artery Global and will be touring Europe in the Spring and Summer next year.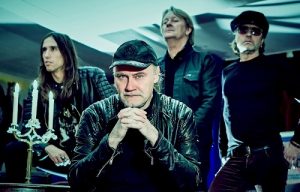 Line-up: Michael Denner – guitars / Chandler Mogel – vocals / Flemming Muus – bass / Bjarne T Holm – drums
Tracklist "In Amber": 1. Matriarch 2. Fountain Of Grace 3. Up And On 4. Sometimes 5. Taxman (Mr. Thief) 6. Vens Of The Night 7. Run For Cover 8. Pearls On A String 9. Loser 10. Castrum Doloris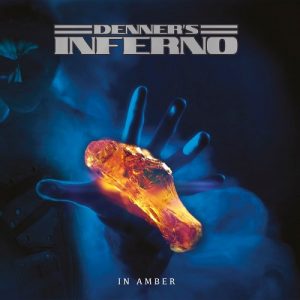 "In Amber" will be released in CD. LP and digital on November 15th.