Hammerfall – Dominion – out on august 16.
"It will go down as a milestone in the career of HammerFall, of that we have absolutely not even a sliver of doubt." Brave words – but you better believe, because they`re coming from the one and only gods of heavy metal! Mercilessly galloping opener 'Never forgive, never forget' keeps that promise: The Swedes are in fine form and have forged an unforgettable steel manifesto! Dominion is hungry for blood and ready for battle with 12 new tracks: The title track is pure headbanging frenzy with epic backing vocals, 'Testify' shreds like mad, and just to make one thing clear: '(We make) Sweden rock'! Well, certainly not just Sweden will rock, because all over the world fists will shoot in the air: VICTORIOUS IMMORTALS!!!
________________________________________________________________________________________________
Visions Of Atlantis – Wanderers – out on august 30.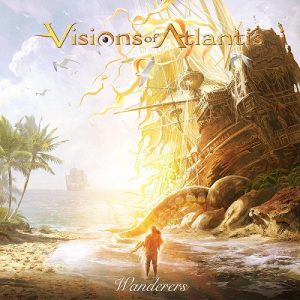 Visions of Atlantis – a journey that will take you into the breathtaking depths of the Symphonic Metal universe – their new album "Wanderers" will be released on August 30 on Napalm Records and offers a magical adventure providing captivating goosebumps moments – visually the concept was realized with a spectacular photoshoot along the mysterious North Atlantic coast.
"Not all those who wander are lost" – the infamous quote by author J.R.R Tolkien, describes the general idea of the album concept. Visions of Atlantis' seventh album offers a fascinating musical and lyrical journey across the untamed seas along a powerful path towards self-discovery.
This will be the most intense and profound Symphonic Metal album that the world has seen in the last 15 years.
At the end of August, a breathtaking journey will commence: Visions of Atlantis start their musical search to find the truth and light that lies inside each one of us, overcoming the dangers and fears, daring to sail the seas that lead to self-realization, raising love as banner.
The album impresses by amazing duets by the ever perfect voice of Clémentine Delauney and Michele Guaitoli. "Wanderers" takes the listener on a journey through magical soundscapes, inviting to dream, reflect and fully dive into this fantastic output.
Visually the band took the next step and created a concept for their photos and artwork. Visions Of Atlantis travelled to the wild seas of the Atlantic Ocean, with stranded pirate ships and a harsh coastline, that has been created by the elements. The Peninsula of Quiberon was the destined choice for this photoshoot. The natural light of the Golden Hour and the wild rough seas supplied a beautiful backdrop for the photos to perfectly capture the vision of "Wanderers" and vividly presenting the music to the audience.