When did you really get involved into music in general and into metal specific? Who was responsable for your interest in (rock / metal) music?
-Morten: For me it was probably when I was 14 or so. I think I actually got into metal properly after picking up an Iron Maiden CD at the library back in the early 2000's.
-James: I got into metal after hearing Heartwork by Carcass on a second hand Kerrang! CD in 1996. Carcass broke up about 5 minutes after that. I started playing bass the year after.
*Which artists or bands did influence you the most?
-Morten: Almost definitely good old Iron Maiden.
-James: Skyclad and the lyrics of Martin Walkyier.
*Which instrument do you play and how and when did you learn to play? Did you had lessons in school or private lessons? If so, was that because your parents expected that from you? Or did you learn to play the instruments by yourself? Do yo still follow some lessons?
-Morten: I started out playing bass because everyone else was playing guitar back in school. My parents paid for lessons for me back then, but I don't think my parents expected me to get into playing music until I told them I wanted to. Of course now I have switched over to mainly vocals and guitar. And the odd bit of keyboards/piano. I occasionally take lessons with a vocal coach, who helps me with some problems here and there.
-James: I've only ever played (or wanted to play) bass. I started playing back in 1997 because there was an old bass of my dads, with only three strings on it, lying around the house for years. I was 20 years old and it was a case of 'now or never'. Mostly self-taught, after an initial six months of bass lessons in Hull.
*Do you listen to or are you intrested in other styles of music beside metal? If so, what is the kind of music you prefer to listen to?
-Morten: Well, there might be the occasional rock band in rotation on my playlist, but I listen almost exclusively to metal music.
-James: Folk music. I like the jaunty melodies. And the lyrics have lots of sex and tragic endings. Something I've definitely used as inspiration when writing lyrics of my own. Perhaps especially back when I wrote some of the lyrics for Svartsot.
*Is music a full time job for you now or do you have a job beside music? If so, what kind of job are you doing? If you would be really succesful with music, would you quit your other job?
-Morten: No, unfortunately we cannot support ourselves or our families with just the income from the band. Actually there is no income to speak of. It all gets reinvested in the band. I work in a webshop with IT and logistics. And yes, I would definitely do music full time if I ever got so lucky.
-James: I'm a chemistry teacher at an international school. If I could support myself just from music, that would be awesome, but I'm not expecting that to happen soon.
*If you could start a complete new band (something like an all star band) with other musicians on other instruments, which artists would you pick for wich instrument and why? Would you still go for a Viking metalband?
-Morten: Well, that's a tough one. I think I'd probably go for some of the musicians we've toured with over the years. Some amazingly talented people in bands like Omnium Gatherum, Hamferð, In Mourning, Ensiferum and Fleshgod Apocalypse, just to name a few. As for what style of music we'd play, I have no idea. That sort of thing kind of develops organically in cooperation with the musicians you have on hand. But no, probably not a viking metal band.
-James: Agreed.
*If you had been banned to an uninhabited island and you may pick 5 albums to listen to, wich albums would you choose and why?
-Morten: Well, it'd be really hard to pick just five, but these are definitely some of my all-time favourites: Wintersun – 'Wintersun', Hypocrisy – 'Virus', Falconer – 'Chapters From A Vale Forlorn', Blind Guardian – 'Nightfall In Middle-Earth', Carcass – 'Heartwork'.
-James: Easy. Opeth – 'Morningrise', Skyclad – 'Wayward Sons Of Mother Earth', Ensiferum – 'Iron', Kyuss – 'Sky Valley' and Myrkur – 'Folkesang'.
*Every new album of a band or an artist is the best one, so they say. So here is a chance to promote your album. Why should a music lover buy your album? What are the standout tracks for you on this new album and why?
-Morten: That's true. And much like all other musicians, I'd say 'To Hell Or Kingdom Come' is by far our best album. We've developed a lot as songwriters and managed to create a very complete album this time around. There are not many things I would change about this one. My favourite tracks on the album are probably 'The Rebirth' and the title track 'To Hell Or Kingdom Come'.
-James: I think this is definitely one of the best albums I've ever been a part of. The pandemic really gave us sufficient down time to work on each song properly and get them all up to the same high standard. The tracks I'm probably most fond of (at the moment) are 'Retribution's Dawn' and 'Fall Of The Fey'. But there are none I'm not really pleased with.
– See "CD-Review" for a review (written in Dutch) for the new HEIDRA album 'To Hell Or Kingdom Come' (Mighty Music) –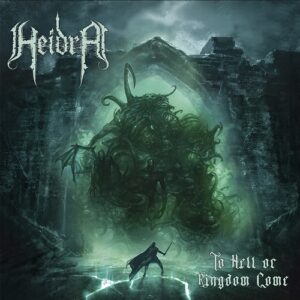 *Is there a chance that you will promote these songs through live concerts? If so, would you prefer small clubs or big festivals? And is there a chance we can see HEIDRA in Belgium?
-James: That's the plan. Unfortunately our Danish tour we had planned for February was cancelled, but we have more shows booked in Denmark for later in the year. Of course, playing at a big festival (or a small one) is an amazing experience. If we got to come and play Grasspop that would be cool as f…. anything.
-Morten: What James said. We've played in Belgium before with Ensiferum and Fleshgod Apocalypse, and we'd certainly love to return. We are working on getting back on the road, but with the post-pandemic situation and every band and their mom wanting to go on tour, it's a bit tough at the moment.