Deep Purple: Turning To Crime.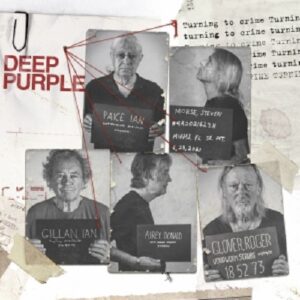 Tracklist: 1. 7 And 7 Is 2. Rockin Pneumonia and the Boogie Woogie Flu 3. Oh Well 4. Jenny Take A Ride 5. Watching The River Flow 6. Let The Good Times Roll 7. Dixie Chicken 8. Shapes Of Things 9. The Battle Of New Orleans 10. Lucifer 11. White Room 12. Caught In The Act
With strong tailwind from last year's chart leading album "Whoosh!", Deep Purple surprises with new album. Doing what they never did before: recording an album made 100% of music originally written and recorded by other artists: obscure gems of rock and R&B.
After five decades of records made chiefly of original material, Deep Purple's 22nd studio album consists solely of songs written and previously recorded by other artists: a criminal offense commonly described by the rock police and purists Grand Juryas "doingcovers." Studio recordings of songs previously released by Love, Huey "Piano" Smith, Fleetwood Mac, Mitch Ryder & the DetroitWheels, Bob Dylan, Ray Charles & Quincy Jones, Little Feat, The Yardbirds, Lonnie Donegan/ Johnny Horton, Bob Seger System, Cream, plus the "Caught In The Act" medley feat. songs by Freddie King, Booker T. and the M.G.'s, The Allman Brothers Band, Led Zeppelin and The Spencer Davis Groupcame to life with the band,for the first time in their career, recording themwhile not being in the same room. "Turning To Crime" is Deep Purple enjoying playing music without commercial plans nor losing their edge and drive.This is Deep Purple coming full circle.This is 100% Deep Purple.
The "time trilogy", consisting of "NOW What?!", "inFinite" and "Whoosh!" (2013, 2017 and 2020) have sold over 1 million albums, topped the charts 11 times and achieved more than 40 Top 10 positions worldwide. Producer and friend Bob Ezrin, who worked with Deep Purple on the previous albums forming the "trilogy", was once again an important part of the new studio work.