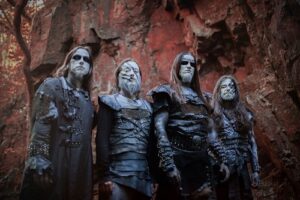 Symphonic black metallers Welicoruss will premiere their "Welicoruss – 15 years of Madness" documentary on January 11th at 9pm CET. Read the band's announcement below.
"We hope you`ve already come to your senses after New Year's alcoholic party and had awesome holidays! With great proud and pleasure we would like to announce that on 11.01 on Monday at 9 pm CET something amazing will happen we have been waiting for for many years – official premiere of our long-awaiting documentary (or as we used to call it "DVD" in broadcastings, although this medium has lost its relevance), dedicated to our 15th anniversary and it will be called "15 years of madness" in 4 languages (Russian, English, German and Czech)!
This`s quite voluminous work, including footage taken from the very begining of Welicoruss and first concerts in Russia, opinions of musicians playing in Welicoruss at different times, colleagues of metal scene, business guys, fans, backstage footage and much more! This documentary, we think, will be interesting not only for Welicoruss' fans, but also for heavy music lovers who want to learn more about metal scene in Russia (Siberia), to follow Alexey's complicated path from distant Siberia to Prague and to know what is behind band`s music and conception. We have been waiting for that moment for a long time, we hope you too!
👉Write down this date and time of premiere in your calendar- 11.01 at 9 pm CET! Let's do it all together in one place – on our YouTube channel, and if you haven't subscribed it yet, it's time to do that: https://www.youtube.com/user/welicorussofficial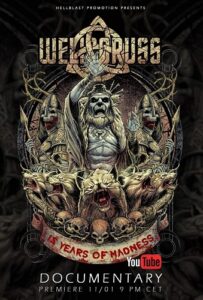 🙏Support us in crowdfunding campaign which is going to the end very soon: https://www.indiegogo.com/projects/welicoruss-making-two-new-videos–2#/"
Watch the crowdfunding campaign video here: https://youtu.be/SeoXUefts6I
Just recently, Welicoruss released a new live video for 'Frostbounded', from 'Enter The Eternal Fire Fest 2020', in case you missed it, watch it here: https://youtu.be/X30_zAGXunI
Welicoruss released their latest album "Siberian Heathen Horde" on March 27th 2020, via El Puerto Records worldwide. Get your copy of "Siberian Heathen Horde" here – https://bit.ly/2UvYVlS
Also watch the videos
"Making of …Siberian Heathen Horde": https://youtu.be/-xHWiwS8zZI
'Siberian Heathen Horde': https://youtu.be/VbC7TetpqOI
'Spellcaster': https://youtu.be/6Q2fnHBxvqk
Symphonic Black Metal From The Coldest Depths of Siberia is what Welicoruss (formed in 2005) have brought with them to us here in Europe. Welicoruss appeared in Europe 4 years ago and they have already played all the biggest festival across the whole Europe and playing over 320 concerts. You will be absolutely stunned by their stage performance and imagery as they take you away on a journey far away to Depths of Icy Cold Siberia and back.