When did you really get involved into music in general and into metal specific? Who was responsible for your interest in (metal) music?
I started getting into punk music in early highschool, one of those kids with the USB MP3 players with the classic Blink-182, Rise Against and Good Charlotte playing all day. I basically got all my initial introduction to music from my older sister. One day she showed me "Anchors" by The Amity Afflction which was my gateway into heavy music, and ive never looked back.
*Which artists or bands did influence you the most?
For Path To Tartarus, I was influenced a lot by The Seer, Wintersun and Bullet for my Valentine
*Which instrument do you play and how and when did you learn to play? Did you had lessons in school or private lessons? If so, was that because your parents expected that from you? Or did you learn to play the instruments by yourself? Do yo still follow some lessons?
I started learning to play drums in when I was 6 (year 2) when I was applying for the school band. The band conductor got us all to try different instruments to see what we were most suited for and I wasnt good at anything. Then he got his car keys out of his pocket and asked me to hit them on the table in a basic rhythm. Thats how It all started. I was already doing piano lessons aswell which I did only for a few more years, but I was fortunate enough to have private lessons from drums all the way through until the end of year 12. I've played in both my school bands, percussion ensembles and local orchestras. In year 10 or so I also started playing Marimba and had private lessons also for my peformances for the HSC.
*Do you follow other or are you intrested in other styles of music beside metal? If so, what is the music you prefer to listen to?
I actually dig Jazz. Any time I would jam with my older sisters jazz ensemble for her HSC I would just love that stuff. I also really enjoy watching musicals and story through music.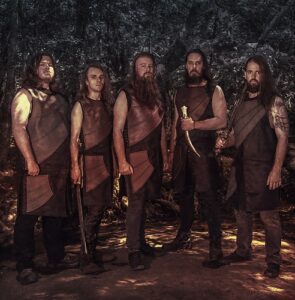 *Is music a full time job for you now or do you have a job beside music? If so, what kind of job are you doing? If you would be really succesful with music, would you quit your other job?
Evocatus for all of us is a hobby that we really enjoy. If we could do it full time, I think we all would! Im currently working in proffessional services in IT audit. Suit during the day, battle armour at night.
*If you could start a band with other musicians on other instruments, which artist would you pick for which instrument and why? (Something Like an "All Stars Band".) Would you still go for a melodic death metal metal band? Or would you do something completely different?
Chuck in some Jari Mäenpää (Wintersun) – Vox/Guitar, Herman li (Dragonforce) – Guitar, Brad Delforce (Evocatus) – Bass (he cant not be the basist), Me – Drums.
"Lets just roll the tape for 11-12 hours, see what we can get…"
*If you had been banned to an uninhabited island and you may pick 5 albums to listen to, which albums would you choose and why?
Only need one. 'Chasing Ghosts' – The Amity Affliction
*Every new album (or ep) of a band or an artist is the best one (we do know it's the first album), that's what they always say. So here is a chance to promote the album. Why should a music lover buy your album? What are the standout tracks for you on this new album and why?
I cannot think (other than the bands where theres obvious influences) of another band who sounds like Evocatus. Our music is very unique and we are just keen to share our work with the world. If you enjoy stories of bloody battles told through the medium of Battle Metal, 'Path To Tartarus' is for you!
– See "CD-Review" for a review (written in Dutch) for the new Evocatus album 'Path To Tartarus' (Independent Release) –
*I suppose you will promote this album through live concerts (when of course everything is getting back to "normal" after the Covid 19 disaster). If so, would you prefer small clubs or big festivals? And is there a chance we can see Evocatus in Belgium?
All of the above. Lets do it.