A top-notch offering of comedy metal that even the greatest gods in Valhalla would celebrate!
Nanowar Of Steel, the kings of masterful heavy metal parodies, release their album Stairway To Valhalla on vinyl for the first time. The re-mastered edition will be available in two different colors and comes along with a bonus CD, which contains three yet unreleased fountains of fun, starting with party smashing "Uranus", featuring Michael Starr (STEEL PANTHER). On their forth full-length, the five-piece offered hits such as "The Call of Cthulhu" and "Barbie, Milf Princess of the Twilight" featuring Fabio Lione (Turilli/Lione Rhapsody) amongst others.
Founded in Rome (IT) in 2003, it became the quintet's mission ever since, to make their devotees laugh and put an everlasting smile to various faces. Released in 2018, Stairway To Valhalla marks a prime example of happiness and lightness, but despite doesn't forget to set an exclamation mark music-wise. With a finest selection of Comedy Metal, Nanowar Of Steel set their sails somewhere between beach parties by the Mediterranean Sea and hiking through thunderous Nordic ice storms. Whether the shimmering guitar play in "Barbie, Milf Princess of the Twilight", the neck muscle-animating heavy metal in "Heavy Metal Kibbles" or the almost tragic-looking power ballad "… And Then I Noticed That She Was a Gargoyle" – Nanowar Of Steel convince with an illustrious mixture of different styles, where everyone can find an own intersection to choose a favorite! And when the Velociraptor-Dino – which is actually declared as convinced meat-eater – is stepping in as being vegan all of a sudden, the humor of the artists may have reached its peak one might think. But there's still a bunch more to come!
On Stairway To Valhalla, Nanowar Of Steel irresistibly follow their self-imposed route and have set the course for further fun-filled adventures. Laughter explicitly allowed!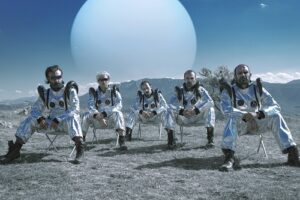 Nanowar Of Steel are: Gatto Panceri 666 – bass / Potowotominimak – vocals / Mr. Baffo – vocals / Abdul – guitar / Uinona Raider – drums