*When did you really get involved in music in general and into metal specifically? Who was responsible for your interest in (metal) music?
In total millennial fashion, my first "heavier" album was Linkin Park's 'Hybrid Theory', which coincidentally is celebrating its 20th anniversary this year. What got me into really heavy music was the discovery of UnderOath and their second LP 'Cries of the Past'. I first got involved in making metal music around the age of 15, so about 2005.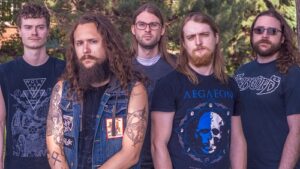 *Which artists or bands did influence you the most?
My biggest influences when I was just starting were bands like early UnderOath, Dimmu Borgir, Kamelot, Arcturus, Led Zeppelin and Agalloch. Still some of my biggest influences minus one or two.
*Which instrument do you play and how and when did you learn to play? Did you had lessons in school or private lessons? If so, was that because your parents expected that from you? Or did you learn to play the instruments by yourself? Do yo still follow some lessons?
I took about three lessons when I was 15 on acoustic guitar and learned some chords and the intro to 'Stairway To Heaven'. I really picked up guitar after just doing vocals around 18. At the time, before Amiensus was called Amiensus, I had left my state for college and wanted to continue writing music and sending it over the internet back to my bandmates. I took up guitar and started learning more intently at that time.
*Do you follow other or are you interested in other styles of music besides metal? If so, what is the music you prefer to listen to?
I don't listen to a ton of metal anymore besides old favorites, though i'm open to checking out new albums, they just don't trigger that emotional response. I play in a shoegazey / rock band as well. I listen to a lot of classic rock and grunge, a bit of shoegaze and acoustic music and OST's.
*Is music a full time job for you now or do you have a job beside music? If so, what kind of job are you doing? If you would be really successful with music, would you quit your other job?
Music will never be a full time job and that's how i'd prefer it. I put about as much into my full time job as I do music already and it's always a big loss monetarily! I'm actually a drug and alcohol counselor, which is what I went to school for, and have been doing since graduation.
*If you could start a band with other musicians on other instruments, which artist would you pick for which instrument and why? (Something Like an "All Stars Band".) Would you still go for a progressive black metal band? Or would you do something completely different?
I'm not sure that it would make any sense, but if I could have Robert Plant and John Paul Jones on vocals / bass. Throw Aaron Gillespie on Drums and Michael Amott on guitar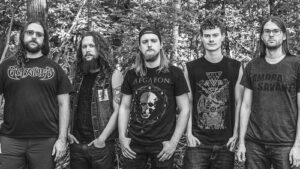 *If you had been banned to an uninhabited island and you may pick 5 albums to listen to, which albums would you choose and why?
I'm picking albums that I love and have listened to hundreds of times.
Led Zeppelin – 'Mothership' (got all the hits), UnderOath – 'Define The Great Line', Agalloch – 'The Mantle', Arcturus – 'The Sham Mirrors' and Deftones – 'White Pony'.
*Every new album (or ep) of a band or an artist is the best one, that's what they always say. So here is a chance to promote the album. Why should a music lover buy your album? What are the standout tracks for you on this new album and why?
A music lover should buy 'Abreaction' because it's a beautiful amalgamation of several metal and non-metal styles of music, crafted into ten very distinctly similar yet different songs. My favorite tracks bounce around a lot, but my top four right now are 'Beneath The Waves', 'Divinity', 'Cold Viscera', and 'Iconoclasm'.
– See "CD-Review" for a review (written in Dutch) for the new Amiensus album 'Abreaction' (Transcending Records) –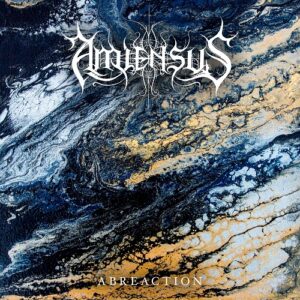 *I suppose you will promote this album through live concerts (when of course everyting is getting back to "normal" after the Covid 19 disaster). If so, would you prefer small clubs or big festivals? And is there a chance we can see Amiensus in Belgium?
Small clubs for sure. I would say the intimacy of smaller clubs is much more fun for the band and the audience. Festivals are fun because they're less stressful though. There's a good chance we'll come to Europe in the future- just gotta be patient!