*When did you really get involved into music in general and into metal specific? Who was responsible for your interest in (metal) music?
As a child my older brother introduced me to bands like Kiss, Iron Maiden and Accept. I was hooked immediately. I wanted to be like Paul Stanley and started playing guitar with a tennis racket like everyone else.
*Which artists or bands did influence you the most?
I would say my biggest influences at an early age was Kiss, Iron Maiden and Accept. In the 80's I was really influenced by Whitesnake, Ratt, White Lion and Van Halen and when I heard 'Operation Mindcrime' by Queensryche I was totally blown away and since that moment I really enjoy the more progressive style of metal like dream Theater, Circus Maximus and Symphony X.
*Which instrument do you play and how and when did you learn to play? Did you had lessons in school or private lessons? If so, was that because your parents expected that from you? Or did you learn to play the instruments by yourself? Do yo still follow some lessons?
I sing and play guitar. I'm more or less self taught but I had older friends that showed me how to play certain songs.
*Do you follow other or are you interested in other styles of music beside metal? If so, what is the music you prefer to listen to?
A good song is a good song no matter what genre it is. I play in a country band called Tricky Trail that was awarded the best country band in Sweden a couple of years ago.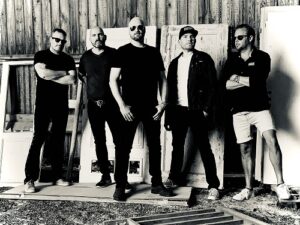 *Is music a full time job for you now or do you have a job beside music? If so, what kind of job are you doing? If you would be really successful with music, would you quit your other job?
I am a teacher. I teach english, drama and skiing. I love my job but if I had the chance to write, produce or play music as a job I would not hesitate to take the chance.
*If you could start a band with other musicians on other instruments, which artist would you pick for which instrument and why? (Something Like an "All Stars Band".) Would you still go for a melodic hard rock / melodic heavy metal band? Or would you do something completely different?
My dream band would probably be: Myself – Vocals, John Petrucci – Guitar, Vito Bratta – Guitar, Gavin Harrison – Drums and Billy Sheehan – Bass. And the genre would be melodic hard rock.
*If you had been banned to an uninhabited island and you may pick 5 albums to listen to, which albums would you choose and why?
'Operation Mindcrime' – Queensryche (the best album ever…)
'Nine' – Circus Maximus (rich melodies and fantastic guitar playing)
'The Ranch' – Keith Urban (the album that got me inte country)
Kiss – 'Alive II' (the nerve and a true classic)
'Last days of Eden' – Sole Syndicate (no words needed)
*Every new album (or ep) of a band or an artist is the best one, that's what they always say. So here is a chance to promote the album. Why should a music lover buy your album? What are the standout tracks for you on this new album and why?
The album is written by heart and we have done everything ourselves. The songs are true and they deal with the troubling times we experience right now. The melodies are really strong and the album is hard and heavy yet full of memorable moments.
– See "CD-Review" for a review (written in Dutch) for the new Sole Syndicate album 'Last Days Of Eden' (Scarlet Records) –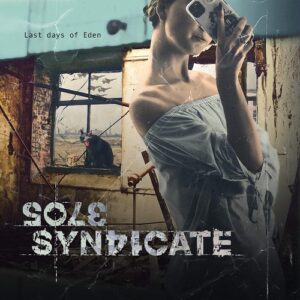 *I suppose you will promote this album through live concerts (when of course everything is getting back to "normal" after the Covid 19 disaster). If so, would you prefer small clubs or big festivals? And is there a chance we can see Sole Syndicate in Belgium?
We are not in a position to choose our crowds right now. When we get the opportunity to play live, we will rock every venue that is given to us. No matter if there is 5 or 50 000 people in the crowd. A Sole Syndicate concert is a once in a lifetime experience and we would love to come to Belgium and play our hearts out!
Thank you so much and Stay Safe!