*When did you really get involved into music in general and into metal specific? Who was responsable for your interest in (metal) music?
From a really early age I've been into music. Remember I got both a small drumkit and a acoustic guitar at age of 3-4 years old and I played it until it broke, I was quite a frenetic player *laughing* Nobody in my family plays any instrument but I was totally into music from the start, god knows how or why. Every time a rockband or artist appeared on tv (in the 70's and 80's) I got totally absorbed by it and there the interest and the committed dream of playing guitar and being in a band started. I discovered the metal music at the age of ten years old with an friend from school, we also later on started playing guitar when we were twelve. We were quite progressive and were searching for new bands all the time (almost competitively) and started to listened to Metalica and thrash metal as early as 1982, when the genre was in the beginning. We spent all our money buying records or went to the city library, where we listened to early Black Sabbath and Deep Purple records. We went to a lot of concerts seeing bands like Accept, Saxon, Metallica (Master of puppets), Mötley Crue, Europe, etc.
*Which artists or bands did influence you the most?
There are many bands, specific albums and guitarists that influenced my playing and songwriting style. I'm a huge fan of the early british bands, Whitesnake, Judas Priest, Iron Maiden, early Def Leppard, Tygers Of Pan Tang, Black Sabbath etc. and I was totally blown away by Racer X with Paul Gilbert in the late 80's, same thing with Harem Scarem with Pete Lesperance in the early 90's. Gary Moore, Randy Rhoades, Jake E Lee, John Sykes, Doug Aldrich and a little bit of Yngwie Malmsteen of course has inspired me through out the years. Dio is best singer of all time and the songs is always inspiring. There are many bands and guitarists from the 70's til today that are inspiring.
*Which instrument do you play and how and when did you learn to play? Did you had lessons in school or private lessons? If so, was that because your parents expected that from you? Or did you learn to play the instruments by yourself? Do yo still follow some lessons?
I play lead guitar in Hellsmoke and started playing guitar when I was twelve. I'm more or less self taught but I started to take private lessons in the beginning and found it quite boring since the teacher was into folk music, so it didn't gave me much inspiration continuing doing that, but I got the some music theory and scales etc from doing that. I just wanted to do what my idols was doing on stage and be a part of a hardrock band soon enough. My parants has never pushed me into anything, so this was only my choice and more or less on my terms. Sometimes I hear or discover something new or interesting through radio, a new record or youtube, if it catches my interest enough I figure it out, but I'm not taking any lessons. I believe in having the great feeling when playing, not just practicing scales a.s.o. that's totally demotivating for me. I used to play approx 5-7 hours a day, just playing to music and finding new ways of expressing my guitar playing to the music. I do it still today, but not that many hours like back then.
*Do you follow other or are you intrested in other styles of music beside metal? If so, what is the music you prefer to listen to?
I like a good melody and great musicianship, regardless style of music. I'm a big fan of many hardrock and metal bands, old as new. I'm true rocker but also a sucker for eighties pop, don't know why, but I like those days and the great pop made then. I also is a huge fan of guitar oriented instrumental music. I listen probably 95% to hardrock/Metal.
*Is music a full time job for you now or do you have a job beside music? If so, what kind of job are you doing? If you would be really succesful with music, would you quit your other job?
I'm part owner of a small recruitment company, recruiting engineers. I love my job since it's stimulating, challanging and networking, but of course I have the dream of being able to live on the music and touring the world. So, I would for sure do that, if it became an possibillity. Rimbert, Jörgen and Michael has also their own smaller companies, I guess they would do the same if it was possible, I know Rimbert would do it.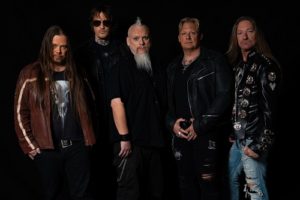 *If you could start a band with other musicians on other instruments, which artist would you pick for wich instrument and why? (Something Like an "All Stars Band".) Would you still go for a hard rock / heavy metal band? Or would you do something completely different?
First of all, I'm not a fan of "all star bands" or band projects at all, I think it's totally uninteresting to follow. I've always being a fan of real bands and has always wanted to be in a band myself. That said, if I was forced to start an "allstar band" it would be with my dear friend Niclas Olsson (Alyson Avenue, Sapphire Eyes) on keyboard, Nikki Sixx on bass, keep my drummer Roger Landin (he's the best) and have Russel Allen (Symphony X) on vocals, making heavy melodic metal with roots from the late seventies and early eighties with engineered sound of the twenty twenties.
*If you had been banned to an uninhabited island and you may pick 5 albums to listen to, wich albums would you choose and why?
1. Harem Scarem, 'Mood Swings' 2. Whitesnake, '1987' 3. Gary Moore, 'Victims Of The Future' 4. Racer X, 'Second Heat' 5. Iron Maiden, 'The Number Of The Beast'.
*Every new album (or ep) of a band or an artist is the best one – we do know this is a debut-album –, that's what they always say. So here is a chance to promote the album. Why should a music lover buy your album? What are the standout tracks for you on this new album and why?
I would say "you'll get everything from the Hellsmoke debut album in terms of hardrock and metal style – rough, melodic, progressive, power midtempo to fast songs with a lot of addictive hooks made by great vocals and pounding guitars".
– See "CD-Review" for a review (written in Dutch) for the new Hellsmoke album '2020' (Pride & Joy Music) –
*I suppose you will promote this album through live concerts (when of course everyting is getting back to "normal" after the Covid 19 disaster). If so, would you prefer small clubs or big festivals? And is there a chance we can see Hellsmoke in Belgium?
We intend to do both clubs and festivals, we love them both. We also would very much like to play in Belgium. So far there hasn't been a really elaborated tour or concert plan but we are about to start working on it and we have some offers and ideas.