Italian experimental progressive metal combo Cyrax have signed with Wormholedeath a deal for the release of their new album "Experiences".
"Experiences" was mixed and mastered at Ivory Tears by Alessandro Del Vecchio (Jorn, Hardline, Edge Of Forever) and it will be out on 11/12/2020 on all digital stores and streaming services worldwide.
The band comment: "It is with deep pride that after five years of silence we are preparing to release a new album with a new label. "Experiences", like the title suggests, is a mixture of musical paradoxes, stylistic oxymorons, a cauldron where we have inserted the most disparate genres: celtic, death metal, thrash, jazz fusion,rock prog, bluegrass and.. Stravinskij! The label that believed the most in our project is Wormholedeath and we are very proud of that. See you on the road soon!"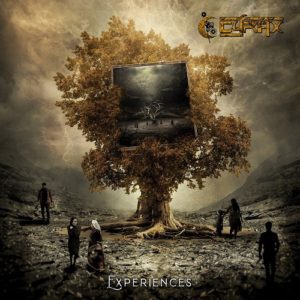 "Experiences" tracklist: 1) Ut Queant Laxis 2) Notes From The Underground 3) Dorian Gray 4) Reflections, Pt.2 5) Truemetal 6) Óró ('sé do bheatha 'bhaile) 7) Wozzeck 8) Odysseia 9) Преступление и наказание (Global Warming) 10) Infinito – Prologo 11) Infinito – Epilogo
Biography Cyrax: All begins in 2013, when Marco Cantoni was intended to release a heavy metal album: he meets Antonio Rubuano and Paolo Musazzi, and they instantly start writing music. Based on some original Marcos's ideas, Cyrax's songs were written in late 2012, gradually assuming strong progressive and experimental traits. During that time a young singer, Davide De Stefano, offered important contributions in writing vocal lines and drawing the copious choirs characterizing Cyrax's music. At the beginning of 2013 Cesare Ferrari and Paolo Biocchi join the project. In march the group record its debut album, Reflections, which has been worldwide published in october 2013 by Musea. The recording sessions toke place @ RecLab Studio during march 2013. Sound engineers were Larsen Premoli (Fire Trails) and Matteo Bolzoni. Larsen, who also gave important keyboard contributions, appears as guest. The second album Pictures was recorded during the summer of 2014 and published by Bakerteam Records. At the beginning of 2015 Paolo Musazzi left the band. Tour started in December 2015, and after several line up changes, Cyrax are ready to release their third album in 2020, "Experiences", via Wormholedeath Records, mixed by Alessandro Del Vecchio.
Cyrax band members: Marco Cantoni- Lead Vocals / Gianluca Fraschini – Lead and Rhythm Guitar / Martin V.Chionna – Lead and Rhythm Guitar / Lorenzo Beltrami – Drums