*When did you really get involved into music in general and into metal specific? Who was responsable for your interest in (metal) music?
All of us in the band started playing music at a young age, and were all into metal from early on in the jump. Myself, I have been playing guitar since around the age of 12, taking lessons from a metal-centric teacher at the time, who also taught the other guitar player in Wayfarer Joe Strong-Truscelli (who himself would teach me for a time after that teacher's departure). I was exposed to more stuff through my teachers, like Joe himself who brought me to shows like Opeth, Kreator etc at age 13. Made quite an impact.
*Which artists or bands did influence you the most?
As a band we have a lot of music that influences us for sure. I think we were initially brought together by a love of bands like Opeth, Primordial, Immortal, Moonsorrow. We have also incorporated a strong influence of "Denver Sound" gothic Americana bands like Sixteen Horsepower, Wovenhand, Jay Munly's bands etc. All of that still holds a place somewhere but we have cultivated our own sound over the years that is the basis for everything now.
*Which instrument do you play and how and when did you learn to play? Did you had lessons in school or private lessons? If so, was that because your parents expected that from you? Or did you learn to play the instruments by yourself? Do yo still follow some lessons?
As I mentioned above, I play guitar and do vocals in the band, and yes I had taken lessons. Those were a big deal for me, it was something I sought out myself as I wanted to do something to be like the metal bands that were such a big deal to me at a young age. I had some great teachers who encouraged me to develop my own style and write my own music. As I mentioned above, Joe Strong-Truscelli who now plays in the band with me was my teacher from age 13-16, and I learned a great deal from him. He still plays circles around me, but encouraged me to develop a unique style that the band ended up originating from. I haven't taken guitar lessons since then, but I have certainly worked with some coaches on singing, as we are doing more and more clean vocal passages these days.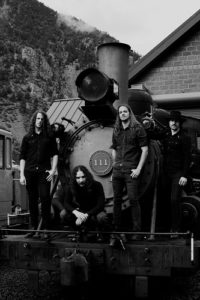 *Do you follow other or are you intrested in other styles of music beside metal? If so, what is the music you prefer to listen to?
Absolutely! All of us in the band listen to a huge range of things. We are all music lovers. There is of course the dark Americana stuff alluded to earlier, as well as certain folk and country, a lot of 60s and 70s rock, darkwave and "deathrock" bands, 80's heavy metal and arena rock, hip hop artists, trip hop, some electronic, film scores. There is too much great music out there.
*Is music a full time job for you now or do you have a job beside music? If so, what kind of job are you doing? If you would be really succesful with music, would you quit your other job?
We certainly all work jobs outside of music, although yes I think we would all love to only do that. Personally I bartend at a brewery, and work with the Fire In The Mountains festival in the Grand Tetons.
*If you could start a band with other musicians on other instruments, which artist would you pick for wich instrument and why? (Something Like an "All Stars Band".) Would you still go for a black metal band? Or would you do something completely different?
Now this is a hell of a question. There's a lot of routes one could go here. At the end of the day I feel like musicians come together for a reason, so in this fantasy land I would probably prefer to collaborate with some musicians in their prime and "borrow" their band members – such as to steal Chuck's backing band in the "Human" era of Death, or collaborate with Mikael Akerfeldt in the days of the best Opeth lineup of Lindgren/Mendez/Lopez. This list could go on endlessly. In a more realistic realm, I would love for Wayfarer to someday collaborate with some of the legends of music here in Colorado, such as Jay Munly, Rebecca Vera, Slim and George Cessna, Dwight Pentacost and company from the "Slim Cessna's Auto Club" family, as well as maybe even David Eugene Edwards and Ordy Garrison from Wovenhand. Maybe someday.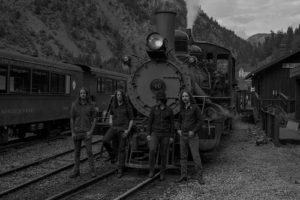 *If you had been banned to an uninhabited island and you may pick 5 albums to listen to, wich albums would you choose and why?
Another hell of a question, heh. At least today, I would choose (for reasons far too long-winded to get into here:
Primordial – 'The Gathering Wilderness'
Opeth – 'Still Life'
Sixteen Horsepower – 'Sackcloth 'n Ashes'
Iron Maiden – 'Somewhere in Time'
Fields Of The Nephilim – 'Elizium'
*Every new album (or ep) of a band or an artist is the best one, that's what they always say. So here is a chance to promote the album. Why should a music lover buy your album? What are the standout tracks for you on this new album and why?
That is too true. Well, I would say that what we have done is to make something that is very unique to us and where we come from. It is some form of Black Metal through the lens of the American West, a big and bloody Western Film of a metal record filled with dust, gunpowder, glory, and tragedy. It's it's own thing, and it's genuine. If that is of interest to you, then give it a listen. As far as standouts, this is of course like picking favorites among children. I'd say the deeper we got into exploring the less travelled territory such as on 'Fire & Gold' and 'Vaudeville' was certainly extremely intriguing to us in the band – but I would also say that 'Masquerade Of The Gunslingers' is, to me, a quintessential "Wayfarer song."
– See "CD-Review" for a review (written in Dutch) for the new Wayfarer album 'A Romance With Violence' (Profound Lore Records) –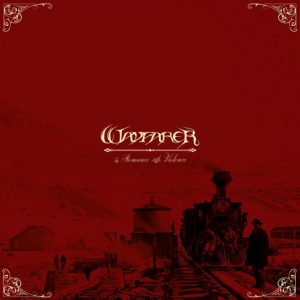 *I suppose you will promote this album through live concerts (when of course everyting is getting back to "normal" after the Covid 19 disaster). If so, would you prefer small clubs or big festivals? And is there a chance we can see Wayfarer in Belgium?
Absolutely – we certainly look forward to the day where this can take place again. We love playing live, and pride ourselves as a live band first and studio band second. We put a lot of energy into our shows. Honestly we like both the small clubs and the festivals for different reasons, it is great to play such big events alongside so many really great artists at the festivals and be a part of something there, but still nothing quite beats a really good club show, as an attendee or performer in my opinion. We did actually play in Belgium at Magasin4 in Brussels, as well as in Antwerp last Spring in 2019. We would love to come back to Belgium, and Europe as a whole – as soon as we get a chance to do so.
Thank you for the questions!