*When did you really get involved into music in general and into metal specific? Who was responsible for your interest in (metal) music?
Like many I did come into contact with music very early as a child. At first these were children's songs of course, but there was always a lot of music playing at home, so I soon got to hear "real" music. And from today's perspective, I can luckily say that it has always been in the more rock-oriented direction, I can still remember that a lot of AC/DC, Queen or Foreigner was running. In 1987 my parents took me to my first concert, that was the "Monsters Of Metal" with Deep Purple, Dio and Metallica amongst others. It was there that I immersed myself in the world of harder music for the first time and can still remember well that Metallica impressed me the most that day. As a result, I started looking through the vinyl records at home and dug out albums by Iron Maiden, Twisted Sister or Judas Priest. That was the beginning of my love for metal for me. Metallica were at the beginning, but then Slayer, Kreator, Sodom or Helloween were added very quickly. When the first Death Metal bands came up, I was happy to turn to this even more brutal and faster music.
*Which artists or bands did influence you the most?
As I said, Metallica is at the beginning and will always have a special place in my heart. The James Hetfield from the late 80s spurred me on to want to play guitar too, so I owe him – at least in part – that music has become such an important part of my life. With regard to Death Metal, I would first mention Morbid Angel as an important influence. Back then I heard 'Altars of Madness' so many times that the album had already entered the musical DNA. Amorphis also had a big influence on me at the time. I can still vividly remember how I was blown away at first hearing in the record store by 'Tales from the Thousand Lakes' and how I listened to the whole album there. Finally, I would like to mention Emperor (or actually Ihsahn, being the one who wrote most of the music for Emperor). The musical and compositional class is simply amazing and for me it is always an incentive to get better. However, I would also like to say that I always try to go through the world with my eyes and ears open and the influences should come from as many directions as possible. I listen to a lot of bands that are unknown to me and let myself be inspired. I would also find it terrible if I only had music in my head that is already 20 or 30 years old (or even older).
*Which instrument do you play and how and when did you learn to play? Did you had lessons in school or private lessons? If so, was that because your parents expected that from you? Or did you learn to play the instruments by yourself? Do yo still follow some lessons?
My main instrument is the guitar that I've been playing since I was 12 years old. In the first years I had private lessons on the classical guitar, which I still benefit from today, for example in terms of hand position. At some point I bought my first electric guitar and then started taking lessons there as well. My teacher was very influenced by the blues and quickly reached his limits when I showed up with the notes for 'Master Of Puppets'. I ended the lessons at some point and taught myself everything I need for my music. And this has been the case to this day, so I have not taken lessons for a long, long time. My parents didn't expect me to start playing an instrument at all. In fact, I had to beg for a while to get the classic guitar. But as already mentioned, I was very motivated to play the guitar myself and once I started I never stopped playing again. In addition to the guitar, I eventually started to play bass. The hurdle here is not that high, even if I would never call myself a real bass player. As a guitarist you have to rethink and understand the music differently when coming up with the bass parts. Then there are of course the vocals and everything that you can program in music. In short: apart from the drums, I actually do everything for BLOODRED.
*Do you follow other or are you interested in other styles of music beside metal? If so, what is the music you prefer to listen to?
To be honest I listen to 90% metal, there is not so much space for other music and after all there is a lot to discover in metal with so many different genres. I haven't actually listened to the regular radio for many years because the music there really gets on my nerves. When I listen to music outside of metal, it's modern classics like Queen or the Beatles. In addition, I also listen to classical music from time to time, for example I like Dmitri Shostakovich very much, especially his 10th symphony.
*Is music a full time job for you now or do you have a job beside music? If so, what kind of job are you doing? If you would be really successful with music, would you quit your other job?
So far, music has been a side job for me. For many years "BLOODRED" was just a hobby, which has only recently changed due to the signing by Massacre Records. At least I now have more options for BLOODRED with a strong partner behind me than before. My main job is in e-commerce, where I focus on marketing. However, I was allowed to build an e-commerce platform for an international company over more than 10 years and therefore have a deep insight into other specialist areas. But even if e-commerce is certainly a very exciting and interesting field of work, with the mentioned great success I would only concentrate on the music without hesitation. This is where my heart belongs, here I can fully realize myself and ultimately create something that remains and maybe even has a positive impact on the people.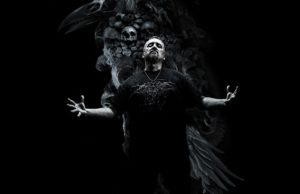 *If you could start a band with other musicians on other instruments, which artist would you pick for wich instrument and why? (Something Like an "All Stars Band".) Would you still go for a blackenend death metal band? Or would you do something completely different?
Since BLOODRED is not (yet) a real band, I would have to put the existing music on stage first. Therefore there is no need to want to do anything else.
An all-star band would probably look like this next to myself on guitar and vocals:
-Ihshan: guitar and back-up vocals. As I said above, I admire him for his musical ability and the fact that he really only does what he wants and can not be restricted by anything.
-Nergal would be on the third guitar and also the backing vocals. I think he would find access to BLOODRED quite well and also play his first signature guitar. And yes, it takes three guitars to bring the complexity of the songs on stage.
-Grutle Kjellson (Enslaved) on bass and backing vocals because I really like his stage presence and vocals.
-Of course, on the drums would be Joris Nijenhuis, because he not only knows and has recorded the songs, but is also a great person and an even better drummer.
*If you had been banned to an uninhabited island and you may pick 5 albums to listen to, wich albums would you choose and why?
Only five albums? Ok, that's a challenge … let's see:
-'Master Of Puppets' (Metallica) because it reminds me of my youth and the energy I felt when listening to this album.
-'Altars Of Madness' (Morbid Angel) because the album is just raw and evil. If there are bad days on the island, it definitely helps to channel the anger.
-'Anthems To The Welkin At Dusk' (Emperor) because for me it is the perfect balance of energy and virtuosity. I need that!
-'Eternity' (Anathema) for the wonderful nights under an infinite starry sky.
-'Skálmöld & Sinfóníuhljómsveit Íslands' (Skálmöld) because it is the best metal live-album with an orchestra ever. And the guys in Skálmöld are just really nice people.
*Every new album (or ep) of a band or an artist is the best one, that's what they always say. So here is a chance to promote the album. Why should a music lover buy your album? What are the standout tracks for you on this new album and why?
In my opinion, the listeners should decide whether the new album is the best! I can't be objective at this point. But I personally am very happy with the further development that BLOODRED has taken on this album. Overall, the songs sound more mature in terms of composition but also the arrangements. The extremes are pushed a little further and so the 3.5-minute high-speed song naturally stands alongside more epic and melodic songs and both complement each other in a wonderful way. We made a huge step forward in the production of the album. "The Raven's Shadow" is more powerful than the first album "Nemesis" and at the same time more transparent and "organic". So it shoots properly out of the boxes and on the other hand, the sound also allows it to discover even small details. That's by the way why I advise everyone to enjoy the album with good headphones!
It is difficult for me to particularly emphasize songs, because for me each song has its own character and can stand alone. Should I decide, on the one hand, I would pick 'Hör Den Tod', because the lyrics are very intense and the music absorbs the underlying emotional world quite well. On the other hand, I would perhaps choose 'Raise The Mound', because this song musically combines everything that makes BLOODRED: powerful riffing and melodic song parts, nice tempo changes with excellent drumming and again a very personally motivated text. Or should I take the most epic song 'The North Star Whispers (To The Blacksmiths Son)'? Well, I just can't make up my mind …
– See "CD-Review" for a review (written in Dutch) for the new Bloodred album 'The Raven's Shadow' (Massacre Records) –
*Is there a chance that you will promote these songs through live concerts? Are there contacts with other musicians to promote the album live yet? And if so, would you prefer small clubs or big festivals? And should there be a chance that we can see Bloodred on stage in Belgium?
As I said, BLOODRED has been a studio project so far and has not played live yet. And even if I really want to finally get the music on stage, there are currently no concrete plans. It would be great to play live alone because then the Covid 19 situation would obviously have relaxed considerably… Basically, I would not care in which locations or at which festivals the concerts would take place. Of course, it has a special charm to be able to play in front of a lot of people at a festival and just have fun together. On the other hand, I have seen some of my best and most intense concerts in small clubs where it was hot and the whole crowd on the move. Unforgettable! To be able to hang out with the bands after the show also is very good. So I wouldn't mind if it were mid-size or even small clubs for possible concerts.