Alors que sa douzième édition aurait dû se dérouler du 13 au 16 Août, le Motocultor Festival a profité du week-end pour dévoiler de nouvelles confirmations pour sa programmation 2021 !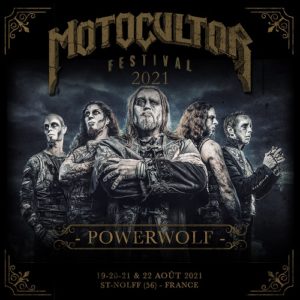 Le festival est ravi d'annoncer que Powerwolf sera bien présent l'an prochain. Fort de désormais sept albums studios, le groupe allemand profitera de son passage au Motocultor Festival pour communier avec ses fidèles lors de sa "grande messe du heavy metal". Le folk expérimental d'Heilung et le chant des vikings de Skáld, quant à eux, seront présents le Jeudi 19 Août 2021 et envoûteront St Nolff en contant les légendes de leurs ancêtres. Et ce n'est pas tout puisque la programmation 2021 du Motocultor compte désormais une trentaine de groupes !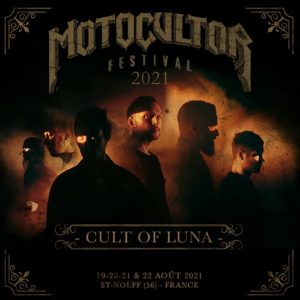 Pour les amateurs de sonorités typées post-metal ou stoner, soulignons que Cult of Luna, Red Fang et Svalbard viennent rejoindre Amenra, Orange Goblin, Valley of the Sun, Gold, Druids of the Gué Charette et Abrahma. De leur côté, Rise of the Northstar, Insomnium, Combichrist, Havok, Angelus Apatrida s'ajoutent à Dark Tranquillity, Klone, Thundermother et Acyl. Le tout pour former un bel échantillon de crossover, de thrash, de power, de pagan et de hard rock !
Enfin, en matière de death metal, de grind ou encore de black, alors que Cattle Decapitation, Benighted et Imperial Triumphant ont d'ores et déjà confirmer leur participation, il faudra également compter sur la présence des emblématiques Vader, Dark Funeral et Revocation !
Rendez-vous les 19, 20, 21 et 22 Août 2021 pour la douzième édition du Motocultor Festival !
La programmation :
1914, Abrahma, Acyl, Amenra, Angelus Apatrida, Benighted, Cattle Decapitation, Combichrist, Cult Of Luna, Dark Funeral, Dark Tranquility, Druids Of The Gue Charette, Gold, Havok, Heilung, Igorrr, Imperial Triumphant, Insomnium, Klone, Orange Goblin, Powerwolf, Red Fang, Revocation, Rise Of The Northstar, Skald, Svalbard, Thundermother, Vader, Valley Of The Sun.