*When did you really get involved into music in general and into metal specific? Who was responsable for your interest in (metal) music?
-Margarita: Rock music appeared in my life very early because of my father, who from a young age was fond of hard rock and heavy metal. I grew up with music from bands like Deep Purple, Kiss, Led Zeppelin and Slade. Then, when I was about 13 years old, I saw on MTV a clip of the HIM. At that time, Gothic has become relevant again, and I realized that this is mine. Then she became more interested in rock music and metal in particular. I liked the Finnish metal scene, listened to all kinds of nu metal, and then at some point I saw Cradle of Filth video. I knew about the existence of the black metal style, but passed by it. It was Cradle of Filth that opened for me the world of dark extreme music.
-Anton: Music has been in my life since early childhood – my mother is a violin teacher at a music school. Since childhood, my mother tried to instill in me an interest to classical music. However, hard-rock disks from the stepfather's collection sounded more interesting – even then bands like Black Sabbath and ELP appeared in my life. Then, for about 12 years, I discovered punk rock. At first it was Russian groups like Purgen and Korol' I Shut. Then – many and many others, all not to list. An enthusiastic exchange of cassettes, and then mp3 discs, eventually led me to gothic rock and metal. Since then there has been a lot of different music.
-Mikhail: Two guitarists of my first band were inclined to play power metal and nu metal, I made conclusions, but didn't particularly take metal music and went the other way. When I reached the point of playing rock'a'billy music at some point in my life, I became interested in the source of modern rock music and there was a puzzle in my head. The then guitarist Anton combined a passion for billy music and after concerts he could listen to trash or power metal in the car. And of course, I owe our vocalist Margarita a close acquaintance with the black metal world.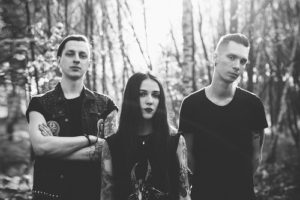 *Which artists or bands did influence you the most?
-Margarita: Cradle of filth – in addition to music, they opened the way for me to those genres of literature and cinema that still influence me to this day.
Behemoth – 'The Satanist' album allowed to plunge into the variety of black with a new force. Has expanded for me the stylistic boundaries and scope of perception.
Darkher – her simple, but bewitching, atmospheric music gave an impulse to engage in my work.
Watain – impress with their magical music, their sincerity in what they do, in which way they follow.
-Anton: Black Sabbath – my love of slow or mid-tempo music takes its base somewhere among their malleable riffs. Гражданская Оборона ("Grazhdanskaya Oborona" – Civil Defence) – no one was able to convey the fullness and hopelessness of Russian longing so much as Yegor Letov, the frontman of this collective. The heartbreaking vocals and the primitive, obscure manner of playing the guitar – it hits the mark. A foreign listener maybe will not really understand for himself, having listened to Гражданская Оборона, but for the Russian underground Yegor Letov is an epoch-making figure. Lacrimosa – the emotional experiences of youth would not be complete without this collective. I think their music had a big impact on me.
-Mikhail: At the beginning of the musical path, I found myself in punk music: I was mainly attracted to drive and a satirical attitude to modern society. Thanks to the Sex Pistols, I picked up drumsticks and aurally picked up the drums for the song "God save the Queen". When I saw behind the drums Travis Barker in the group Blink 182 I made him my idol for a long time: his playing technique is still respected.
*Which instrument do you play and how and when did you learn to play? Did you had lessons in school or private lessons? If so, was that because your parents expected that from you? Or did you learn to play the instruments by yourself? Do yo still follow some lessons?
-Margarita: I'm self-taught, sometimes I playing guitar. For some time she took private vocal lessons.
-Anton: As a child I was sent to a music school. There I sang in the choir and played the piano, studied in it for 7 years, and even graduated with honors. There I was not particularly taught to understand music. However, they gave the necessary minimum of performing skills and musical theory. I learned a lot more myself in the process of self-education. As for the guitar – I still can not play it! I just had to master the minimum skills of the game in order to realize my creative ideas in Dunwich.
-Mikhail: For drums I start at twenty. I didn't especially study: at the university one acquaintance was looking for a drummer and I agreed. Before the first rehearsal, I went to visit a friend, where he explained what to do and in the future I was able to play the entire repertoire of the first band. In the future, I took several lessons from a professional teacher and this helped to structure the collected knowledge. All my childhood, my mother tried to find a hobby for me, but it was unsuccessful. After I found myself in music, she certainly was upset that she could not see it in me before but still supports me in my hobby.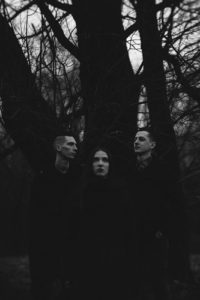 *Do you follow other or are you intrested in other styles of music beside metal? If so, what is the music you prefer to listen to?
-Margarita: I like dark ambient, in particular I really like the Belarusian project Ugasanie. Another dark folk, dark acoustics.
-Anton: I listen to very different music, and metal – only partially. Gothic rock and new wave, Alt Country and Americana, garage rock and even psychobilly are regulars in my playlist.
-Mikhail: I am self-taught, for me acquaintance with new genres of music is akin to the learning process. I still appreciate the drive and it is not always important in what style it appears. Before the guys and I started working on the Dunwich project, I played rockabilly for more than five years and still listen to authentic music. Also in my playlist now there are a lot of psychobilly, country, black metal and folk.
*Is music a full time job for you now or do you have a job beside music? If so, what kind of job are you doing? If you would be really succesful with music, would you quit your other job?
-Margarita: I have my own little online store of handmade products, in the style of cabinet of curiosities. I opened it 5 years ago, and I really value it.
-Anton: I work as a sound engineer in a puppet theater. This work gives me a lot of space for creative self-realization – even more than the drama theater would give. In children's tales, you can afford less realism and more imagery, grotesque and exaggeration, more creative sound solutions. It would be difficult for me to refuse this work, I would do it only if I knew for sure that it was worth it.
-Mikhail: Music in my life is more my whim than a source of income. Of course, I am in favor of fees, but in our country, those genres that interest me are not so popular that they could unfold. I will not hide that in part I am glad for this: this is an opportunity to keep my favorite movements in relative purity. Now I am more inclined towards writing, but drums still capture me. If I became a drummer of a popular group, I would have easily rejected my constant changes in work activity and immersed myself in creativity.
*If you could start a band with other musicians on other instruments, which artist would you pick for wich instrument and why? (Something Like an "All Stars Band".) Would you still go for a music style like you do with Dunwich? Or would you do something completely different?
-Margarita: Now we are just in search of a guitarist and bass player for a live band. I think, as a guitarist, Stephen Carpenter from Deftones would be good for us – he knows how to keep the rhythm. As a solo guitarist we would take Jonathan Hulten from Tribulation – a chic melodic variety. Together they are a rather strange combination, but why not? It's hard with a bass player. Orion of Behemoth? Maybe. Peter Steele of Type O Negative? Spectacularly. It is sad that he is no longer with us. Necrobutcher? Good musician, difficult background.
-Mikhail: If I assembled my "All Stars Band" it would be a trio of, say, Abbath on double bass and Fenriz for drums. It would be an explosion on stage even with my sluggish ability to play the guitar! For me, Dunwich is a unique project both for myself and on the world stage. Without Anton and Margarita, I would not be able to repeat this.
*If you had been banned to an uninhabited island and you may pick 5 albums to listen to, wich albums would you choose and why?
-Margarita: Bathory – 'Hammerheart': an album that gives strength and confidence, raises the spirit of desire for the goal (especially if you want to get out of the damned island).
Summoning – 'Stronghold': beautiful, epic, bewitching music, 'Stronghold' for me personally is the best album of the project.
Watain – 'Wild hunt': it is the embodiment of their wild fire, furious and at the same time inexorably beautiful. I especially love the song 'They Rode On', filling my eyes with tears.
Urfaust – 'Der Freiwillige Bettler': first album I heard of this project, fell in love with it from the first track, 'Vom Gesicht Und Ratsel' – crazy dance of the night
Black magick ss – 'Spectral Ecstasy': an album that never bothers because of its light and melodic music is always relevant for me.
-Anton: Black Sabbath – 'Black Sabbath': you can listen endlessly, like all Black Sabbath albums.
Joy Division – 'Unknown Pleasures': Lonely evenings on the island will be accompanied by this album.
Гражданская Оборона – 'Солнцеворот': will remind me of who I am and what I am.
Lacrimosa – 'Inferno': just for the sake of being able to listen to it sometimes when you want.
Ghost – 'Meliora': in difficult moments, this album inspires and cheers you up.
-Mikhail: If I were thrown onto a desert island, I would completely surrender to my bouts of melancholy in the evenings overlooking beautiful sea sunsets and contrasting tides of vivacity during the rebuilding of my island! I myself would write a music album full of hopelessness but also a desperate drive to fight the environment. So I would take a synthesizer with me (:
*How would you discribe the music on 'Tail-Tied Hearts'? We hear a lot of influences from dark wave over prog over doom to black metal, and maybe we forget some more to mention. And how does the songs come along? Are they ideas of just of the band or do you work together on a song?
-Anton: Songs and arrangements are mostly composed by me (so all the claims are mostly to me). Of course, under the watchful eye of Margarita. Perhaps she does not know the subtleties and nuances of harmony and arranged, but she is a subtly sensitive person. By the way, she wrote the lyrics in two songs on the album. And that brought variety to the record. It was important for me to achieve the maximum artistic effect with a minimum of means of expression. We tried not to complicate the melodies, not to overload the harmonies and rhythm, tried to make our music as straightforward and simple as possible, and, moreover, expressive. I don't know if this worked out for us – each listener will decide for himself. Honestly, we did not care too much about the genre affiliation of our music – we just tried to put into it the whole dark spectrum of our (and primarily Margarita) thoughts and emotions. And since there is a lot of favorite music, all possible musical, technical and artistic techniques – post-rock, black metal, doom – were used. This is how to draw a picture using different colors and strokes. The whole spectrum of dark heavy music may do. We are joking between ourselves – "make Gothic rough again". For some, our music will seem like a slow and dull muddy – let it be. And she will catch someone with her plain and straightforwardness.
-Mikhail: For me, the Dunwich project is a tribute to my vision of the world. The themes of our debut album reflect a passion for folklore, a love of hidden meanings and a touch on the social themes of life. In general, it will be honest to say that in our trio, each one is well versed in music and we have brought in a lot of related genres. I would not want to list my entire associative series of genres; I will provide this assessment to the audience. I do not judge above my boot and take on only what is in my area of responsibility: Margarita and Anton do not do what I might not like.
*Every new album of a band or an artist is the best one, that's what they always say (we do know it's the first full-album of Dunwich). So here is a chance to promote the album. Why should a music lover buy your album? What are the standout tracks for you on this new album and why?
-Margarita: Despite the abundance of music, a mixture of styles, genres, it is sometimes difficult to find something for yourself. Something that can really hook you. Therefore, we hope that for someone Dunwich can become a breath of fresh air. Something that can interest, hook. We would like to think that for some Dunwich will be able to give something new, interesting. Will be able to give new impressions, existence. Dunwich is an attempt to share our worldview with a listener using a combination of musical, poetic and visual images.
-Anton: I think this album is not the limit. I am sure the next album will be much better. Now we have more experience and more knowledge. It seems that we have groped for our style and our sound. And the desire to make music only increased. It is like an appetite that comes with eating.
-Mikhail: We collected material quite slowly and I enjoy our every song. Perhaps my favorite song to date is 'Mouth Of Darkness': in it I was able to turn around pretty well. We tried to do something new, let the classics of our favorite genres pass through our prism of vision and create something unique. This is a risky experiment and everyone can take part in it in order to report their results later.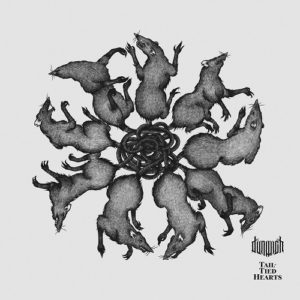 – See "CD-Review" for a review (written in Dutch) for the new Dunwich album 'Tail-Tied Hearts' (Calgari Records) –
*Is there a chance that you will promote these songs through live concerts (after the Covid 19 disaster)? If so, would you prefer small clubs or big festivals? And is there a chance we can see DUNWICH in Belgium?
-Margarita: Today we do not play live performances. We have plans to form a full live squad and start playing live when it becomes possible. I think we will consider any proposals for performances – this also applies to clubs and festivals. In this case, we would be happy to perform in Europe, and in Belgium in particular!
-Mikhail: Today I have rich experience in live performances. In my life there were both small bars for a dozen people and large festivals. Once I spoke at the bottom of the city of Moscow in front of the Kremlin for many thousands of people and I will tell you that the best concert for me is not a place but an audience. I am sure that the guys will be able to adequately perform on any platform and I will do everything in my power to adapt them on stage, it is only up to the proposals.