"Emptiness Weighs The Most" to be released October 23rd on Noble Demon.
Apocalyptic yet beautiful Doom soundscapes and songs full of melancholic darkness: October 23rd will see the release of "Emptiness Weighs The Most" via Noble Demon, the brand new upcoming full length record by Melodic Doomsters Red Moon Architect. Creating a world full of deep emotion and atmosphere, today the band from Kouvola, Finland, is premiering their brand new music video for the track "Chained". Check https://www.youtube.com/watch?v=1WLRGDEzZ7o&feature=youtu.be
Says the band about the song: "Melodic doom elements flirting with straightforward death metal riffs and the gloomy atmosphere Red Moon Architect is known for."
With already four records released to date, that have been able to reach music fans all over the world beyond genre boundaries, Red Moon Architect are known to create a unique sound of their own. Pure sweeping, yet crushing and highly atmospheric Melancholic Doom arrangements consolidate with strong melodies, dark growls and beautiful female vocals, crawling directly under your skin.
"Emptiness Weighs The Most" will be coming out on October 23rd and on the official landing – page you can already NOW give permission to have a release saved to your library or added to your playlist as soon as it is out. So no need to embark your calender anymore!
Furthermore, today is the start of Bandcamp's fee – free – Friday where they waive their revenue shares to support artists and labels. Head over to the Noble Demon Bandcamp page right here: https://nobledemon.bandcamp.com/
Tracklist: 01. Hidden 02. Chained 03. Rise 04. Dethrone The Darkness 05. One Shines Brighter 06. Muse 07. Into The Light 08. Reform 09. My Beloved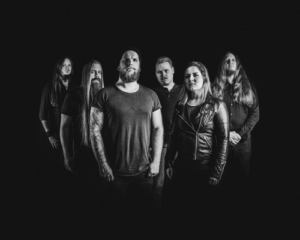 Red Moon Architect are: Saku Moilanen: Drums, Keyboards / Ville Rutanen: Vocals / Pyry Hanski: Guitars / Taneli Jämsä: Guitars / Anni Valkonen : Vocals / Jukka Jauhiainen: Bass