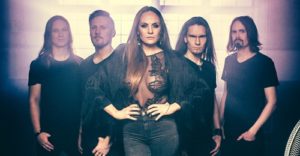 *When did you really get involved into music in general and into metal specific? Who was responsable for your interest in (metal) music?
I got involved very early in life as I always felt I wanna sing and write songs. My oldest songwriting notebook is from when I was 8. I had already at age 4 told my mom I wanna be a singer like Maria Callas which we listened to a lot back then at home. To metal I was introduced at age 20 by my boyfriend at the time. I fell in love with Symphony X back then.
*Which artists or bands did influence you the most?
I've always listened to all kind of music. For me the singer's sound has always been the biggest thing in any music.Queen was huge for me and so was Whitney Houston and Nina Simone. In general I loved to listen to blues, r&b and soul. Later I found metal … Dio and Pain of Salvation have had a big impact on me.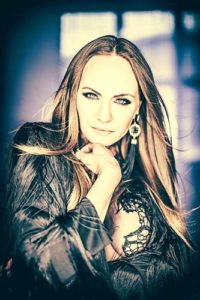 *Which instrument do you play and how and when did you learn to play? Did you had lessons in school or private lessons? If so, was that because your parents expected that from you? Or did you learn to play the instruments by yourself? Do yo still follow some lessons?
I sing. I first studied classical singing in conservatory and later also studied in pop & jazz conservatory. I have also studied a lot with private teachers in my youth. Most important thing for a singer though, is to study by yourself to really get to know your own unique voice.
*Do you follow other or are you intrested in other styles of music beside metal? If so, what is the music you prefer to listen to?
I love listening to slow, emotional music. Frank Sinatra, Leonard Cohen, Damien Rice, Billie Eilish, Ólafur Arnalds just to name a few.
*Is music a full time job for you now or do you have a job beside music? If so, what kind of job are you doing? If you would be really succesful with music, would you quit your other job?
I'm a singer-actress. Not always easy but wouldn't change a thing.
*If you could start a band with other musicians on other instruments, which artist would you pick for wich instrument and why? (Something Like an "All Stars Band".) Would you still go for a modern melodic metal band? Or would you do something completely different?
I founded Smackbound to be able to do this music we are doing now. And I am doing it with the perfect group of people. We really are not thinking consciously so much about doing melodic metal when we write. We just wanna make good music. That's why we have influences from many different genres in our music.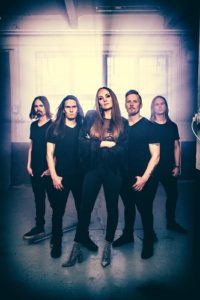 *If you had been banned to an uninhabited island and you may pick 5 albums to listen to, wich albums would you choose and why?
– Pain Of Salvation – 'Road Salt One'. An utterly "out of this world" experience how it carries you through all emotions and returns you back to the same train station you started the journey from but you've been transformed.
– Any of Frank Sinatras's. Absolutely calming. The greatest hits or Point of No Return even.
– Leonard Cohen – 'You Want It Darker'. Great poetry with soulful interpretation.
– Ólafur Arnalds – 'And They Have Escaped The Weight Of Darkness'. Striking in sadness yet filled with hope.
– Dio – 'Holy Diver' – For the moments you need empowerment.
*Every new album of a band or an artist is the best one, that's what they always say. So here is a chance to promote the album. Why should a music lover buy your album? What are the standout tracks for you on this new album and why?
If you're looking for music that makes you think, rises emotions and at the same time fills you up with great energy, our '20 / 20′ album is the perfect pick. My personal favorites on the album are 'The Game' and 'Wall Of Silence'. I love ballads and 'The Game' for me is a very timeless one. It has great emotion and a message that touches us all…how we all seek for love yet fear getting hurt by it. 'Wall Of Silence' has a kick ass energy calling out for honesty and truth.
– See "CD-Review" for a review (written in Dutch) for the new Smackbound album '20 / 20′ (Frontiers Records) –
*I suppose you will promote this album through live concerts (when of course everyting is getting back to "normal" after the Covid 19 disaster). If so, would you prefer small clubs or big festivals? And is there a chance we can see Smackbound in Belgium?
Both clubs and festivals are welcomed. I think the best choice for our music is a bigger club. So that the show can be big but the audience is there for your music and know it so they can have a greater experience for themselves.