*When did you really get involved into music in general and into metal specific? Who was responsable for your interest in (metal) music?
For me it started already when I was very young. I remember I was six or seven years old and we were practicing to sing songs in school. Then after school I tried to play the songs on a little toy keyboard (I still have it haha). I found it easy to reproduce the notes on the keyboard from remembering the songs and I think my mother noticed that. My interest grew and I was able to follow music lessons. First I had to play the flute for one year and study music theory. This was mandatory for everyone who wanted to study an instrument. After that I chose to study keyboards and did that for the following eight years. I also played the keyboard in the local choirs and sang. When I was around fourteen years old I came into contact with punk music and eventually with metal. I remember I was looking through some cd's in a store in the Netherlands and a guy approached me and suggested an album to me. I remember it was a dutch band called "Sinister Footwear". I bought it and we became friends and started a band. This is where I started to discover more metal bands and learned that keyboards could be an integral part of metal. In 2003 eventually all this led to the inception of Carach Angren.
*Which artists or bands did influence you the most?
I think I was influenced a lot by soundtrack throughout my life as they offered such beautiful depth and complexity to discover and study. I really like scores by John Williams, but also Christopher Young, Danny Elfman, Hans Zimmer and so on. I also studies and listen a lot of classical composers' works. Stravinsky, Tchaikovsky, Bach, Saint-Saëns. Within metal I was influenced by all the great death and black metal bands in the nineties and 2000s.
*Which instrument do you play and how and when did you learn to play? Did you had lessons in school or private lessons? If so, was that because your parents expected that from you? Or did you learn to play the instruments by yourself? Do yo still follow some lessons?
I mainly play keyboards and piano and studied that throughout my childhood. The lessons I followed in a private school once every week. I'm very grateful for those lessons as I learned a lot there. It was all voluntary, my parents never forced me to do it and I liked it a lot. Since one year I also started playing some guitar. Prior to that I would compose everything on piano or keyboard, even drums and guitar parts. Since I'm left handed there was never an easy way to get a guitar or practice on someone else's guitar. I found a good left handed guitar online I decided to buy it. I practice a lot and keep getting better. I also own a violin and cello but I can't really play them. I use them more to produce effects or record simple things that I can reproduce to enhance the orchestral parts I compose. I did online music tudies some years ago. I studied to compose music for media as I wanted to develop myself in that area as well as cinematic orchestration. This helped me grow a lot as a composer and arranger. I'm always studying from books or online courses.
*Do you follow other or are you interested in other styles of music beside metal? If so, what is the music you prefer to listen to?
I like a variety of music styles for different reasons. I like classical music because it has so much depth and complexity as well as stunning melodic and harmonic material. Recently I picked up studying The Rite of Spring again by Stravinsky via an online course. The great thing about a piece like that is that you can endlessly study it. There is always something new to learn. I also like Michael Jackson, especially because of the great production quality of the earlier albums. Quincy Jones made incredible arrangements while Bruce Swedien did an incredible mixing job. When I listen to those albums I always wonder how they did it. I can also appreciate some latin jazz music now and then. It's great to study that on the piano.
*Is music a full time job for you now or do you have a job beside music? If so, what kind of job are you doing? If you would be really succesful with music, would you quit your other job?
I'm doing music full time now since four years yes. I compose and arrange for films, other bands and projects besides being in Carach Angren.
*If you could start a band with other musicians on other instruments, which artist would you pick for wich instrument and why? (Something Like an "All Stars Band".) Would you still go for a symphonic black metal / horror metal band? Or would you do something completely different?
Haha good question. I think I have the privilege to already be surrounded by all stars. I would re-pick Seregor, Bastiaan and Michiel hah.
*If you had been banned to an uninhabited island and you may pick 5 albums to listen to, wich albums would you choose and why?
Igor Stravinsky – 'Le Sacre du Printemps': Because I love the piece and can never get tired of it. It contains immense complexity and a vast variety of emotions and depictions.
Glenn Gould – 'Goldberg Variations': I think Glenn Gould was one of the most incredible piano players. The way he interpreted Bach's work is for me "Gold".
Morbid Angel – 'Gateways To Annihilation': I would also need some serious death metal from the depths of the earth.
Michael Jackson – 'Bad': Amazing production and arrangements and bass.
Nine Inch Nails – 'The Downward Spiral' (Also amazing production and feel)
*Every new album of a band or an artist is the best one, that's what they always say. So here is a chance to promote the album. Why should a music lover buy your album? What are the standout tracks for you on this new album and why?
I think this one, even more than our previous albums paints a sonic picture in your mind. It's really the best to listen the album as a whole and let yourself be taken into the world of Dippel and Frankenstein! That being said, for me the coolest tracks are 'Monster', the title track, 'Sewn For Solitude' and 'Like A Conscious Parasite I Roam'.
– See "CD-Review" for a review (written in Dutch) for the new Carach Angren album 'Franckensteina Strataemontanus' (Season Of Mist) –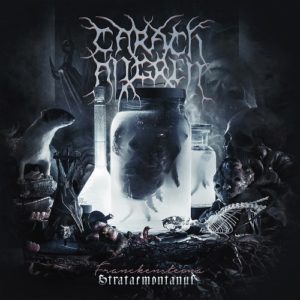 *I suppose you will promote this album through live concerts (when of course everyting is getting back to "normal" after the Covid 19 disaster). If so, would you prefer small clubs or big festivals? And is there a chance we can see Carach Angren again in Belgium?
We like the variation. Our show is made in such a way that it can fit and shine on big stages but also in small clubs. Both have their own advantages. The energy you get back from the audience in small club is incredible but then again there is an unreal quality to playing the big stages for thousands of people. We love Belgium and can't wait to be back there!