Crippled Black Phoenix are now unveiling the names of their friends, guesting on the forthcoming new album 'Ellengæst', which is set for world wide release on October 9, 2020. New music and the pre-order kick off will be shared on July 28.
Mastermind Justin Greaves comments on the collaborations: "It's been such a pleasure to work with some very fine friends on this album, lending their amazing vocal talents to give life to some music. It was important to us to do something meaningful, only inviting friends who we or I have connection with."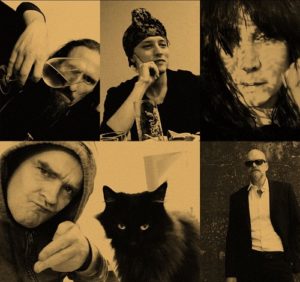 Vincent Cavanagh (ANATHEMA): "It was a pleasure to work with a band who's music I've enjoyed for years. Plus anyone who allows cats on their band photos gets my vote." -Vincent, guesting on 'House Of Fools' and 'Lost'.
Jonathan Hulten (TRIBULATION): "The first time I heard "The Invisible Past" I was blown away, it had such a transcendent and hypnotically beautiful atmosphere. I did my best to make this majestic song justice and I am humbled to have been given such a task. Thank you, Justin and CBP, for letting me be part of the Ellengaest collaboration!" -Jonathan, guesting on 'The Invisible Past'
Ryan Patterson "It has been an honor and a joy to be part of the CBP extended family, first as a touring bass player and tourmate and now as the singer of "Cry Of Love" on Ellengaest. In addition to a strong connection as music fanatics, Justin, Belinda and I bonded over our love of animals and lives as ethical vegans, as well as our love of our cats – to whom "Cry Of Love" and Ellengaest is dedicated." -Ryan, guesting on 'Cry of Love'
Suzie Stapleton: "When Justin invited me up to Lincolnshire to record I didn't hesitate to jump on the train. I've been a fan of CBP since we worked together on The Jeffrey Lee Pierce Sessions Project but we'd never actually met. Chapel Studios is a magical space and this collaboration was a real pleasure to be a part of – some kind of sorcery was at hand during these sessions." -Suzie, guesting vocals on 'Cry of Love' and guitar on 'She's in Parties'
Crippled Black Phoenix have previously revealed the artwork and track-list of 'Ellengæst'.
Track-list: 1. House Of Fools (7:52) 2. Lost (8:11) 3. In The Night (8:38) 4. Cry Of Love (5:46) 5. Everything I Say (7:21) 6. (-) (1:51) 7. The Invisible Past (11:26) 8. She's In Parties (3:51)
"One thing we'll never do is stick to the rules and stay within the box."
Such are the words from Crippled Black Phoenix founder, songwriter and guitarist Justin Greaves, who has guided this progressive, thought-provoking, shape-shifting musical collective since their 2004 formation. Their new effort, Ellengæst, follows a recent pattern of the band in releasing a mini-album in between studio LPs. It is the direct result of their ceaseless creativity — when Greaves has songs, Crippled Black Phoenix records them. Ellengæst has the difficult task of following 2018's profound and moving Great Escape. Ellengæst, though, does not make any attempts in pairing with or succeeding Great Escape. Circumstances largely prevented it anyway.
On the day tracking started for Ellengæst, Crippled Black Phoenix — completed by vocalist Belinda Kordic, guitarist Andy Taylor and multi-instrumentalist Helen Stanley —suddenly, unexpectedly found themselves without a male lead vocalist and keyboardist. Whereas events of a similar thread would spell doom for most bands, Greaves took it as an opportunity to tap into his deep network of musician friends. Before he knew it, several prominent guest vocalists were secured, ready and able to lend their considerable talents to Ellengæst: Anathema's Vincent Cavanagh, Gaahls Wyrd's Kristian "Gaahl" Espedal, Coliseum/Fotocrime/one-time Crippled Black Phoenix touring bassist Ryan Patterson, up-and-coming U.K. solo artist Suzie Stapleton and Tribulation's Jonathan Hultén.
"It all came together really easy, to be honest," says Greaves. "Because we're working with people that you've got a connection where you see things the same way or you wouldn't get along as friends. When it comes from an artistic standpoint, we're already on the same page. It all just weirdly worked out. It's not like I had to go out and think, 'Okay, who do I know that could sing on this song that sounds like this?' It was just like, 'I've got a bunch of songs that we've always talked about doing something with. Which song would this singer suit?'"
Ellengæst, which, in Olde English translates to "mischievous demon," but in Scandinavian as "strong spirit," represents Crippled Black Phoenix's duality. "It comes from the same place, but with different connotations," says Greaves. "That's this band in a nutshell. We've had to stay strong because of all the BS we've encountered, yet we're still going and subversive. It's like we're giving kids candy with razor blades in them."
Tackling themes of the human condition and the perpetual internal struggles people face, Ellengæst begins with Cavanagh pairing with Kordic on "House of Fools" and "Lost," the two switching lead vocal responsibilities for each song. Gaahl's appearance on "In the Night" was born from his long-standing relationship with Greaves, the two men grew close after countless late tour nights in hotel rooms chatting the evening away. Gaahl, whose vocal exploits are often limited to black metal circles, was given "In the Night" because Greaves thought he could do something unique with the track.
"He doesn't do these sorts of things; he doesn't collaborate very often, if at all," he says. "Kristian confessed to me that this is the first time he's done something like this. When he sent me the files, he then called me up and asked if it was okay. He explained, 'I did it in a spoken word because the song is stoic and melancholy.' He hit the nail right on the head. Then you have Belinda doing her angelic vocals over it. You have the light and the dark represented."
Patterson and Stapleton blend seamlessly on the momentous "Cry of Love," while Kordic casts yet another heart-rendering vocal spell across "Everything I Say." Yet another surprise comes in the form of Hultén's trance-inducing, but soaring performance on "The Invisible Past." A cover of Bauhaus's "She's in Parties" sung by Kordic rounds out the set.
Crippled Black Phoenix are no strangers to adversity, making the events surrounding the creation of Ellengæst yet another roadblock for a band whose very existence has been threatened on more than a few occasions. Their unique setup and stubborn refusal to bow to musical norms may confuse the casual music consumer. However, the core of Crippled Black Phoenix — Greaves, Kordic, Taylor and Stanley — thrives on the unconventional, remaining steadfastly singular and undefinable. Accordingly, Greaves believes this incarnation of Crippled Black Phoenix is the strongest to date. All it took was another dramatic sea-change to prove it.
"This was the best thing that could have happened to us," he says. "Before, there was this horrible cloud of drama following us. There was always something going on. Once that had gone and the people who were on the outside of the band who were a part of that, once they had gone and the drama had gone, me and Helen found ourselves tracking in the studio in the first session. We just got on with it; we didn't think twice. In the second session, we just felt liberated. We just knew, 'This is going to be great.' We're all so excited about the possibilities. It feels like we're rejuvenated."
Crippled Black Phoenix line-up: Justin Greaves – Guitars, Drums, Bass, Samples, Saw // Belinda Kordic – Vocals, Percussion // Helen Stanley – Grand Piano, Synthesisers, Trumpet // Andy Taylor – Guitar
Recording line-up for 'Ellengæst': Justin Greaves, Belinda Kordic, Helen Stanley, Andy Taylor, Ben Wilsker, Rob Al-Issa
Friends & Guests: 'House Of Fools' – Vincent (lead vocals) with Belinda (backing vocals) / 'Lost' – Belinda (lead vocals) with Vincent (backing vocals) / 'In The Night' – Gaahl and Belinda (duet) / 'Cry Of Love' – Ryan (lead vocals) with Suzie (backing vocals) / 'Everything I Say' – Belinda (vocals) / 'The Invisible Past' – Jonathan (vocals) / 'She's In Parties' – Belinda (vocals), Suzie (Guitar)
Studio: Recorded at Chapel Studio, Lincolnshire (UK)
Producer/sound engineer: Produced by Justin Greaves & Karl Daniel Lidén
Mixed/Mastered: by Karl Daniel Lidén, Stockholm (SE)
Cover art: Thanasis Stratidakis – Erebus Art –
Graphic designer Benedikt Demmer